Back to overview
Borneo: orangutan rescuers need our support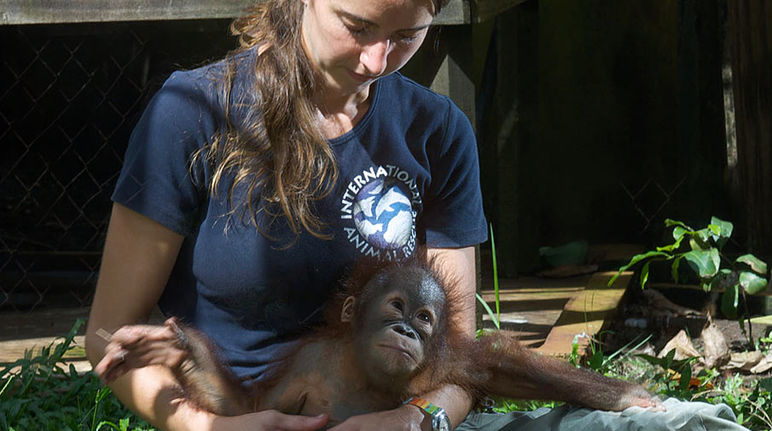 On a typical day, veterinarians of International Animal Rescue (IAR) make their way through choking smoke, weighed down with medical supplies, a safety net, animal carrier and face masks. They are called out almost daily to rescue orangutans and other animals trapped by forest fires and attend to their medical needs.
The forest had been burning for five days and the flames were creeping closer. On the brink of collapse, an orangutan desperately tried to protect her baby from the acrid smoke.
Finally, help arrived: nearby villagers had alerted International Animal Rescue Indonesia. The veterinarians tranquilized the two apes sitting in the tree, broke their fall with a net and treated them. "The mother was emaciated and suffering dehydration," explains IAR coordinator Ayu. The baby was in better shape, and both were soon released into the safety of a nearby forest.
"We're very worried that the fires won't stop and that the orangutans will die if we don't reach them in time," says veterinarian Karmele Llano-Sanchez. "The fires are also endangering our treatment center."
The orangutan rescuers need our support in this difficult situation – not only to protect the animals, but also their center. IAR also coordinates helpers who fight fires and work to protect remaining intact forests.
They urgently need the following equipment:
• firefighting gear (€800)
• GPS equipment, boots, a camera for patrols and camp (€1,000 total)
• a small boat (approx. €1,300.00).
Please give generously – your donation will save innocent lives.
If you haven't already done so, please sign our petition to shut down Indonesia's corporate arsonists.
About your donation
Secure data We use encryption to keep your personal information safe.