Back to overview
Planting trees for orangutans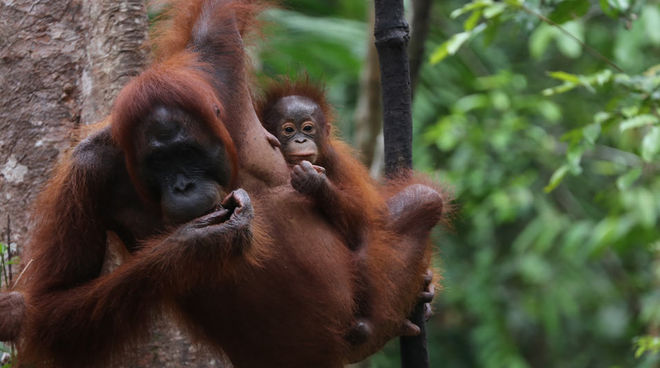 Indonesian environmentalist Basuki Bude Santoso has planted thousands of trees in his lifetime. For a number of years, he has been working to reforest orangutan habitat destroyed by plantation companies – including 80 hectares of land deep in Tanjung Puting National Park.
Fires raged in Tanjung Puting, Indonesia in the summer of 2015, and Basuki and activists of the Friends of the National Parks Foundation spent two full months, without a break, fighting the blazes with simple fire beaters.
Julie, a pregnant orangutan, remained on Basuki's heels the whole time. She is one of numerous apes that Basuki rescued from starvation on nearby plantations.
Basuki and forest ranger Fajar Dewanto are now working tirelessly to reforest the devastated area by growing seedlings in a nursery that are being planted by volunteers.
Please support the work of Basuki and Fajar with your donation. Only 26 euros per day is enough to sustain their work of raising the seedlings and planting them in the wild.
About your donation
Secure data We use encryption to keep your personal information safe.