Back to overview
Borneo: environmentalists need our support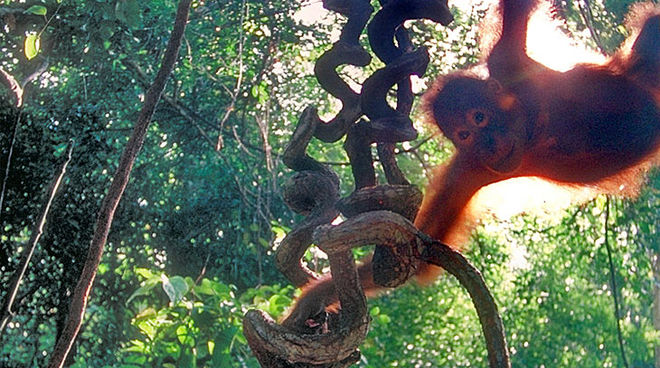 "The current trend of converting rainforest into palm oil plantations is devastating our country. Our people cannot provide for themselves any longer; endangered species such as the orangutans are doomed to die." Our Partner Nordin asks for financial support to realize his action plan to save Indonesia's nature.
Illegal logging must be stopped
"It is high time for us to join forces and take a stand against the palm oil industry's illegal activities on all levels." Nordin, head and founder of our partner organisation Save our Borneo, has experienced a great deal of suffering caused by the destruction of tropical rainforest in his home province Central Kalimantan in Borneo – also in his own family. His little son Mirza was born when wildfires were raging for several months, obscuring the sky over Central Kalimantan and making breathing truly agonizing. Mirza had to be hospitalized several times due to his chronic breathing difficulties. Slash-and-burn clearing methods are prohibited in Indonesia, yet fires are started again and again to gain more space for palm oil plantations.
Action plan against palm oil giant Wilmar
One of the most powerful opponents of the Save our Borneo activists is Wilmar International, the largest palm oil company worldwide.
Wilmar acts as if it is above the law. The company clears land illegally to set up new plantations, driving peasants off their land and having them arrested if they resist. Wilmar continuously sets up new subsidiaries to keep its name clear while bribing officials to side-step the law with impunity.
Nordin of Save our Borneo shared with us his plan to unite our efforts against Wilmar – a plan also supported by Walhi, the Indonesian branch of Friends of the Earth. "We intend to take legal action against the Wilmar Group at their headquarters in Singapore for crimes committed against humans and nature," says Nordin. "However, first we need to collect detailed evidence for an absolutely watertight lawsuit."
The plan spans 18 months, taking action at numerous levels:
holding workshops with affected indigenous families to discuss land rights and draw up maps where appropriate
informing local communities about Wilmar's modus operandi and how to defend themselves
providing training in forest management and land rights
researching and gathering data on the activities of Wilmar subsidiaries
holding workshops on corruption
organizing campaigns to publicize Wilmar's violations of the law and any associated political involvement (TV, radio, Facebook and other internet platforms, brochures, etc.)
holding public discussions of all the parties involved, with politicians, scientists, journalists, environmentalists and victims of the palm oil industry at the same table
Nordin calls this broad offensive against Wilmar International an "Action Plan for a Better Life".
Rainforest Rescue is supporting the Action Plan with 10,000 euros. We are confident that the funds will be used for maximum impact thanks to the excellent record of Save our Borneo in thwarting Wilmar's plans on multiple occasions in the past.
About your donation
Secure data We use encryption to keep your personal information safe.