Stop water theft for avocados in Chile!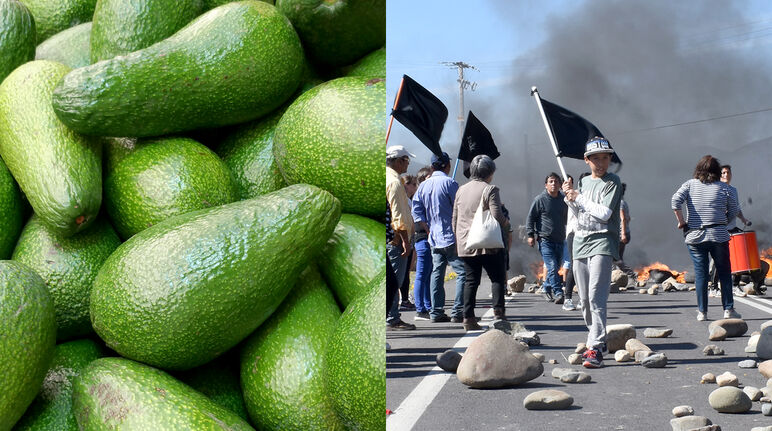 Avocados are the "superfood" du jour – the EU alone imported more than 700,000 tons last year. This boom has had a terrible impact on the growing regions: In Chile, the avocado industry is buying up water rights and drying out whole regions with their irrigation pumps – leaving local communities literally in the dust.
Call to action
To: President of the Republic of Chile, Sebastián Piñera; Ministry of the Environment, Minister María Carolina Schmidt Zaldívar; Provincial Government of the Province of Petorca; General Directorate of the Water Authority DGA
"Water is a human right. Repeal Chile's 1981 water privatization law, clamp down on avocado cultivation and guarantee access to water for local communities."
The mountains in the province of Petorca are arid and dusty. This region, 150 kilometers north of the capital Santiago de Chile, receives a mere 200 mm of rain per year. The local people live in the valleys, where rivers flowing down from the Andes support small-scale farming.
In recent years, however, millions of thirsty fruit trees has been competing for that water. Companies are growing fruit on an industrial scale for export – mostly avocados – on 8,000 hectares.
Endless rows of lush green avocado trees stretch from the valleys up the mountain slopes. Each avocado tree needs 600 liters of water every week. The plantations pump the precious water from deep wells into irrigation ponds.
As a result, rivers have run dry, vegetation has withered and the fields of the small farmers lie barren in the surrounding areas. For the past ten years, the region has been suffering a mega-drought. Groundwater is also running short – according to the responsible water authority, water supplies have already fallen by 80%.
Local people are up in arms over what they see as water theft: the authorities granted water rights to avocado companies, and many wells were likely drilled illegally. Business interests and the export of fruit seem to have a higher priority than the rights of local people.
The local governments currently deploy tanker trucks to deliver 50 liters of water per person and day. The quantity is not enough, however, to live a dignified life, cover basic needs and practice traditional agriculture.
Organizations like the Movimiento por el Agua y los Territorios and the Germinar School for Agroecology want to reclaim the region's water for local people and nature. They demand a fair distribution of water and the repeal of water laws that were enacted during the time of Chile's military dictatorship.
Back­ground
Avocado production and consumption worldwide
Avocados are currently being touted as a particularly healthy "superfood".  According to the UN Food and Agriculture Organization (FAO) , 5.7 million tons of the oily fruit were produced worldwide in 2017. Industry figures put global avocado exports at 2.2 million tons in 2019. The biggest importers are the USA with a share of 52%, followed by the EU with 28%.
The world's largest avocado producer is Mexico with more than 2 million tons per year, followed by the Dominican Republic and Peru. Chile produced about 245,000 tons of avocados in 2018. According to the Chilean Fruit Industry Association, Chile exported 143,000 tons of avocados in 2018 (99% of the Hass variety). 60% of the exports went to Europe.
According to the World Avocado Organization (WAO), demand for avocados is growing by 4.6% each year; the Chilean industry puts its average growth rate at no less than 12%. For the European Union, the WAO forecasts sales of 750,000 tons of avocado in 2020 from various producer countries.
According to Statista, consumption in Germany was 94,000 tons in 2018, which corresponds to about 1.1 kg per person per year. According to the WAO, consumption in France was 122,000 tons or 1.8 kg per person per year, while the United Kingdom consumed 98,000 tons. Among the net importers of avocados, the United States is the largest consumer with 1.09 million tons per year (3.4 kg per person per year).
Spain (Andalusia) produced 61,000 tons of avocados in 2019 according to industry figures. Consumption in Spain amounted to more than 74,000 tons in 2018 (the equivalent of about 1.6 kg per person per year).
The WAO states the water consumption of avocados at 1,000 liters per kilogram of avocado.
Letter
To: President of the Republic of Chile, Sebastián Piñera; Ministry of the Environment, Minister María Carolina Schmidt Zaldívar; Provincial Government of the Province of Petorca; General Directorate of the Water Authority DGA
Dear Mr. President,
Ladies and Gentlemen,
Communities such as Calle Larga, Chalaco, Chincolco, Pedegüa, Hierro Viejo, El Francés, Pedernal, Las Palmas, Quebrada de Castro and others belonging to the municipality of Petorca do not have adequate access to water for human consumption and for irrigating traditional agricultural crops.
The avocado industry has monopolized the local water supply, denying it to local people. Chile's policy based on the extraction of natural resources, which is also reflected in other export-oriented industries such as mining, forestry, fisheries and energy, is displacing communities and destroying nature.
It is imperative that the importance of water cycles in nature, ecosystems and other forms of water management receives the respect it deserves. To this end, we call on you to repeal the Water Law as a fundamental step toward deprivatizing water in Chile. The law, which was enacted during the military dictatorship in 1981, created a market around this basic public good and granted excessive water rights to companies.
In this context, we believe that it is essential to view nature as a political subject that has rights that must be respected.
It is an essential function of public administration to consider water as a national public good and to put water management in place at the community level. Water must be guaranteed as a human right and as a right of nature in a new constitution and new legislation in Chile. Both must protect people, their communities, the land and its biodiversity. The Movement for Water and Territories (Movimiento por el Agua y los Territorios - MAT) and the Germinar School of Agroecology (Escuela de Agroecología) in the municipality of Petorca are committed to these objectives.
To achieve these objectives, we call on you to put an immediate stop to the extractive activities of the avocado and citrus industry in Petorca.
Yours faithfully,
This petition is also available in the following languages: