Cameroon suspends logging plans in Ebo Forest!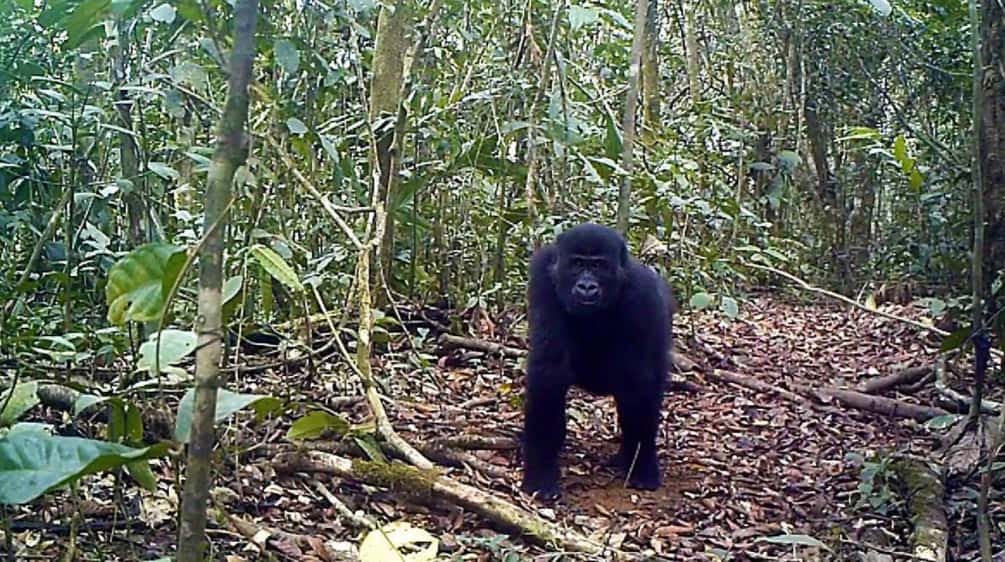 Aug 13, 2020
Good news from Cameroon: Earlier this year, the government wanted to open a vast stretch of Ebo Forest – the home of the Banen people and habitat of gorillas and chimpanzees – to loggers. The President of Cameroon, Paul Biya, has now suspended that plan.
Local people, the scientific community and conservationists sounded the alarm in February 2020 when the government announced plans to open 133,392 hectares – an area nearly the size of London – for logging. This would have destroyed the livelihoods of local communities, endangered the forest's unique biodiversity and wiped out the habitat of critically endangered primates.
Following an international outcry, President Paul Biya suspended the government's plans by repealing Decree 2020/3216/PM from July 14, 2020. Two areas of 68,385 and 65,007 hectares would have been affected.
President Biya's decision has put a stop to a potentially devastating plan. Our next goal will be to put lasting protection for Ebo Forest in place, as the plans have only been put on ice and can be reactivated at any time. Future plans must put the rights and informed participation of local communities front and center.
We are working closely with Greenpeace Africa and other organizations on this issue. More than 118,000 people have signed our Ebo Forest petition since its launch in late July. The petition will remain online, since the forest is not yet – as it were – entirely out of the woods.
"We welcome the suspension for now of logging plans in Ebo forest, but are concerned that its fate remains unclear. This decision must be the first step towards recognition of Banen's rights and forest protection," wrote Victor Yetina, Chief of Ndikbassogog and representative of the Association Munen Retour aux Sources, and Dr. Ekwoge Abwe, manager of the San Diego Zoo's Ebo Forest Research Project in a joint statement supported by Rainforest Rescue and Greenpeace Africa.
"We call on the Government of Cameroon to adhere to its international commitments and to promote participatory mapping and land-use planning with local communities. Land tenure reform must have at its core the full recognition of communities' rights. … We also call on international donors and NGOs to support these processes with technical expertise and resources, both in Ebo forest and across the Congo Basin."
Greenpeace Africa campaign manager in Cameroon, Ranece Jovial Ndjeudja: "The suspension of logging plans for Ebo forest presents an important opportunity for social and environmental justice. Greenpeace Africa remains vigilant in its support of community rights and forest protection in Cameroon and across the Congo Basin rainforest."
Ebo Forest is a biodiversity hotspot: It is likely that the local gorillas represent a distinct subspecies. The forest's roughly 700 chimpanzees are culturally unique, being the only ones known to have mastered both the use of stones to crack nuts and sticks to catch termites. For centuries, the inhabitants of more than 40 villages belonging to the Banen people have lived in and around Ebo Forest without endangering it.
We will monitor further developments closely and not let up in our campaign to protect Ebo Forest and the rights of its local people.