Brazil: Indigenous Pataxó face violent reprisals after occupying plantation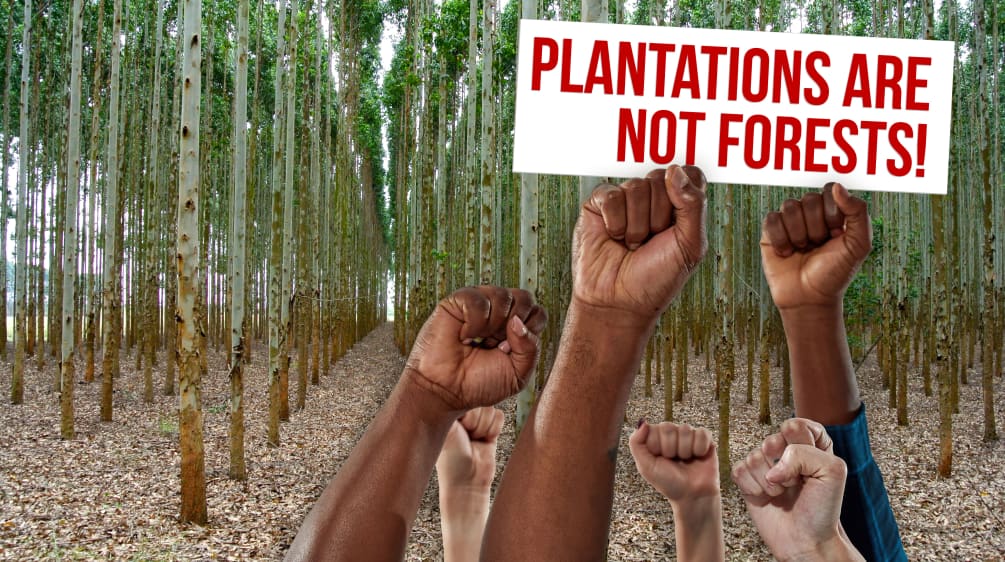 Sep 16, 2022
The indigenous Pataxó people in the Brazilian state of Bahia are calling on the international community for help and support: a plantation company destroyed their ancestral land to grow eucalyptus for paper and pulp. After occupying a eucalyptus plantation, the Pataxó now face threats and violent reprisals.
The Pataxó people report that for the past month, they have been besieged by large landholders and cannot leave their villages. In an attack by armed men in Comexatiba in early September, a 14-year-old youth is said to have been shot and killed and another person injured.
The background to the violence is a conflict over the people's ancestral land: the 28,000-hectare Comexatiba indigenous territory south of Porto Seguro on the Atlantic Ocean, which had already been demarcated by the authorities. To reclaim their land, a group of 180 Pataxó occupied a eucalyptus plantation inside their demarcated territory and set fire to the trees. The plantation is operated by a large landholder who supplies wood to Suzano, a paper and pulp company.
In a video manifesto released on June 26, the Pataxó drew attention to their action: "Today we are expelling Suzano from Prado municipality, from the Cahy-Pequi Comexatiba indigenous territory. Out Suzano! We're setting fire to the eucalyptus, we're destroying everything. There won't be a single eucalyptus tree left on this sacred land, because that's bad. We want our water, our quality land and our biome, the Atlantic Forest, recovered. We do not accept this shame, this destruction," declared indigenous leader Mãdý Pataxó.
For seven years, the Pataxó have been waiting for a presidential decree that would finally afford them full legal security for their territory. But Brazilian President Jair Bolsonaro refuses to recognize more territories for indigenous people. The constitution states that indigenous people have full rights to their ancestral land.
Meanwhile, eucalyptus plantations and other industrial agriculture continues to expand into and destroy the land. Suzano is the world's largest producer of paper products made from eucalyptus. Suzano's customers include multinationals such as Kimberly Clark, with brands like Kleenex and Huggies, and Procter & Gamble, with brands like Pampers and Always.
Establishing eucalyptus plantations not only means driving indigenous people off of their ancestral land and eliminating biodiversity in favor of a "green desert": the fast-growing, thirsty eucalyptus trees also have a serious impact on local water resources. Exposure to pesticides and water pollution endangers the health of local people.
---