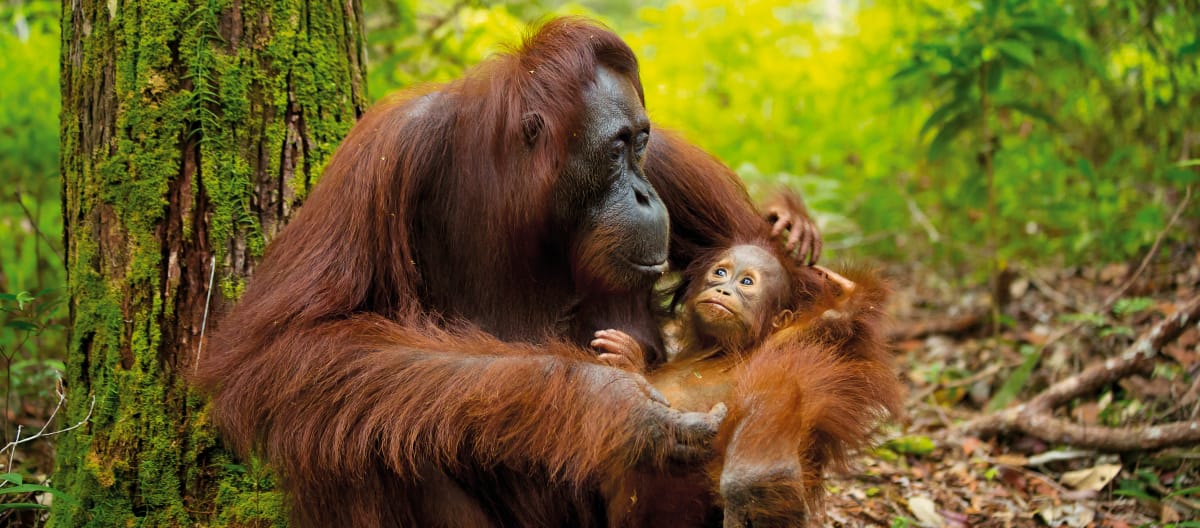 Back to overview
Defending rainforests in Southeast Asia
Imagine Southeast Asia's rainforests and the image of an orangutan often comes to mind. These forests are the last refuge of the iconic great apes, but also Sumatran tigers, birds of paradise and Komodo dragons. Palm oil plantations are to blame for the destruction of vast areas of rainforest, but they are not the only threat. Our partners on the ground are fully committed to defending the remaining forests – and there is still a lot to save.
The tens of thousands of large and small islands of Southeast Asia are a unique playground of evolution, with distinct worlds of plants and wildlife in each region: Western Indonesia is characterized by mighty bifoliate fruit trees and is home to tigers and rhinos. The eastern edges of the subcontinent, extending as far as Papua New Guinea and even Australia, are biological hotspots, with ancient forests containing countless species that have not yet been documented. Asia's only great apes, the orangutans, live in the peat swamp forests of Sumatra and Borneo.
Hundreds of Indigenous peoples are at home in the forests they protect. Many revere the forest as a mother who gives them everything they need. But oil palm and pulp plantations are destroying the homes of people and habitat of wildlife, and mining is also inflicting deep wounds on these unique rainforests. The consequences are dramatic as nature's balance is disrupted: Erosion washes away soils, floods sweep away settlements and droughts wipe out entire crops. The climate emergency is already being felt by many people here and it is getting worse due to deforestation.
There is still a lot to save, and together with our partners we are doing all we can to defend the rainforests. Our partners on the ground resist corporations, demand forest rights, plant trees and give people hope.
Your donation for our work in Southeast Asia supports these projects and others:
Your donation for the rainforest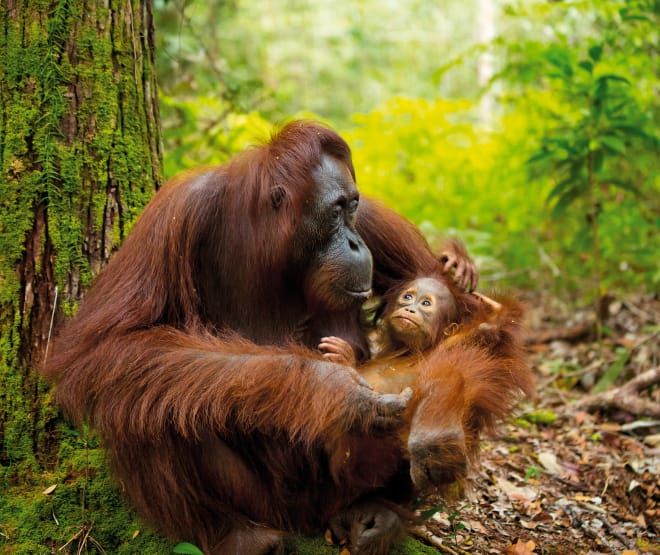 Donation receipts We issue receipts for the previous year in February/March. With regard to the deductibility of your donation, please contact your local tax authorities.
Non-profit status Rainforest Rescue (Rettet den Regenwald e.V.) is registered as a non-profit organization in Hamburg, Germany.
Secure data We use encrypted (TSL/SSL) communication to protect your data against unauthorized access.
Canceling recurring donations Recurring donations can be canceled at any time: just email us at info@rainforest-rescue.org.