Supermarkets: Stop burning Paraguay's forests for summer BBQs!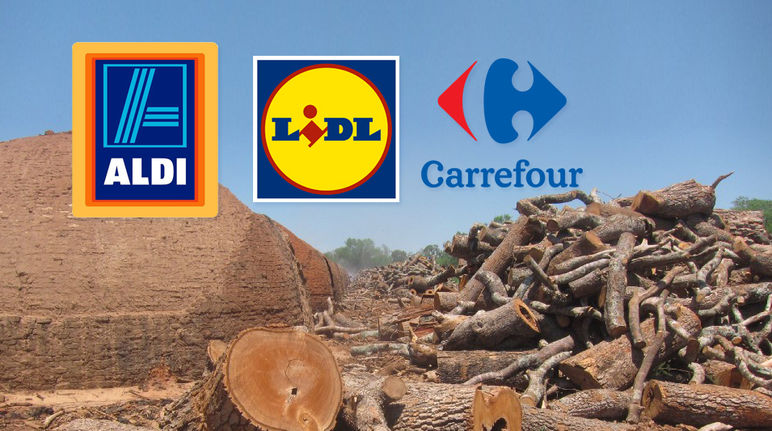 208,894 supporters
The forests of the Paraguayan Chaco are being cleared and converted into charcoal which is exported to Europe and the USA. This threatens endangered species and one of the last indigenous peoples living untouched by industrial society. Tell European supermarkets to stop selling charcoal made from the destruction of Paraguay's forests.
News

and updates
Call to action
To: Aldi, Carrefour, Lidl
""
Tropical forests in the Gran Chaco in the heart of South America are disappearing more quickly than any other forests on earth. The rampant destruction is threatening jaguars, anteaters, armadillo, 500 species of bird, and several endemic species that can't be found anywhere else in the world. It also threatens to wipe out one of the last indigenous peoples living in isolation from industrial society, the Ayoreo, who rely on the forest to freely pursue their nomadic lives.
This devastation is being caused by big agricultural companies, seeking to produce charcoal and rear cattle for beef. The trees are cut down, fed into smoking ovens, and turned into charcoal. This charcoal is sold in some of Europe's biggest supermarkets.
"Without knowing it, customers across Europe are buying bags filled with felled trees from old-growth forests in South America, and using them to light their barbeques," says Toby Hill, a researcher at the British NGO Earthsight.
Earthsight recently published a report exposing the devastating environmental consequences of Paraguay's charcoal business. Paraguay is the world's fifth biggest exporter of charcoal. Thirty football fields of natural forest are being destroyed every single day to provide Europe with charcoal. Every two weeks, an area the size of Manhattan disappears into charcoal ovens.
Earthsight's report charts the journey of the carbonized trees into European supermarkets like Aldi, Carrefour and Lidl. By selling this charcoal, these supermarkets are fuelling an environmental crisis that is endangering a region described by David Attenborough as "one of the last great wilderness areas in the world". Tell them to stop buying charcoal made from the destruction of Paraguay's forests.
Back­ground
The Gran Chaco encompasses parts of Bolivia, Argentina and Brazil as well as Paraguay. It has several endemic species and high levels of biodiversity, including 3,400 plant species, 500 birds, 150 mammals and 220 reptiles and amphibians. Its position at the heart of the continent makes it an important refuge for migrating birds. Jaguars prowl its forests, hunting tapir, peccary, giant armadillo, capybara and giant anteaters.
While deforestation affects forests across the Gran Chaco, it is happening most quickly in Paraguay. The Paraguayan Chaco is being cleared by large, private companies to produce charcoal and rear cattle for beef, with the majority of production of both destined for export. The spreading pink in the images below shows just how much forest was destroyed in Paraguay between 2006 and 2015.
As well as devastating wildlife, this deforestation threatens the livelihoods of indigenous Ayoreo. Some Ayoreo communities continue to live their traditional nomadic lives isolated from the spread of industrial civilisation. But the forest clearances threaten to wipe them out. The UN Special Rapporteur on the rights of indigenous peoples has highlighted their case to the Paraguayan government on several occasions, warning of "serious threats posed to groups in isolation by the relentless spread of deforestation."
A recent report by the British NGO Earthsight provides more detail on this environmental crisis. It shows how, in early 2017, 22,000 bags of Paraguayan charcoal were entering Germany every day, and 5000 bags were entering the UK. It traces the journey of Paraguayan charcoal into European supermarkets, including branches of Aldi, Lidl and Carrefour in Germany and Spain, plus supermarkets, shops and restaurants in the UK, Portugal, Italy, the Netherlands, Greece and Poland. Read the full report as a pdf file here:
Choice Cuts: How European and US BBQs are fuelled by a hidden deforestation crisis in South America
There are plenty of better options. People who care about natural woodland and wilderness and the creatures that live there should buy locally produced charcoal, sourced sustainably from woodland management practices such as coppicing.
Letter
To: Aldi, Carrefour, Lidl
Dear company managers,
The British environmental organization Earthsight has traced charcoal from forest destruction in the Paraguayan Chaco to branches of Aldi, Carrefour and Lidl in Europe.
The production of this charcoal is having a devastating effect on the environment and local people. Charcoal producers are clear-cutting the country's tropical forests, doing the dirty work for the beef industry who then use the cleared land to rear cattle. This threatens endangered and endemic species as well as indigenous communities who rely on the forest for their livelihoods.
Most of this charcoal is exported to Europe. Every customer who buys and burns this charcoal in their barbeques is unwittingly contributing to the rapid destruction of forests in the Paraguayan Chaco. Please take immediate action to ensure that no charcoal from forest destruction in Paraguay is sold by your company.
Best regards
News

and updates