Brazil mine disaster: let's take responsibility for our imports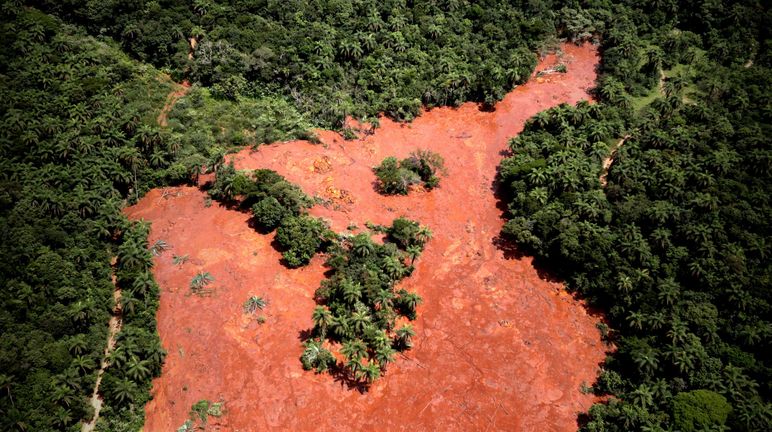 178,414 supporters
A dam collapse in a Brazilian iron ore mine killed at least 157 people and polluted a vast downstream area with toxic metals. This disaster is a consequence of our appetite for steel for the automotive, mechanical engineering and construction sectors. We need to take responsibility for the entire supply chains of our raw materials.
Call to action
To: the governments of the United States and the EU Member States
"In the wake of the Brazilian mine dam disaster, we need to take responsibility for raw material imports and establish binding rules for complete supply chains."
Brazil was once again the scene of a catastrophic mine dam collapse: 12 million tons of tailings from the Córrego do Feijão mine poured downhill in the Minas Gerais highlands, wiping out everything in its path.
The avalanche of toxic sludge killed at least 157 people and another 182 are missing. The mine complex, residential areas, rivers and tropical vegetation were buried under a thick layer of mud – up to 15 meters deep in places.
The mine operator, the Brazilian Vale group, has a turnover of USD 34 billion (2017), making it the world's second largest commodities group and largest iron ore exporter.
Three years ago, a similar dam collapse at a Vale iron ore mine in Mariana, Brazil, killed 19 people. 64 million cubic meters of mining sludge polluted 800 kilometers of the Rio Doce river all the way to the Atlantic Ocean.
Those responsible for the disasters are not only located in Brazil, but also in Europe and North America. Every year we consume millions of tons of iron and steel for cars, machinery, consumer products and the construction industry.
The United States, for example, annually imports iron ore and steel products worth around USD 50 billion. The US annually imports 4.55 million tons of iron ore from Brazil (2015). Brazil thus accounts for 39 percent of US iron ore imports.
The UK currently imports 9.3 million tons of iron ore (2016). The value of the imported iron and steel products amounts to USD 9 billion.
Governments and businesses must take responsibility for complete supply chains, ensuring that environmental and safety standards, labor law and human rights are respected.
Voluntary corporate commitments are not enough – we need binding regulations and laws. Let's push for higher standards and make disasters like the one in Brazil history.
Back­ground
Vale group
At the Paraopeba mining complex, which includes the affected Córrego do Feijão mine near Brumadinho, Vale annually mines around 27 million tons of iron ore, or seven percent of the group's total ore output.
The mining company's security cameras recorded the rupture of Dam I: the 83 meter high earthen dam collapsed within seconds. An avalanche consisting of the material of the dam and 12 million tons of toxic tailings rolled down the valley, instantly wiping out everything in its path with brute force.
Further mine dam collapses can occur at any time
Only three years ago, 19 people died when a similar dam collapsed in an iron ore mine run by Samarco in Mariana, Brazil – a joint venture between Vale and the Australian BHP Billiton mining group. 62 million cubic meters of sludge polluted 800 kilometers of the Rio Doce. The German-Brazilian KoBra civil-society network describes the accident as a crime against the environment and a negative world record in the history of mining.
At least 717 other dams for similar mine tailing ponds are being operated by mining companies in Brazil alone, O Globo reports. Many of them are considered unsafe. Further devastating breaches threaten at any time, particularly after heavy rainfalls.
EU Conflict Minerals Regulation
The new EU Conflict Minerals Regulation is a step in the right direction, but it is too short-sighted and urgently needs to be expanded and improved. Furthermore, it will not be in full force until 2021.
The regulation currently covers only four raw materials – tin, tantalum, tungsten and gold – that are mined in politically unstable countries or war-torn regions. A large part of the manufacturing sector, which uses these raw materials in products such as cars, machines or electrical appliances, is exempted. The regulation also lacks provisions covering environmental aspects, countries affected by serious corruption, and other problems.
Corruption is widespread in the mining industry
Many companies receive coveted mining licenses in return for bribes, and many environmental permits and expert opinions are also obtained by greasing palms. Brazil is currently in 105th place in the Corruption Perceptions Index (CPI) of Transparency International (TI) with a dismal CPI value of 35.
Letter
To: the governments of the United States and the EU Member States
Ladies and Gentlemen,
The responsibility for the latest devastating collapse of a dam in an iron ore mine in Brazil, which cost the lives of more than 150 people and caused serious environmental damage, lies not only with the Brazilian iron ore company Vale, its corporate headquarters in Switzerland and the Brazilian authorities.
The governments and businesses of industrialized countries share in the blame. Every year, we import millions of tons of ore, iron and crude steel for use in the automotive, mechanical engineering, consumer goods and construction sectors.
The catastrophic safety shortcomings and the serious negative impacts of the mining industry on the environment and local people have been documented for many years – in Brazil and many other producing countries.
We must finally take responsibility for the complete raw material supply chains of our respective economies.
We call on you to
- introduce binding rules for resource flows and their transparent tracing
- establish due diligence obligations for human rights and environmental protection
- put human rights and environmental protection first in trade, investment and raw materials agreements
- extend the EU Conflict Minerals Regulation to cover all relevant raw materials, manufacturing industry and environmental protection.
Yours faithfully,