Uganda: Stop criminalizing pipeline protesters!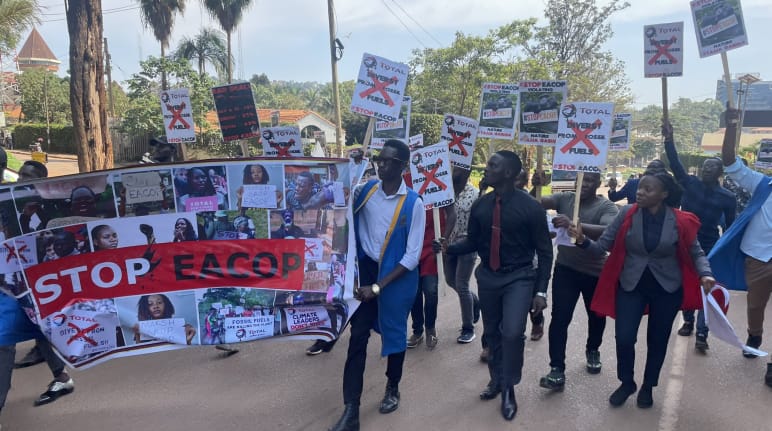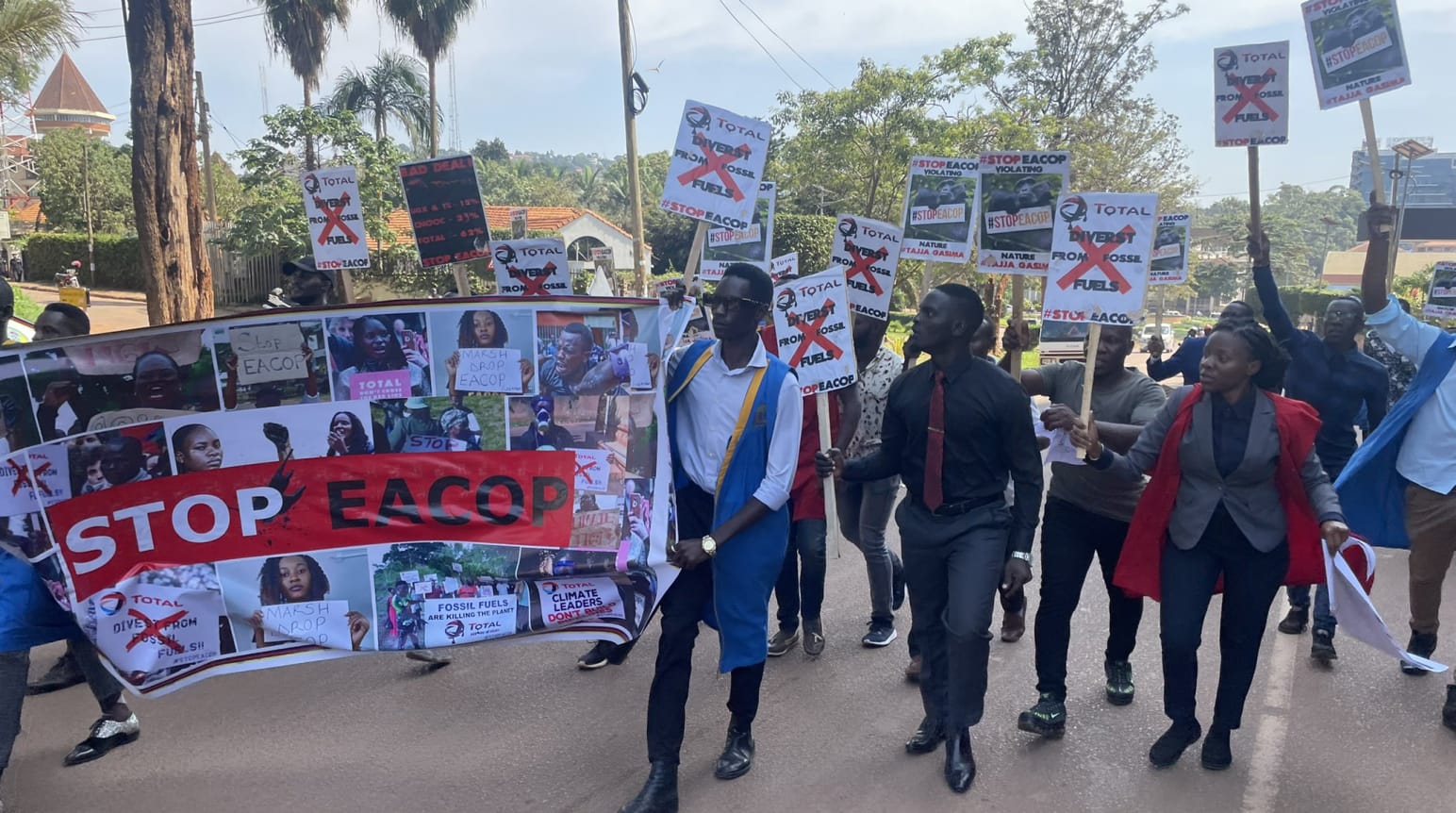 78,328 supporters
Authorities in Uganda are cracking down on critics of fossil fuel projects. Nine university students were arrested and are awaiting trial in Kampala for protesting against the EACOP pipeline.
News

and updates
Call to action
To: Director of Public Prosecutions Jane Frances Abodo; cc to European Parliament and EU Representation in Uganda
"Drop the charges against the nine students. Stop intimidating critics of EACOP and other oil projects."
The student protest on October 4, 2022 was peaceful – yet the police responded with a show of force. Photos show ten policemen surrounding a demonstrator and several officers tugging at him. Some of the police were armed with assault weapons. Nine students were detained and spent six nights behind bars. The violent arrest and jailing traumatized the young men.
The students had been protesting against the East African Crude Oil Pipeline (EACOP). Following the European Parliament's passage of a resolution against the pipeline, they had wanted to hand over a petition to the EU representation in Uganda, but were stopped by the police under the pretext that their protest was causing a public nuisance.
One of the students, Lubega Nsamba, fears that "we could be imprisoned for expressing our opinions regarding the EACOP project".
The students were released on bail of 24 euros each and a guarantee of 2,430 euros. They have been waiting for their trial since then. Two trial dates have already fallen through because of the public prosecutor's office: On April 26, the prosecutor simply did not show up. The students are suspended in legal limbo, with no end in sight.
The threat of legal action is nerve-wracking and potentially costly for the accused. According to the activists, the prosecutor's intention is to silence critics.
Brighton Aryampa, CEO of the environmental organization Youth for Green Communities, said: "It is absurd that in this era, students cannot express their opinions and views in the development they desire. Despite the arrest and judicial harassment of these students, it's encouraging that we have brave young people who insist on participating in the development they want. We demand the DPP withdraw this case."
Please support their demand with your signature.
Let the students know that they are not alone, and that the international community stands behind them.
Back­ground
Two fossil fuel companies, France's TotalEnergies and China's National Offshore Oil Corporation (CNOOC), plan to dot northwestern Uganda with hundreds of wells and produce 200,000 barrels of oil a day in the Tilenga and Kingfisher extraction projects. Not even Murchison Falls National Park will be safe from drilling. (Please also support our petition to protect Murchison Falls.)
A crucial component is the 1,445-kilometer EACOP pipeline to the port of Tanga in Tanzania.
Numerous conservation and human rights organizations are fighting EACOP, complaining about land grabs, the loss of livelihood for many local communities and environmental destruction. Moreover, the extraction of oil would be a disaster for the climate: A recent study shows that the project will emit as much carbon as Uganda and Tanzania combined over the course of 25 years.
24 major banks and 18 insurance companies have already pledged not to become involved in the project in Uganda and Tanzania. Protests by the worldwide StopEACOP network, of which Rainforest Rescue is a member, have played a key role in this success.
Our partner organization Tasha also opposes EACOP.
Letter
To: Director of Public Prosecutions Jane Frances Abodo; cc to European Parliament and EU Representation in Uganda
Your Ladyship,
We are writing to you to express our concern regarding the case of university students who were arrested for lawfully expressing their opinions on the European Parliament's resolution on human rights abuses in Uganda and Tanzania linked to investments in fossil fuels projects.
We call on the OPDD to drop the charges against the nine students immediately. Please refrain from intimidating critics of the EACOP and other oil projects. 
Yours faithfully,
News

and updates
On August 28, activists from the Ugandan NGO Youth for Green Communities delivered the 59,420 petition signatures that had been collected up to that point to the prosecutor's office.
On September 4, 2023, the third hearing date took place in Kampala. The prosecution did not present any evidence at the first hearing – and simply did not appear for the second.
Unfortunately, the court did not throw the case out, and instead scheduled additional dates in late October and early November. By then, the students will have spent a full year suspended in legal limbo.
This petition therefore remains relevant.
---
Uganda: Further arrests of EACOP pipeline protesters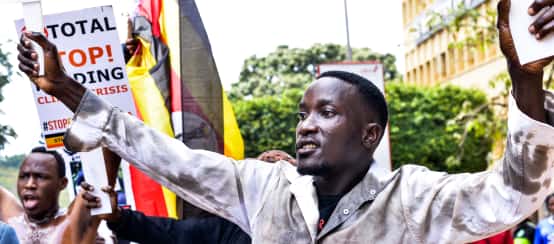 In Uganda, police again violently broke up a peaceful demonstration against the EACOP oil pipeline and arrested four students. One of them contracted tuberculosis in jail. Nine young men have been on trial for a year on similar charges.
Footnotes
East African Crude Oil Pipeline (EACOP)
Preparations and construction work for the pipeline and the associated Tilenga and Kingfisher drilling projects have begun. Access roads have already been built. Thousands of villagers and farmers along the planned route have been displaced.
Funding for the project is not yet in place, however. This could ultimately lead to its failure.