Perched atop the remains of the last tree standing, an orangutan helplessly surveys the wasteland that until recently was his home. Armed with chainsaws and bulldozers, workers of Bumitama Gunajaya Agro (BGA), a palm oil company, have flattened the rainforest for miles around.
Three other half-starved orangutans – a pregnant female and a mother with her child on her back – were also found huddled around the stumps and tree trunks of the cleared rainforest.
"There are more orangutans in the tiny remaining patches of forest in the plantation, along with other protected species such as proboscis monkeys," explains Adi Irawan of International Animal Rescue Indonesia (IAR). "All of the animals on the plantation are threatened. The company must stop clearing the forest immediately."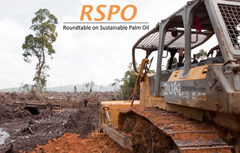 Despite its ruthless practices, palm oil producer BGA has been a member of the Roundtable for Sustainable Palm Oil (RSPO) since 2007. BGA's customers include IOI, Wilmar and Sinar Mas, companies that sell the palm oil to European food and consumer goods manufacturers and biodiesel producers.
Please call for a stop to the destruction of Borneo's rainforests and the unbridled expansion of oil palm plantations.
Additional information and images