Our ancestral land is worth more than palm oil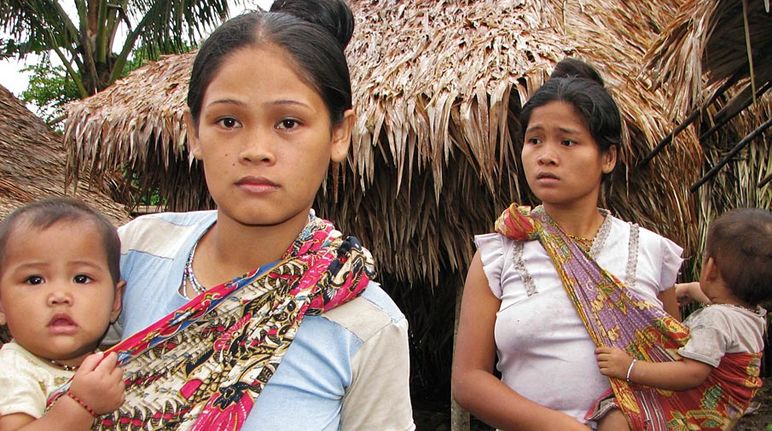 106,585 supporters
The Philippine government plans to authorize more than 300,000 hectares of oil palm plantations on the islands of Mindanao and Palawan. The indigenous peoples are fighting back – they depend on their land and the rainforests. Palawan is a UNESCO Man and Biosphere Reserve. Please support the Aldaw Indigenous Network's petition.
Call to action
To: The President of the Philippines, the Governor of Palawan; Governors of the provinces Misamis Oriental and Bukidnon (Mindanao); CC: UNESCO Director-General Irina Bukova
"The Philippine government must respect the rights of indigenous peoples and curb the expansion of oil palm plantations."
"The spreading oil palm plantations are a disaster for us. They are destroying our ancestral lands and forests and are leaving us destitute," explained Artiso Mandawa of the ALDAW indigenous network on Palawan.
At present, Philippine oil palm plantations cover an area of 50,000 hectares. Another 40,000 hectares of land have been targeted and are now being cleared in Mindanao and Palawan, allegedly for the purpose of eradicating poverty while reducing edible oil imports. In the eyes of policymakers, the earmarked land is "unused" or "underdeveloped".
However, the government plans neglect to mention that the "unused" land belongs to small farmers and indigenous peoples who live there, grow rice and vegetables, and gather fruits, medicinal plants and building materials in the neighboring forests.
"When they take our land, leave our families to starve and violate our rights, we have no choice but to fight," explained Rubenson Batuto, a member of the Higaonon tribe of Mindanao. "As an indigenous people, we have a right to our land, even if we have been denied it to this very day."
Thanks to their sustainable way of life, the indigenous tribes have preserved the unique biodiversity of their ancestral lands. The rainforests and mangroves are home to 49 animal and 56 plant species threatened with extinction. These include the Philippine crocodile (Crocodylus mindorensis), the Palawan peacock-pheasant (Polyplectron Napoleonis) and swallowtail butterfly (Graphium megaera). In 1990, the UNESCO declared the entire island of Palawan to be a Man and Biosphere Reserve.
Please call on the Philippine authorities to stop the expansion of oil palm plantations immediately and safeguard indigenous peoples' rights.
Back­ground
The Philippine island province of Palawan is a UNESCO Man and Biosphere Reserve, while the province of Mindanao also has areas of precious rainforest left.
Palm oil is booming
Palm oil is used for biofuels, food production, soap and chemicals. Palm oil production and the global palm oil trade are booming. Globally, the expansion of oil palm has been possible only through land grabs, land conversion, and rapid deforestation. Displaced farmers and indigenous peoples are forced to become poorly paid agricultural workers on oil palm plantations – if they can find employment at all. Oil palm expansion has brought about increased hunger and poverty while benefitting only a few private corporate interest groups.
Biofuels have been falsely portrayed as the answer to reducing greenhouse gas emissions, achieving energy independence and eradicating poverty. The experience with palm oil in the Philippines and elsewhere has shown that the very opposite is true. European biofuel policies have greatly increased the global demand for palm oil – partly because palm oil is part of the biofuel mix, but to a greater extent because the EU now burns most of its rapeseed oil as biofuel. Food, soap and cosmetics companies are therefore buying far more palm oil to replace the rapeseed oil.
In the Philippines, coconut oil has traditionally been used for cooking, and coconut palms provide many different products and uses for local farmers, thus helping to sustain the rural economy. On the global markets, coconut oil is being sold at a higher price than palm oil. Philippine vegetable oil millers and refiners are therefore eager to export it while selling the cheaper palm oil on the domestic food market. However, in the longer term, the Philippine government is hoping for the country to become a major exporter of palm oil as well, thus taking advantage of the rising global palm oil demand and prices spurred by EU biofuels policy.
Currently, in Northern Mindanao alone, 20,000 hectares of agricultural land have been staked out for conversion into oil palm plantations, and another 20,000 hectares have been set aside, for the same purpose, in Palawan (a UNESCO Man and Biosphere Reserve). Additionally, one million hectares of land in Mindanao are being considered for conversion to oil palm plantations by Malaysian investors, much of it part of one of Asia's largest wetlands.


Human rights violations, social and environmental problems with oil palm plantations
Most oil palm operations in Palawan are managed by the Palawan Palm & Vegetable Oil Mills Inc. and its sister company, Agumil Philippines Inc. Both companies were established as joint ventures of Philippine, Singaporean and Malaysian investors. "We are prisoners on our own land", complains Artiso Mandawa, by which he not only means the communities' financial dependence on the palm oil industry: "New pests have spread from neighboring oil palm plantations to our farmlands, destroying thousands of coconut palms that our parents and grandparents once planted, as well as other food crops. Working conditions on oil palm plantations are exploitative and child labor (boys below 18) is rampant." Furthermore, according to the ALDAW spokesperson, oil palm plantations are often surrounded by fences and guarded by local security personnel. As a result, indigenous people have to walk long distances to reach their own upland fields and forests.
At the same time, in Mindanao, land grabbing for oil palm plantations has involved human rights violations of the local indigenous Higaonon peoples. Those include illegal arrests and farmers being held at gunpoint while A. Brown Company, Inc. workers destroyed their crops. Indigenous communities have also suffered harassment and death threats and had their houses burned down. In October 2012, the escalation of violence toward the opponents of oil palm projects culminated in the killing of Gilbert Paborada, an indigenous Higaonon activist.
Overall, the self-sufficiency and cultural integrity of entire communities is now being jeopardized.
Rainforest Rescue
Rainforest Rescue has been supporting the ALDAW network since 2010, first in their campaign against mining and now also against oil palm plantations. Our previous petition to UNESCO led the UNESCO General Secretary, Irina Bukova, to demand an investigation from the responsible Philippine commission.

Mapping palm oil
ALDAW, our partner organization in Palawan, is currently mapping all oil palm locations in Palawan using geotagging, a process of associating photos with specific geographic locations using GPS coordinates. The geotagged images of oil palm plantations have been loaded into a geo-aware application and displayed on a Google Maps satellite view. The matching of GPS data to photographs reveals the overlap of oil palm plantations and land previously used by indigenous communities for their livelihood.
For detailed information, please see the following report produced by ALDAW with the support of Rainforest Rescue.
The
 Palawan 
Oil
 Palm
 Geotagged
 Report
 2013
 Part I - The 
environmental 
and
 social 
impact
 of 
oil
 palm
 expansion on

 Palawan
 UNESCO 
Man 
& 
Biosphere
 Reserve
 (The Philippines)
The
 Palawan 
Oil
 Palm
 Geotagged
 Report
 2013
 Part IISamples 
of 
geocoded 
photos
 of
 oil 
palm 
locations
 and 
impacted
 areas
Letter
To: The President of the Philippines, the Governor of Palawan; Governors of the provinces Misamis Oriental and Bukidnon (Mindanao); CC: UNESCO Director-General Irina Bukova
Dear Mr. President, dear Governors, dear Ms. Bokova,
I am very concerned about the planned expansion of oil palm plantations in the Philippines, especially in Mindanao and Palawan.
The industrial monocultures do not contribute to the prosperity of the people. On the contrary – they destroy the livelihoods of the indigenous population and the unique biodiversity of the Palawan UNESCO Man and Biosphere Reserve and valuable nature in Mindanao.
I therefore support the demands of the ALDAW network of indigenous peoples:
+ Please ensure the observance of human rights and land rights of farmers and indigenous peoples: put an immediate stop to the extrajudicial killings of indigenous leaders and identify the perpetrators of the killing of anti-oil palm activist Gilbert Paborada and other members of the Kalumbay indigenous people's alliance in Northern Mindanao.
+ Return the land that was taken from small farmers and indigenous peoples for oil palm plantations.
+ Freeze all land clearing and conversion permits (e.g. Environmental Clear Certificates) that have been issued for oil palm projects by the Department of Environment and Natural Resources.
+ Remove oil palms planted into illegally cleared forests and reforest the depleted areas with endemic species.
Finally, I urge the provincial government to promote the food security and sustainable development of the local population and impose a moratorium on biofuels programs and oil palm development.
Sincerely,
Topic
The issue – rainforest on our dinner tables and in our fuel tanks
At 66 million tons annually, palm oil is the most commonly produced vegetable oil. Its low world market price and properties that lend themselves to processed foods have led the food industry to use it in half of all supermarket products. Palm oil can be found in frozen pizzas, biscuits and margarine, as well as body creams, soaps, makeup, candles and detergents.
Few people realize that almost half of the palm oil imported into the EU is used as biofuel. Since 2009, the mandatory blending of biofuels into motor vehicle fuels has been a major cause of deforestation.
Oil palm plantations currently cover more than 27 million hectares of the Earth's surface. Forests and human settlements have been destroyed and replaced by "green deserts" containing virtually no biodiversity on an area the size of New Zealand.
The impact – suffering and death in producer countries, climate havoc
The warm, humid climate of the tropics offers perfect growth conditions for oil palms. Day after day, huge tracts of rainforest in Southeast Asia, Latin America and Africa are being bulldozed or torched to make room for more plantations, releasing vast amounts of carbon into the atmosphere. As a consequence, Indonesia – the world's largest producer of palm oil – temporarily surpassed the United States in terms of greenhouse gas emissions in 2015. With their CO2 and methane emissions, palm oil-based biofuels actually have three times the climate impact of traditional fossil fuels.
Palm oil is not only bad for the climate: As their forest habitat is cleared, endangered species such as the orangutan, Borneo elephant and Sumatran tiger are being pushed closer to extinction. Smallholders and indigenous people who have inhabited and protected the forest for generations are often brutally driven from their land. In Indonesia, more than 700 land conflicts are related to the palm oil industry. Human rights violations are everyday occurrences, even on supposedly "sustainable" and "organic" plantations.
As consumers, we are largely unaware of these broader issues, yet our daily palm oil consumption also impacts our health: refined palm oil contains large amounts of harmful fatty acid esters that are known to damage DNA and cause cancer.
The solution – a revolution on our dinner tables and in our fuel tanks
Only 70,000 orangutans still roam the forests of Southeast Asia, yet the EU's biofuels policy is pushing them to the brink of extinction. Every new plantation on Borneo is destroying a further piece of their habitat. Stepping up the pressure on policymakers is a must if we want to save our tree-dwelling kin. Apart from that, however, there is still a lot we can do in day-to-day life.
Follow these simple tips to recognize, avoid and combat palm oil:
Enjoy a home-cooked meal: Use your imagination: why not try almond-coconut-pear biscuits? Or pizza with potato and rosemary? A meal cooked from fresh ingredients beats processed foods containing palm oil every time. Oils such as sunflower, olive, rapeseed or flaxseed are ideal for cooking and baking.
Read labels: As of December 2014, labeling regulations in the EU require food products to clearly indicate that they contain palm oil. However, in the case of non-food items such as cosmetics and cleaning products, a wide range of chemical names may still be used to hide the use of palm oil. A quick check of your favorite search engine will turn up palm oil-free alternatives, however.
Remember that the customer is king: Ask your retailers for palm oil-free products. Write product manufacturers and ask them why they aren't using domestic oils. Companies can be quite sensitive to issues that give their products a bad name, so inquiring with sales staff and contacting manufacturers can make a real difference. Public pressure and increased awareness of the problem have already prompted some producers to stop using palm oil.
Sign petitions and write your elected representatives: Online campaigns put pressure on policymakers responsible for biofuels and palm oil imports. Have you already signed all of Rainforest Rescue's petitions?
Speak out: Protest marches and creative action on the street raise public and media awareness of the issue, which in turn steps up the pressure on policymakers.
Leave your car at home: Whenever you can, walk, ride a bicycle or use public transport.
Be informed and inform others: Big Business and governments would like us to believe that biofuels are good for the climate and that oil palm plantations are sustainable. Spread the word – share this information with your family and friends and encourage them to rethink their consumption habits. It's in our hands!