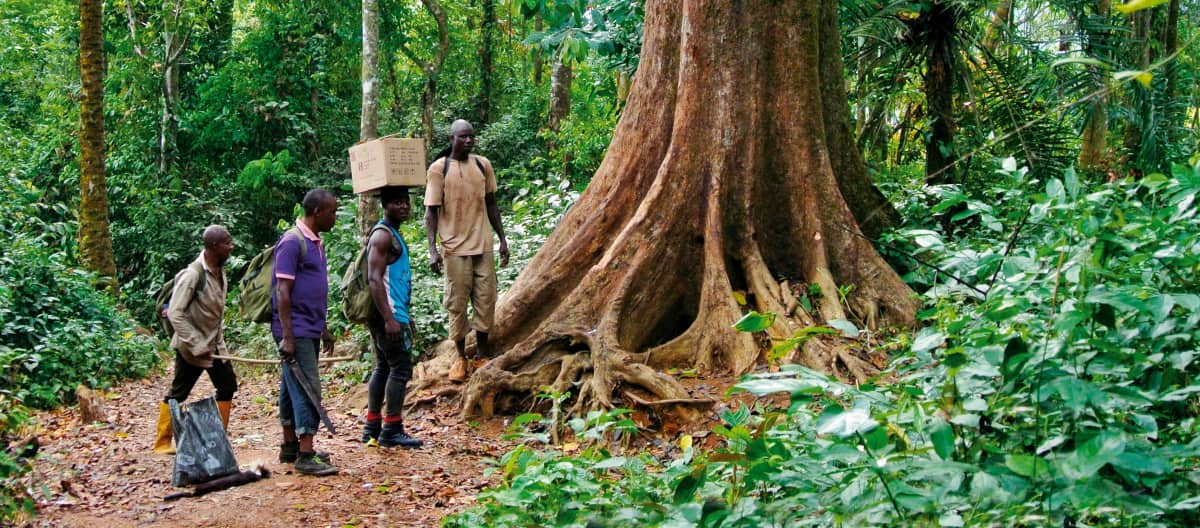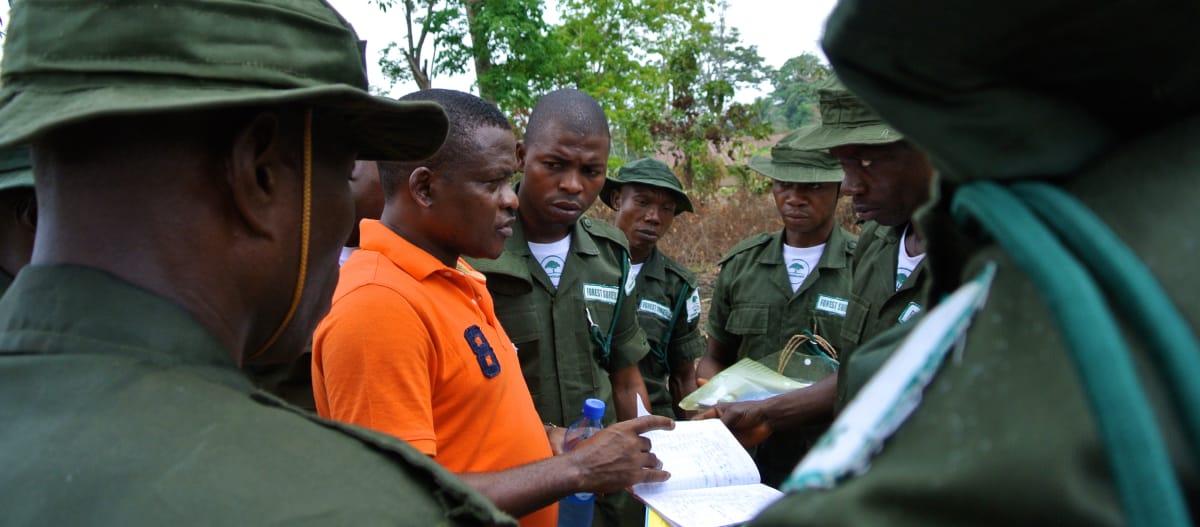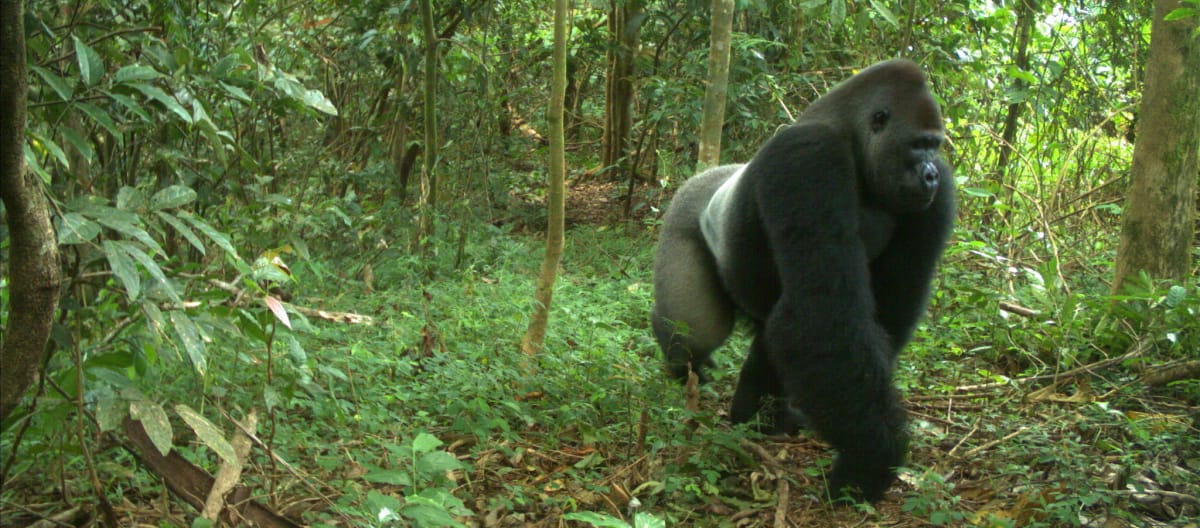 Eco-Guards: monitoring the forest at Afi Mountain
Gorillas, chimpanzees and forest elephants still live around Afi Mountain and in Cross River National Park, a small area in eastern Nigeria. Our partner organization Devcon is dedicated to protecting the region by training Eco-Guards and helping local communities develop environmentally friendly sources of income.
Project Overview
Project FocusEcosystems / Rainforest Defenders
Project Objective protecting the rainforest in eastern Nigeria
Activities training Eco-Guards, developing alternative sources of income
The scene is Olum, a village not far from Afi Mountain: The community is celebrating its cassava festival, and women are dancing and singing in honor of the root tuber, a staple food in eastern Nigeria. It is therefore quite fitting that Martins Egot, founder of the NGO Development Concern (Devcon), has just handed over a cassava mill to the local women's association. Thanks to the mill, they can now produce and sell their own flour. The additional income thus generated frees up villagers to patrol the rainforest regularly as volunteer Eco-Guards – and these patrols are sorely needed.
Nigeria has lost vast swathes of forest to industrial agriculture and rampant illegal logging. Poachers have severely decimated numerous wildlife species."
Lush forest can still be found in the state of Cross River, along the border to Cameroon. For local communities, environmentalists and scientists, the jungle is of paramount importance. Botanists have documented more than 1,550 different plants there, including at least 120 endangered species. Ornithologists have listed 350 species of birds. Forest elephants push through the undergrowth, while chimpanzees and colobus monkeys swing from the trees. Cross River gorillas, a great ape subspecies of which only a few hundred individuals remain, live hidden in the mountains.
Eco-Guards
This is where the Eco-Guards come into the picture: Another group of 50 men and women has just completed the training. Wearing green uniforms, they march to roll call, accompanied by the rhythms of a drum group. The military bearing is integral to the concept, explains Martins Egot. It ensures that the volunteers are respected when they track down poachers, arsonists and loggers on their patrols, armed only with the argument that the forest is protected, and the activities illegal – and with the knowledge of how valuable the forest is.
The goal of enabling Eco-Guard patrols and generating income for local communities is also served by the small farm that Martins Egot has set up in his home village of Edondon. It currently consists of a field and a chicken coop, and a project to raise pigs has also been running for several months. If everything works out as planned, other villages can adopt the model, earn more from farming than before and, as a further benefit, have less need to hunt animals in the forest.
Martins, a 54-year-old environmental activist who belongs to the Indigenous Ekuri people, has long lived in the bustling provincial capital of Calabar, but spends as much time as possible in Edondon, in the Ekuri community forest and in the villages bordering Cross River National Park. As a rural development expert, he likes the more leisurely pace of life there and values close contact with his neighbors and with the Eco-Guards.
Martins Egot's approach in a nutshell: "Devcon is a conservation organization that also benefits people."
Our partnership with Devcon
In March 2016, when the Indigenous Ekuri warned the international community about plans for the construction of a "superhighway" through Cross River National Park, it was clear to us that the threat was so serious that Nigeria would become a major focus of our work. We have forged close ties in western Africa, advancing campaigns together with local partners and meeting many brave, dedicated conservationists, among them Martins Egot and the members of his organization.
In the years since, we have funded several Devcon projects. The focus has always been on Eco-Guards, as well as alternative, environmentally friendly sources of income and environmental education. In 2022, we agreed to support the organization with an additional annual contribution.