Brutality against Sarawak villagers – Covid lockdown hinders assistance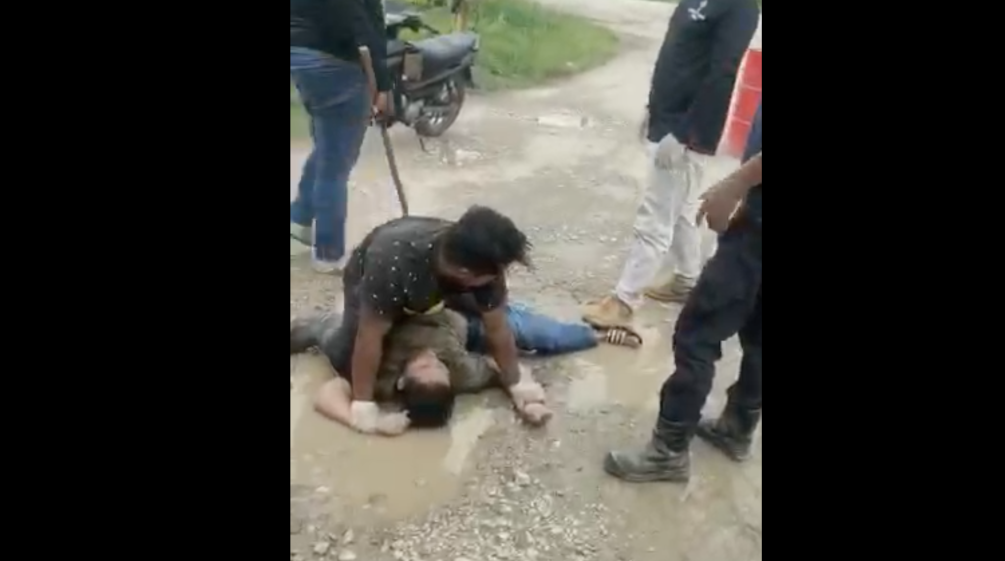 Feb 11, 2021
Indigenous people often suffer violence at the hands of thugs working for oil palm plantations. Our Malaysian partner Matek Geram sent us a frightening video showing several perpetrators beating up a young villager. Sarawak is currently in Covid lockdown, limiting the assistance Matek could offer.
Kicks and punches to the head, blows with long wooden batons – the video shows at least six men beating a 22-year-old villager belonging to the Iban indigenous people. At the beginning of the scene, his head is pushed into a puddle. One of the men is wearing a T-shirt that says "Security". Two policemen intervene only half-heartedly. The 1:26 minute video does not show the beginning of the assault and ends with the victim fleeing. According to media reports, the attack began when the victim wanted to leave the oil palm plantation and several security guards stopped him. The man was still in the hospital several days after the attack.
Our Malaysian partner Matek Geram from the indigenous organization SADIA shared the video via WhatsApp, as well as a copy of the complaint filed with the police on February 7. Five men have since been arrested and questioned.
Time and again, indigenous people call on Matek for help when they face violence connected with the plantations. This time, his hands were tied because of the Covid lockdown. Environmentalists and human rights activists in many countries complain that Covid measures are hindering their work, while palm oil, timber and mining companies go about their business as usual. Matek has had to watch helplessly from his hut on the river bank as barges full of illegally felled timber traveled downstream to the sea.
This most recent attack on an indigenous man happened at the Ladang 3 oil palm plantation near the town of Miri. According to publicly available information, the palm oil company Sarawak Plantation Agriculture Development (SPAD) was once owned by the state and is listed on the Kuala Lumpur Stock Exchange. In 2019 it applied for the Malaysian MSPO palm oil seal, but apparently has not yet received it. The company reportedly does not export to the EU.
Matek Gerams shared this statement via WhatsApp:
On behalf of the Indigenous People of Sarawak, I'm a grass root activist who handles the problems associated with Native Customary Right Land.
This problem is worrying us. 

Commenting on the incident that happened last Sunday where a local Iban man (22) had beaten by the Plantation thugs (SPAD), I was very dissatisfied with the Company's actions in using the services of the Gangsters.

... They are not just encroaching on the Native Customary Rights Land of the indigenous people, but they are also deliberately intent on killing the people around them who have lost their livelihoods ...

As an activist who handle issues related to Native Customary Rights Land is very sad to see the forest inherited from ancestors destroyed by oil palm companies ... 

Thank you,
MATEK ANAK GERAM
LAND ACTIVIST