Palm oil: TotalEnergies washes itself so green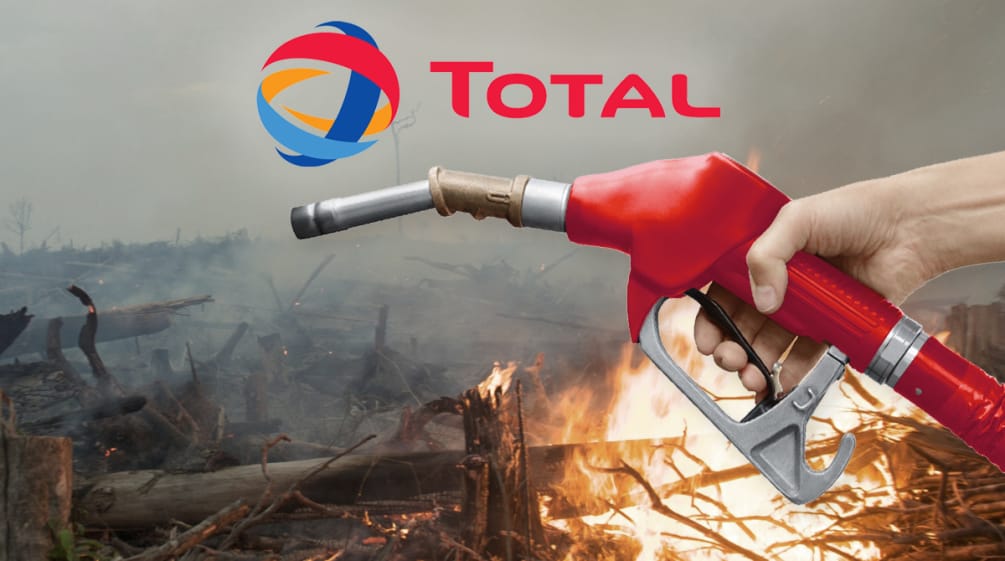 Jul 7, 2021
The French fossil fuel giant Total, which renamed itself TotalEnergies in May, plans to stop using palm oil as a raw material for biofuels from 2023. The big announcement is a convenient bit of greenwashing, as the oil multinational is merely anticipating legislation making palm oil in biofuel unprofitable.
The French fossil fuel company Total, one of the world's largest producers of oil and natural gas, is greenwashing its image. In May, the company rebranded itself as TotalEnergies and claims to be putting 20 percent of its investments into renewable energy such as solar farms and offshore wind turbines.
In an interview, Chairman and CEO Patrick Pouyanne announced that the company would no longer use palm oil in the production of biofuels as of 2023. The move is probably not due to an epiphany regarding the destructive nature of the palm oil industry, but simply a question of profitability:
Total retrofitted a crude oil refinery in Médé near Marseille for the production of biofuel that mainly uses palm oil derivatives as raw material. However, tightening regulations in France are likely to make the use of palm oil completely unprofitable in the near future. The impression given by Pouyanne that TotalEnergies has decided not to use palm oil for environmental reasons is therefore mere PR.
In 2020, the French government eliminated tax breaks for palm oil in response to pressure from environmental groups. The production of biodiesel and hydrotreated vegetable oil (HVO) from pure palm oil was thus no longer profitable.
Total had engaged in massive lobbying to prevent the decision and sued before the French Constitutional Council – and lost. But the government had nevertheless left a loophole for oil companies: palm fatty acid distillates (PFAD) remained tax-exempt, and so TotalEnergies switched its biofuel production to this byproduct of the palm oil industry.
Now French lawmakers also want to tax PFAD. TotalEnergies' announcement is merely anticipating the decision, which for all practical purposes means the end of palm oil as biofuel.
With our petition "Trashing rainforest for biofuel? A TOTAL disaster!" that was signed by more than 290,000 supporters, we sharply criticized the Total's use of palm oil.
The production of biofuels will nevertheless continue to damage the rainforests because of the increasing use of soybean oil: French imports for this purpose have increased fivefold in five years to 670,000 tons per year according to Canopee, a French environmental NGO.
Tropical forests and savannahs in South America are being cleared to plant millions of hectares of soy monocultures, making soybean oil just as harmful to the environment as palm oil. The French government is therefore considering capping imports at 2017 levels, which would correspond to about 140,000 tons per year.
The mainstay of TotalEnergies remains the fossil fuel business – from the development and extraction of deposits to the transport, storage, processing and sale via its own filling stations. TotalEnergies thus continues to be a corporation that makes a fortune by destroying and polluting the environment and emitting vast amounts of carbon.
If you have not already done so, please sign our petition: Trashing rainforest for biofuel? A TOTAL disaster!