Petition with 213,432 signatures delivered to European Commission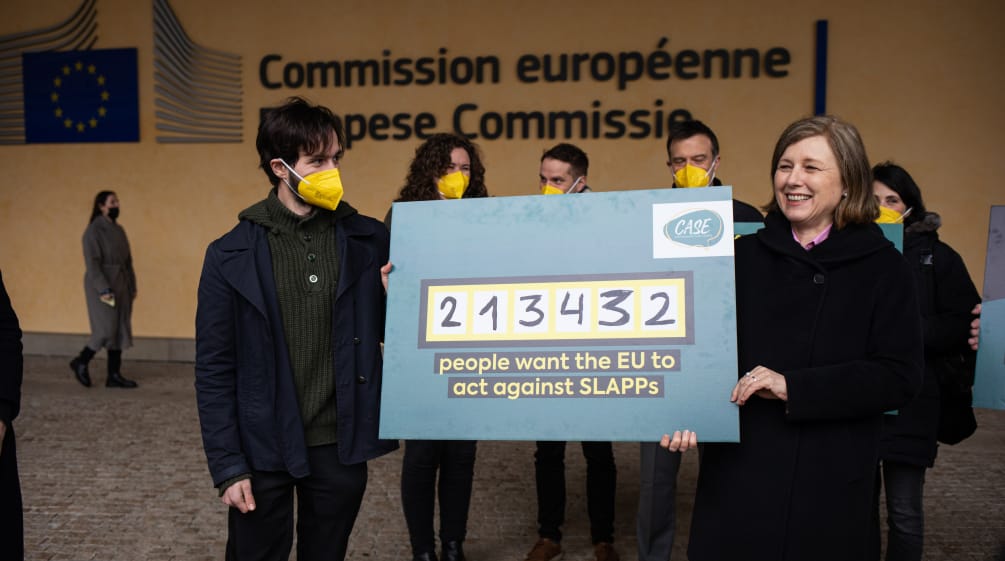 Feb 1, 2022
The home stretch was breathtaking, with the number of signatures going up dramatically in the closing hours – by Tuesday, 2 pm, 213,432 supporters had signed our petition to the EU calling for better protection against SLAPP lawsuits. EU Commissioner Věra Jourová accepted the petition in person at a meeting in Brussels.
A dozen activists had gathered outside the European Commission building in Brussels to talk to Jourová about abusive lawsuits, also known as SLAPPs (strategic lawsuits against public participation). What is at stake here is nothing less than the rule of law and freedom of expression.
Powerful individuals and corporations are increasingly hitting their critics with baseless lawsuits in an effort to tie up their resources, intimidate and silence them. Rainforest Rescue, for example, was sued by an Indonesian company before the regional court in Hamburg for publicizing their link to rainforest destruction in Asia. The Munich Environmental Institute (Umweltinstitut München) was taken to court for speaking out against the excessive use of pesticides on apple orchards.
Together with the Munich Environmental Institute and other partners, Rainforest Rescue launched a petition against SLAPP suits, which was supported by numerous civil-society organizations.
"A SLAPP suit is not only a legal slap in the face for those who have to invest a great deal of time and money in endless legal proceedings to defend themselves, but also a slap in the face to the rule of law and democratic principles themselves. If we want to protect them, it is high time for a European anti-SLAPP law," says Veronika Feicht, agricultural policy officer at the Munich Environmental Institute.
"SLAPPs are not only a problem for the activists who are directly targeted by such a lawsuit, they can have far-reaching impacts: Rainforest Rescue was sued in Germany by an Indonesian company for denouncing deforestation in Indonesia. But the fact that the company managed to take us to court in Europe is also having a chilling effect on environmental activists in Asia. The European Commission therefore needs to be aware of its global responsibility," added Marianne Klute, co-chair of Rainforest Rescue in Hamburg, Germany.
"No one should be afraid of stating their views and sharing information that matters to all of us," tweeted Commission Vice President Jourova after the handover: "Our democracies depend on the engagement of journalists and civil society in a free, open and plural environment."
Activists, environmentalists, whistleblowers and journalists in Europe could soon enjoy better protection against abusive lawsuits!
Since we expect the Commissioner's words to be followed by action, we will keep the petition online and continue to collect signatures for the time being.
Find out more about the handover here.
Numerous media in several countries reported on the petition.
---