Defenders of Kinipan Forest in Borneo taken to court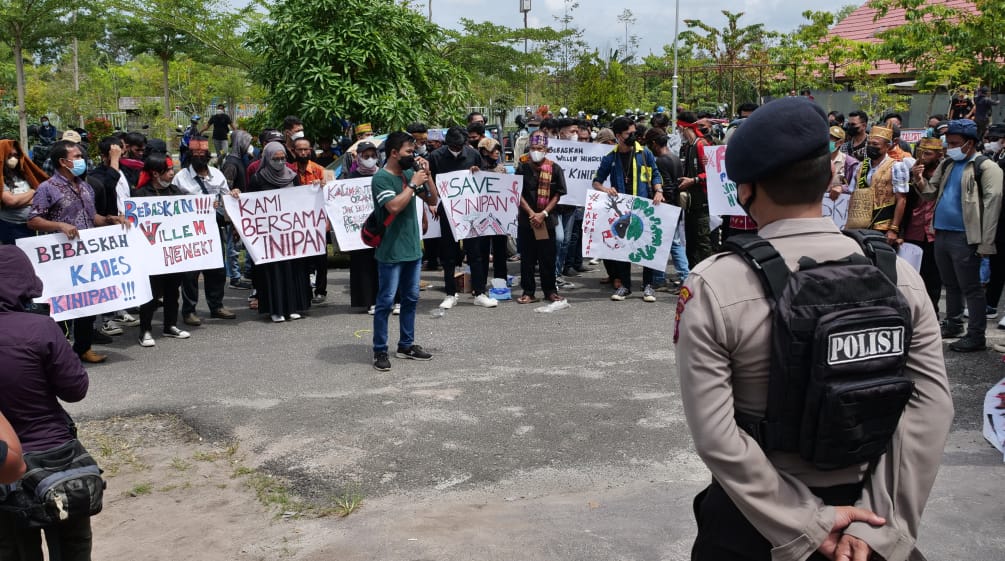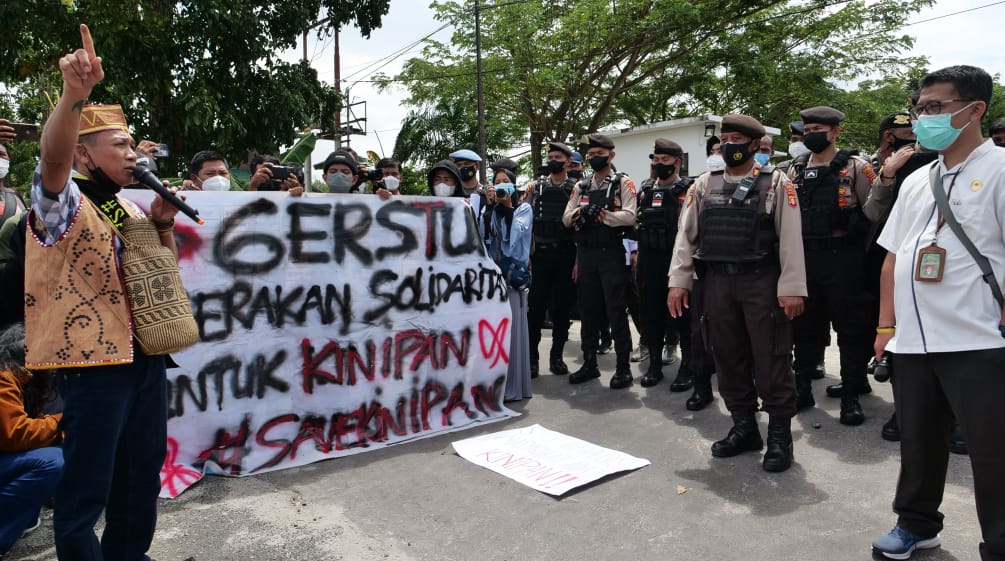 Feb 2, 2022
The village of Kinipan in the mountains of Borneo has become a symbol of the dispute over forest rights. The indigenous Dayak Tomun are defending their forest against a palm oil company that is rapidly cutting it down. Now their village chief is on trial.
The battle over forest rights in Borneo is taking on increasingly dramatic forms. The village chief of Kinipan, Wilem Hengki, is on trial in Palangkaraya, Central Kalimantan. He is accused of misappropriation of funds for village development – a bogus charge, according to locals.
January 31, 2022 was the first day of the trial. Our partner NGO Save Our Borneo sees the trial over allegedly fabricated corruption allegations as an attempt to silence the indigenous people of Kinipan and weaken their fight for traditional forest rights.
The residents of Kinipan traveled 600 kilometers to protest in front of the courthouse. Before the protest, they held a traditional ritual of prayer and chanting, calling on the forces of nature and heaven for help.
The resistance of the indigenous people of Kinipan against the destruction of their forests for palm oil has become a symbol of the struggle for human and forest rights in Indonesia. It is a textbook example of the conflict between people and the palm oil industry. In the mountains of Borneo, the forest is still intact, but hundreds of hectares have been cleared by the palm oil company PT. Sawit Mandiri Lestari (PT. SML).
The current trial is not the first attempt to browbeat local people. Effendi Buhing, a traditional leader and Adat elder, was also brutally arrested in 2020. Village chief Wilem Hengki, who is very committed to securing the forest rights of his community, was arrested in mid-2021 on the same charges – the misappropriation of funds for village development.
Wilem Hengki's renewed arrest on January 14, 2022 took him completely by surprise, and he has remained behind bars since then. Aryo Nugroho, a lawyer of the legal aid organization LBH, expressed surprise and dismay at the authorities' crackdown. An arrest would not have been necessary even if the allegations were true. But the police are believed to be acting on orders "from above".
The Justice for Kinipan Coalition is leading the movement for indigenous forest rights and supporting the village. Save Our Borneo and LBH are members of the coalition.