Nigeria: Villages once again being torched for palm oil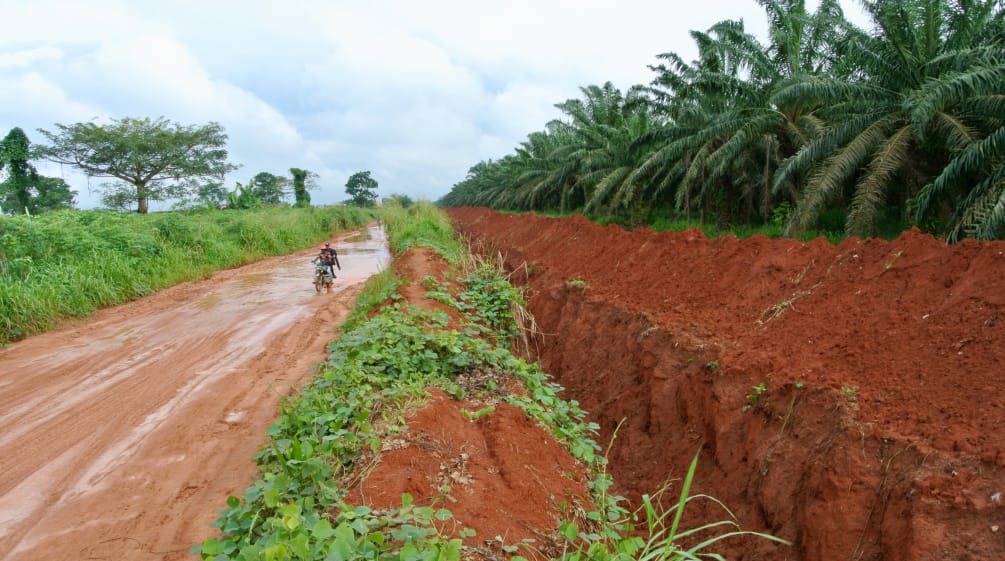 Sep 21, 2022
Peace remains elusive for people living near Okomu's oil palm plantations: On September 2nd, security forces looted and burned down houses in the Nigerian village of Agbede – a further chapter in the conflict between local people and the Okomu Oil Palm plantation company.
"I don't know why they came and burned my house and eight other buildings," says a traditional community leader: "We are peace-loving people – we are not militants, kidnappers or people of questionable character. We're just farmers, and we don't know what crimes we're accused of."
According to eyewitnesses, the attackers included security forces and the police. They arrived in a boat and fired in the air to scatter the villagers. "They wreaked havoc by setting several houses on fire," reads a letter sent to police by three villagers. A number of people are now homeless. Since calling on the authorities to investigate, the villagers are reported to be receiving threats.
The background is the conflict between villagers and Okomu Oil Palm Company. OOPC is part of the Socfin Group, which operates palm oil and rubber plantations in ten countries in Africa and Asia. The European group has a terrible reputation: wherever it operates – in Cameroon, Liberia, Sierra Leone, Côte d'Ivoire or Cambodia – people on the ground testify to its ruthless methods.
Villagers complain that they have been robbed of their land for the plantations. The company has also blocked the only public road to their villages with a gate, controlling access. During a peaceful protest, a woman was reported injured by gunfire from security forces.
The company denies being involved in any acts of violence.
The conflict is dividing the communities: While some are on the side of the company and were persuaded with all sorts of arguments and "gifts", others complain about violence.
Please sign our petition in support of the beleaguered communities.