"Vanishing Forests" study names those responsible for deforestation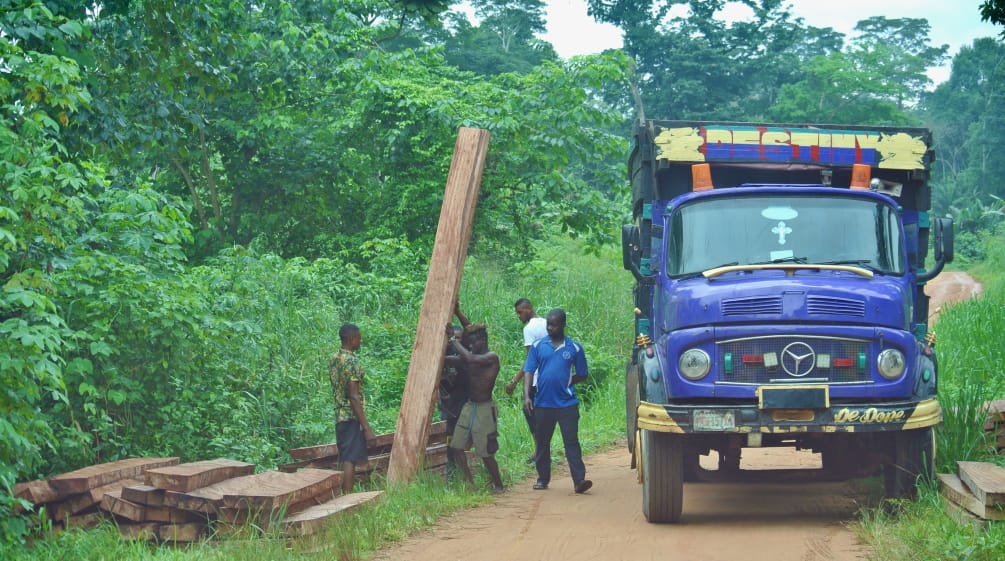 Oct 17, 2022
Since 2016, Rainforest Rescue has been supporting Nigerian environmental activists working to save the rainforests of Cross River state. One of our partners has analyzed the reasons for deforestation in a study. It concludes that a criminal cartel is at work.
In a 30-page study, Odey Oyama from the Rainforest Resource and Development Center (RRDC) explains how and why the forests are being destroyed: Illegal logging – which takes place on a grand scale with complete impunity – plays an key role.  Oyama describes a cartel whose players range from chainsaw-wielding loggers up to politicians and international backers. Bribery of officials at checkpoints, for example, is a routine occurrence. Photos of three injured men document the brutality with which the criminals operate.
A central aspect is "salvage logging" – the clearing of land that precedes the establishment of an oil palm plantation, for example. Everything indicates that salvage logging is a cover for complete deforestation, without environmental impact assessments or reforestation elsewhere: "Salvage logging opens a corridor for large-scale illegal logging for timber".
Finally, in the appendix, the study names those responsible, listing 79 companies and individuals who are said to be involved in salvage logging. Readers outside of Cross River are unlikely to be familiar with any of the names, but inside the state, the report could prove explosive.
RRDC is currently working on an expanded version implicating even more actors. The RRDC's Vanishing Forests study is currently not available online.