Environmentalists empower thousands of villagers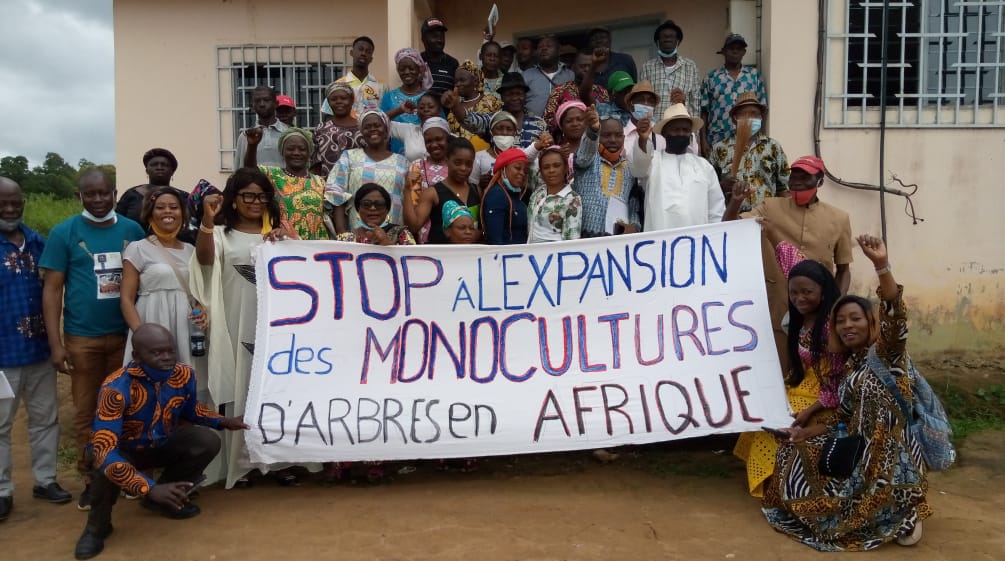 Nov 17, 2022
Protecting rainforests is an unglamorous job: It rarely involves spectacular actions, but rather grinding away patiently and on a small scale – for example, by empowering local people by educating them about their rights and the dangers of deforestation. Within just a few days, four of our African partner organizations sent us reports about their progress.
In Gabon, Muyissi Environment organized meetings with 200 villagers affected by palm oil plantations run by the agribusinesses Olam and Sotrader. People raised the issues of the companies' broken promises, the villagers' endangered food security, and the fact that the plantations have polluted local waters so badly that the fish are no longer suitable for consumption. The villagers protested on the International Day of Action Against Tree Plantations.
In Cameroon, Synaparcam organized protests against the palm oil company Socapalm on the International Day of Action Against Tree Plantations. Their focus was on the spiritual importance of places impacted by plantations. The organization also criticized the awarding of the controversial RSPO palm oil logo to the plantations.
In Uganda, the Tasha Research Institute Africa has been informing villagers impacted by fossil-fuel projects such as the East African Crude Oil Pipeline (EACOP) via radio broadcasts and village meetings. Tasha has also spoken out against arbitrary arrests and was instrumental in raising awareness of the pipeline project among members of the European Parliament.
From the Democratic Republic of Congo, CAMV reported on its multi-year project to reconcile the interests of conservation with those of the indigenous Batwa and other communities. The Batwa had been displaced for the establishment of Kahuzi-Biega National Park, an official gorilla habitat. Around 1,500 people came to information meetings in typical villages and participated in planting nearly 35,000 trees grown in two nurseries to stop soil erosion and bind nitrogen. The ultimate aim of the project is to develop a new stream of income for the impoverished population by cultivating coffee.
Rainforest Rescue was able to support all these projects with your donations.