Cambodia: Koh Kong petition handed over in Phnom Penh and Berlin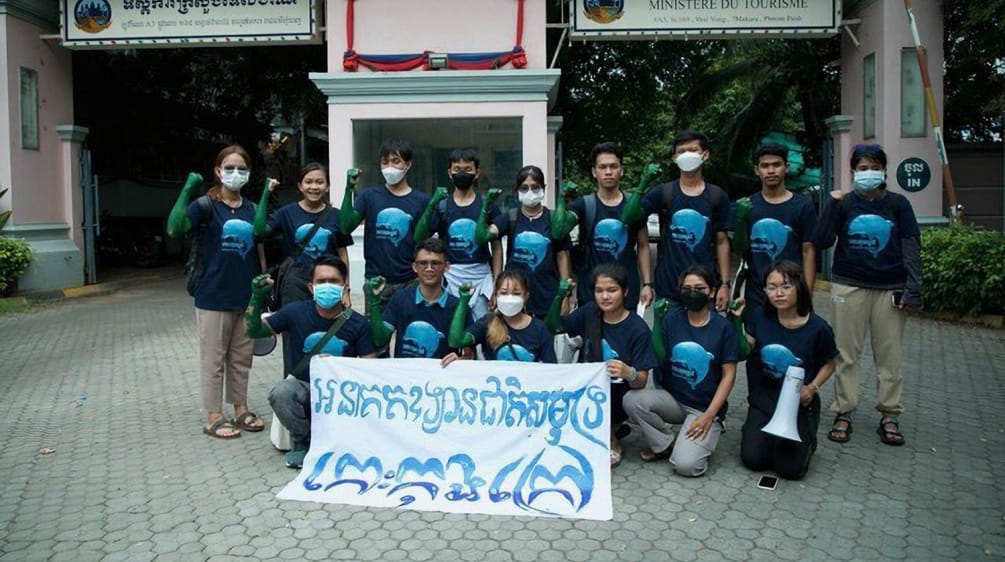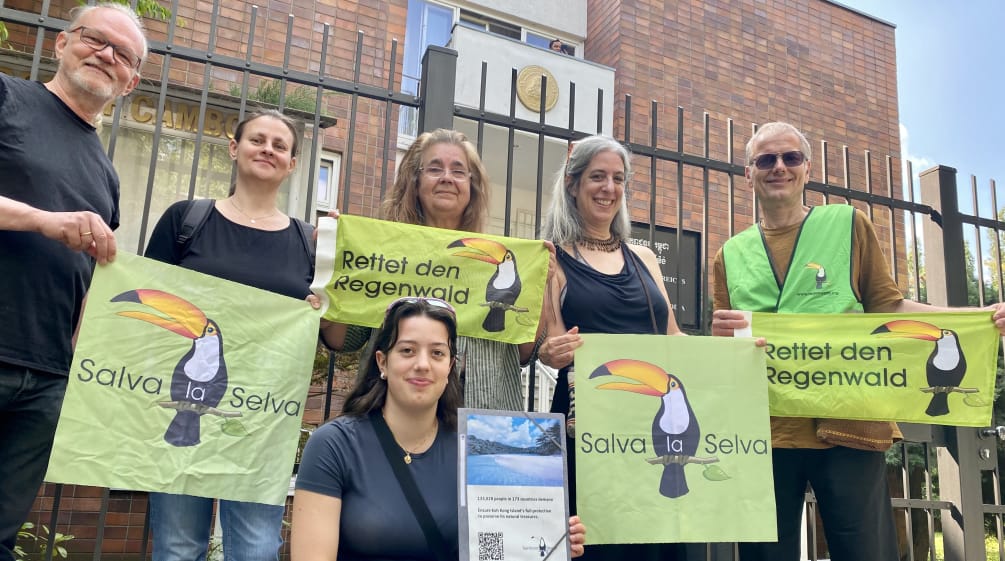 Jul 20, 2023
More than 133,000 people in 176 countries supported our petition to save Cambodia's Koh Kong island. In a joint action, Mother Nature Cambodia and Rainforest Rescue delivered the petition to the government in Cambodia and the Cambodian embassy in Germany.
With sea-blue T-shirts and their arms painted green, 17 students belonging to the Mother Nature Cambodia (MNC) youth group took to the streets of Phnom Penh with megaphones and our joint petition in hand. Their goal: to deliver the petition to the ministries of tourism and the environment and the seat of the prime minister – and to draw as much attention as possible to the danger facing Cambodia's largest island. Their banner read "Koh Kong Island must become a marine national park".
"With our green arms, we want to show that we care about our natural resources – especially Koh Kong Island," says MNC activist Phuon.
Video by Mother Nature Cambodia on their action to protect Koh Kong Island. The video is in the local language, Khmer.
For more than ten years, Rainforest Rescue has been supporting Mother Nature Cambodia in their spectacular and frequently successful campaigns. In September 2020, we launched a joint petition to protect Cambodia's largest island, which to date has been signed by more than 133,600 people worldwide. The petition is addressed to Premier Hun Sen and the Ministers of Environment and Tourism.
In June 2019, the government announced that it would "develop" the island – with a focus on luxury tourism.The head of government assigned this task to the influential LYP group of companies, along with a land concession on Koh Kong Krao, as the island is called in the local language. Exact plans have not been made public.
At the same time, the Ministry of the Environment announced that the island would be declared a marine national park in 2021. But to date, activist Phuon said, this protected area does not exist, and every attempt to get answers about the government's plans has been met with silence.
The first destination of the activist group: the Ministry of Tourism. There they were told that the ministry was not responsible. The government's stonewalling became even more apparent at the Ministry of Environment and the Prime Minister's office. "We were threatened and accused of acting illegally," Phuon said.
Time and again, MNC members have faced threats and arrest for exercising their civil rights. Six of them are currently free on bail, with prison sentences looming.
They are not letting this stop them – but there is no mistaking the emotional toll their protests are taking. "When we left the office of Prime Minister Hun Sen, many of us cried," Phuon said. Yet they have no doubt that this petition will have a major impact, both in Cambodia and internationally – even as the government makes it increasingly difficult for Mother Nature Cambodia activists to be heard.
Handover in Berlin
At the same time, members of Rainforest Rescue team delivered the petition to the Cambodian Embassy in Berlin. "We had an appointment and were able to explain the issue to the embassy staff," said Rainforest Rescue co-chair Marianne Klute. "But they were not willing to accept the petition. So we subsequently emailed it to Ambassador Savny Phen, asking her to forward it to the government in Cambodia."