Uganda: Charges dropped against anti-pipeline activists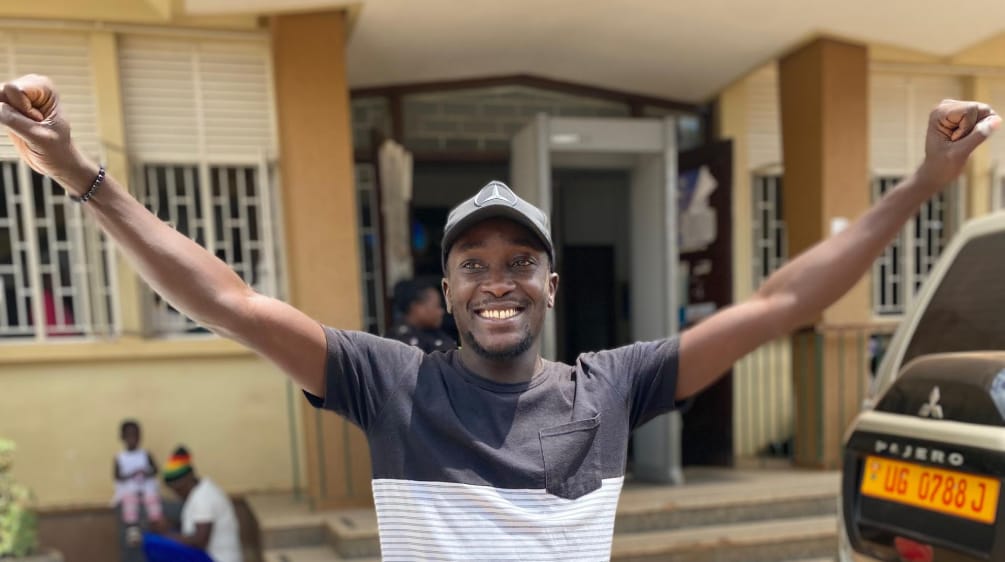 Nov 7, 2023
The trial of nine young environmental activists in Uganda is finally over. On Monday, a court in Kampala dismissed the case against the students who had been arrested while peacefully protesting the EACOP oil pipeline. The activists stood their ground for more than a year and intend to keep fighting.
It has been a nerve-wracking year for the defendants: In October 2022, they were thrown in jail after taking part in a peaceful demonstration against the construction of the EACOP oil pipeline. Released on bail, they had been kept in legal limbo since then.
"The state orchestrated this case to obstruct our efforts in mobilizing students and youths for direct actions against EACOP," said Ntambazi Imuran Java, one of the arrested students. "However, these baseless charges have only served to invigorate our resolve. Consequently, we call upon the state to also drop the charges against the four student activists who were arrested and detained on September 15, 2023."
"The ruling of this matter lays a precedent that Ugandans have the right to express their views on the kind of development they want for their country," said Brighton Aryampa, Chief Executive Officer, Youth for Green Communities (YGC), who accompanied the students to court.
Rainforest Rescue backed the students with a social media campaign and a petition signed by more than 78,000 people. The nine students would like to thank everyone who showed their support.
The court dismissed the case after the public prosecutor's office was unable to produce a single witness for the prosecution. The students' lawyer had argued that the trial was not a criminal prosecution, but an effort to silence activists.
The international StopEACOP network, in which Rainforest Rescue is active, issued this statement:
"These students' unwavering commitment, despite intimidation, shows the power of nonviolent resistance. They represent the hope and resilience of a generation committed to a sustainable Uganda that invests in its people, not fossil fuel pipelines that fuel the climate crisis. Their release proves the power of solidarity to overcome repression.
We applaud these courageous young activists, but our mission is far from over. The charges were an effort to silence critics of the pipeline. We urge all stakeholders, especially banks and insurance companies considering funding this project, to withdraw their support due to the significant risks involved and the harm it poses to people, nature, and the environment. The world is paying attention, and our voices will not be silenced."
Despite this favorable outcome, activists in Uganda are working in an increasingly repressive climate. A report by Human Rights Watch documents the crackdown on critics of the EACOP pipeline.
Please add your name to our petition against the oil projects in Uganda if you have not already done so.