Selous: Handover of 58,000 signatures to UNESCO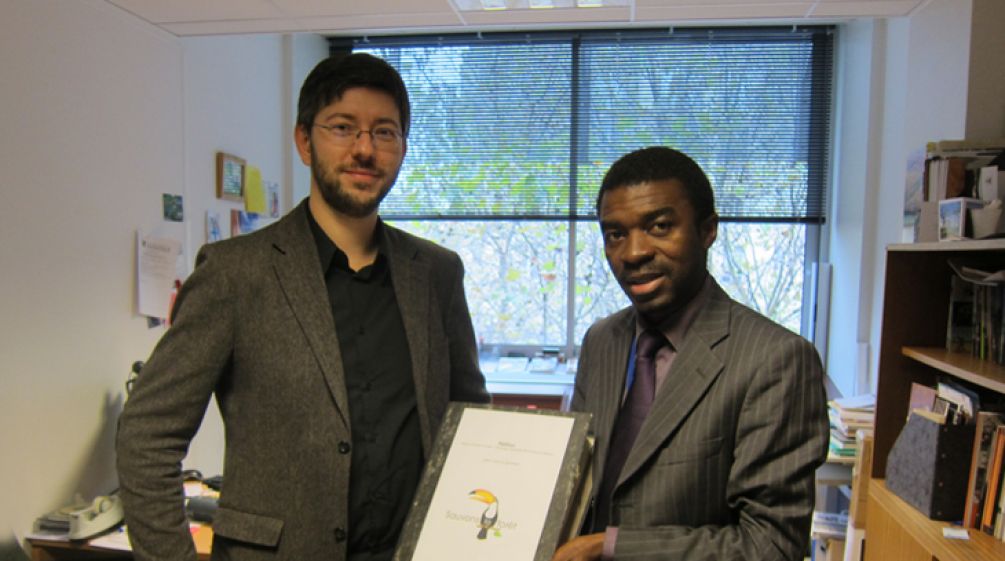 Nov 6, 2012
At the UNESCO office in Paris, Silvain Harmat of the organization Rainforest Rescue has delivered the petition against the alterations of the borders of the Selous Game Reserve in Tanzania. Afterwards, possible risks in the precedent, a potential abolition of the decision and further fields of action were discussed.
On Friday, 26th of October 2012 Sylvain Harmat, a representative of Rainforest Rescue, and the head of the Africa Department of the UNESCO World Heritage Centre, Lazare Eloundou Assomo, got together in Paris. On the occasion of this meeting Sylvain Harmat personally handed over the petition "UNESCO sacrifices wildlife preserve for uranium mine" and the list containing the 58,000 signatures collected.
The dialogue that followed was very enlightening because Lazare Eloundou Assomo was visibly pleased to be able to receive a representative of Rainforest Rescue. The reason was clear – the UNESCO shares Rainforest Rescue's point of view on the environmental hazards that the decision to alter the borders of the Selous Game Reserve in Tanzania implicates.
Nevertheless, Lazare Eloundou Assomo pointed to the framework of the UNESCO intervention and to its operating mode. In the case of Selous the members of the UNESCO Word Heritage committee took their political decisions alone and the recommendations on part of the administrative bodies of the UNESCO as well as the evaluation bodies of the IUCN were neither heard nor adopted.
Moreover, he stated that the problem of such a decision outreaches the Selous Game Reserve by far. Thereby our fears proved true: A precedent that can also hit all other natural sites on the list of the World Heritage.
However, there is still a glimmer of hope: The modification of the borders of the Selous Game Reserve will be rediscussed on the meeting of the committee from the 17th to 27th of June 2013 in Phnom Penh, Cambodia. The participation of an NGO like Rainforest Rescue is politically very important if the decision of the committee is to be overturned. Hence, it is of vital importance to provoke a debate concerning this topic.