Congo: First success for endangered mountain gorillas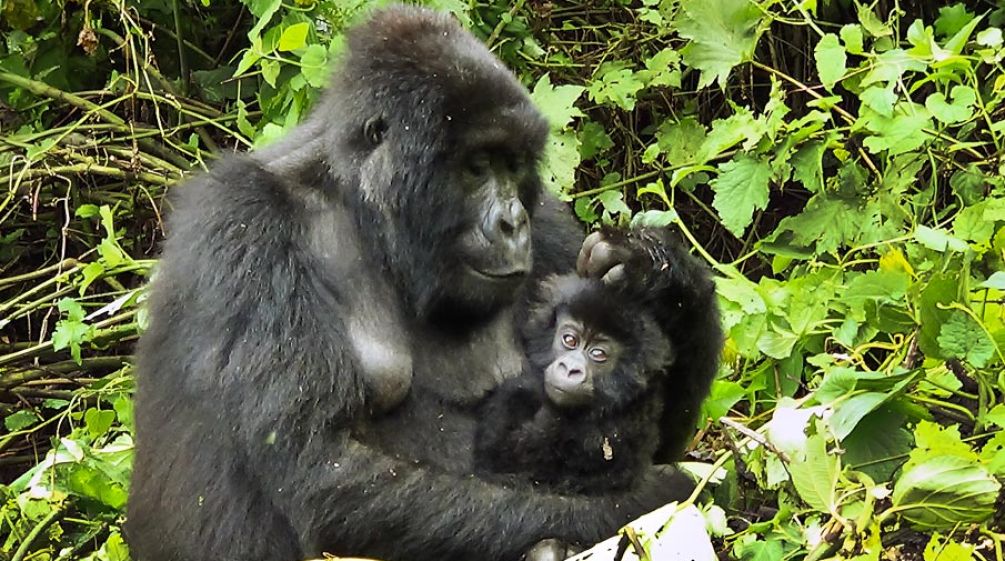 May 31, 2013
There is new hope for the Virunga National Park in the eastern part of the Democratic Republic of Congo. In this world heritage, the government has opened five areas for oil exploration. Due to worldwide protests of environmentalists, the oil company TOTAL pulled out of the exploration project.
"The start of oil production would mean the end of the UNESCO World Heritage Site and also the end of our gorillas." This concern was expressed in an interview with Rainforest Rescue in December 2012 by Ephrem Balole, member of the Virunga National Park administration. Balole came to Europe in order to draw attention to the impending natural crisis in his country which has been shaken by civil wars.
The dense rainforest of Virunga in the eastern part of the Congo, close to the border of Rwanda, is home to various rare animal species. Since 1925, it has been Africa's oldest national park. It is also home to 380 of the endangered mountain gorillas.
The park management, together with the inhabitants of the region are trying to fight the government's plans to grant concessions for oil production.
At the end of 2011, the British oil company SOCO for example, received an oil production licence for several oil blocks in the eastern part of the country. Until then, oil production was prohibited in the Congo's sensitive rainforest. 60 % of Block 5 of the SOCO-licence is situated in the middle of the Virunga National Park.  Ephrem Balole says: "The Company has received permission to start exploration in the park by presidential decree. However, the exploitation of natural resources within the park is prohibited by law."
In December 2012, more than 65.000 people signed Rainforest Rescue's call for an immediate stop of oil production activities in the Virunga National Park:
www.rainforest-rescue.org/mailalert/900/dr-congo-oil-company-threatens-gorilla-forest
In addition to that, we were able to donate 15.000 Euro to the park's management  – to support the difficult job of the rangers to protect the gorillas.
The rainforest and its inhabitants however, are not safe yet – until today the SOCO-company did not pull out of the project. Therefore, the park-rangers and the inhabitants need our help – please help to support them with a donation: