Strasbourg: 243,998 signatures against agrofuels handed over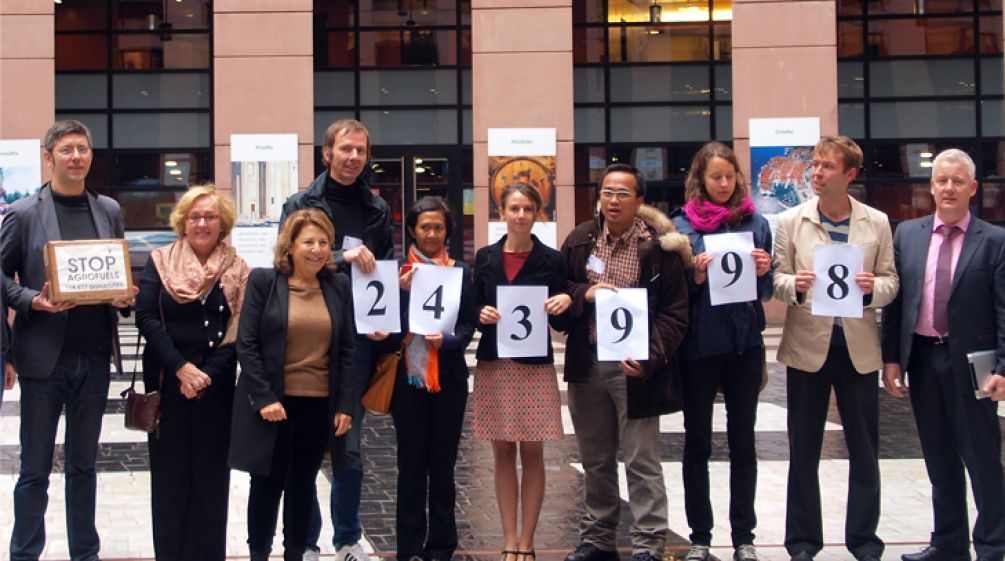 Sep 26, 2013
Rainforest Rescue and other environmental and human rights organizations have collected 243,998 signatures of people who call for a change in the fatal agrofuels policy of the European Union.
Together with ActionAid, Down to Earth, Friends of the Earth, Oxfam, Transport & Environment, and Walhi Indonesia we handed over the collected signatures to representatives of the European Parliament in Strasbourg.
We confronted Corinne Lepage with our demands, rapporteur on the Indirect Land Use Change Proposal, as well as Matthias Grote, chairman of the Committee on the Environment, Public Health and Food Safety, and the members of European Parliament Claude Turmes, Bas Eickhout, Josefa Andrés Barea, and Sabine Wils.
Europe's demand for palm oil is driving deforestation and illegal land grabbing in Indonesia and Malaysia. Together these countries account for about 90% of the global palm oil production. Palm oil plantations are directly responsible for the destruction of the rainforest and they pose a dangerous threat to orangutans, forest elephants, and Sumatran tigers.
By 2020, EU policies favour a 10% target for the share of agrofuels in petrol. The use of food crop-based agrofuels leads to food price rises and hunger.
Rainforest Rescue alone has collected more than 100,000 signatures. We have mailed the signatures to each of the 766 member of European Parliament. Our demands are clear: We oppose agrofuels completely. We are also asking for an immediate stop of all imports of crude palm oil for agrofuel purposes.
This fall European Parliament and the Council of the European Union will decide on the future of agrofuels. The European Union supports the production of agrofuels with 10 billion Euros. This explains the intense pressure exerted from the biofuels industry and European farmers lobby. So far, the policy recommendations have been watered down despite the negative consequences for people, the rainforest, and the climate.