Agip-Eni biodiesel: anything but green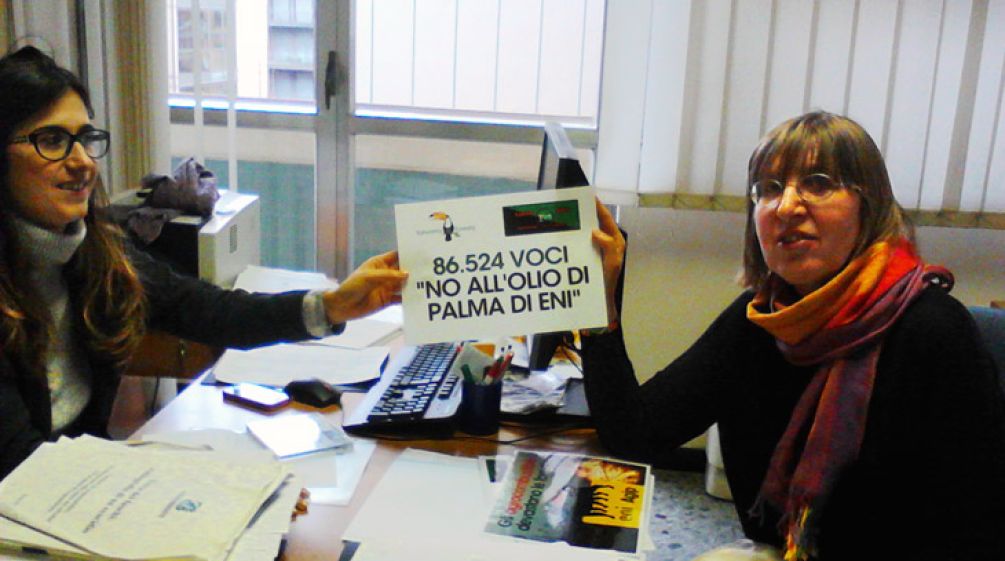 Mar 10, 2014
On February 11, Rainforest Rescue submitted a petition protesting palm-oil biodiesel to the Italian government. 86,524 people from all over the world had endorsed our campaign.
Francesca Santolini accepted the petition on behalf of the Italian ministry of the environment. Activist Gianna del Fabbro, who submitted the signatures for Rainforest Rescue, noted: "Even studies commissioned by the European Union itself have confirmed that biofuels are neither environmentally friendly nor sustainable."
The Italian Eni energy group intends to produce biodiesel in the port of Marghera near Venice, mainly using palm oil from Indonesia and Malaysia. With a combined market share of nearly 90 percent, the two southeast Asian countries are the world's largest palm oil producers.
Eni operates 6,384 Agip service stations in Europe alone. The biodiesel refinery in Venice is said to have an annual capacity of 500,000 tons. A plantation of around 180,000 hectares, or nearly 700 square miles, would be needed to produce the palm oil the refinery would consume. Over 1,200 orangutans would lose their habitat in Indonesia and Malaysia as rainforest land is cleared to make way for the industrial plantations. The destruction of the rainforests would also cost local residents – including many small farmers and indigenous peoples – their livelihoods, ancestral homes and cultures.
Oil companies add the supposedly environmentally friendly biofuel to conventional diesel fuel. The EU requires that by 2020, ten percent of the energy consumed by the transportation sector must be provided by "renewable energy". Biofuels are set to cover the lion's share thereof.
"The EU must end its biofuels policy immediately to stop the widespread destruction of tropical forests," said our Italian colleague Elisa Norio.
In 2012, 1.9 million tons of palm oil were used for the production of biodiesel in the EU. For years, environmentalists, scientists and development experts have been warning against the grave consequences of plant-based energy.
With its 30.3% stake, the Italian state is the largest shareholder of energy giant Eni, which is active in 79 countries around the globe. Eni is the largest company in Italy. In 2013, it posted a pretax profit of €12.3 billion.
Update – February 19, 2014:
Venezia Today: 
The Future Has Arrived in Marghera Harbor: the First Ship with Palm Oil
On February 15, the first ship loaded with 22,000 tons of certified Indonesian palm oil arrived in Venice. Starting in March, Eni will be using it to produce biodiesel for the European market. 
The original article (in Italian):
http://www.veneziatoday.it/cronaca/a-porto-marghera-e-approdato-il-futuro-la-prima-nave-con-l-olio-di-palma.html
Update – March 10, 2014:
More than 107,200 people have now endorsed our Agip-Eni biodiesel campaign. We will be submitting the additional signatures to the Italian environmental ministry in the near future and taking the opportunity to speak out against palm oil imports once again.