"We are campesinos, not terrorists"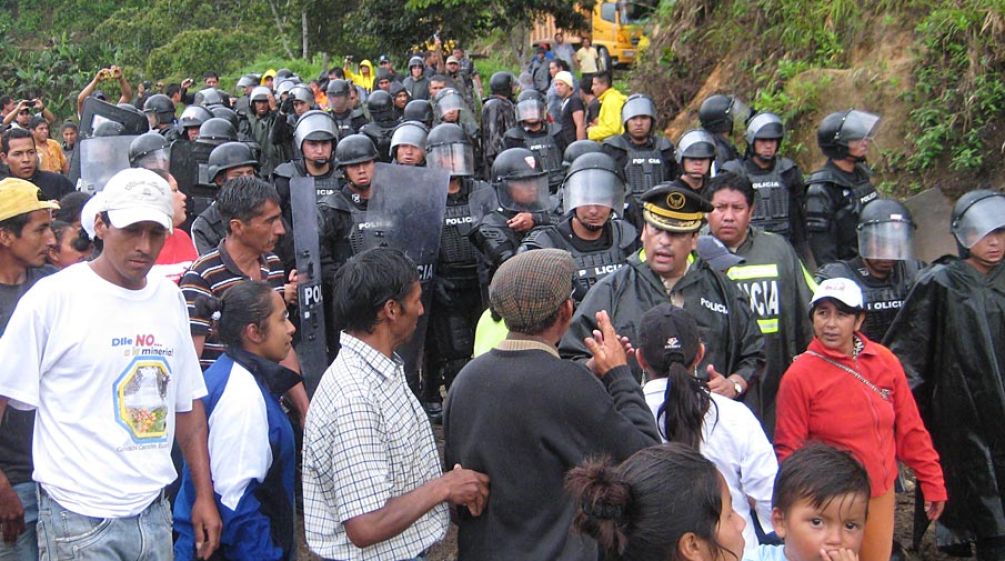 May 16, 2014
Ecuador: Intag under siege – another infamy, and the government and state mining authority lose more credibility
According to several Intag residents, on Thursday 8 May almost 400 people, including 200-300 police, entered Intag. Part of this group violated a community checkpoint into the Chalguyacu Alto region, where 75 women and men from Junín, Chalguyacu Alto and other adjacent communities were congregated. The police who took part in the operation belong to the GOE Grupo de Operaciones Especiales (Special Operations Group), the GIR Grupo de Intervención y Rescate (Intervention and Rescue Group), and the national police.  They were accompanied by governor the of Imbabura Province Wilmer Taboada, the president of the government of García Moreno Parish, as well as employees of the state mining company Empresa Nacional Minera- ENAMI.  Presumably among them were also various employees in charge of carrying out the Environmental Impact Study, and from CODELCO (the Chilean state mining company).  Sadly, several Inteños report that the invasion was cheered by some Inteños and Inteñas who support the mining industry, and especially by former employees of Canadian company Ascendant Copper and others interested in employment offered by Enami.
Another infamy
According to witnesses, the confrontation began when the governor and other authorities tried to forcefully breach the community checkpoint and go to Junín without the authorization of the community president or council, and without having arrived at a reasonable consensus with members of the community, who have been opposing the large-scale, open-pit copper mining project JUNÍN (now called Llurimagua) since 1995.  The rationale for the mobilization, according to the governor himself, was to spend 3-4 days taking water and soil samples to complete the Environmental Impact Study in order to commence exploration at the Junín site. As if the presence of hundreds of police wasn't enough, the invaders also made use of heavy machinery borrowed from the Imbabura Provincial Council and the García Moreno Parish government. The questions ask themselves: Why such great fear of a few campesinos who live off the land?  Why is the government running the risk of a blood bath amongst Ecuadorians? Why such a large police presence if – according to Enami and the government – the mining industry is so widely supported in Intag?  Where else in the world does one see 10 to 12 technical personnel needing to be guarded by hundreds of police in order to take a few simple samples to write up a simple Environmental Impact Study?
"We are campesinos, not terrorists"  (voice of an Intag resident)
The confrontation took place on the same exact site where, seven and a half years ago, paramilitaries contracted by the Canadian company Ascendant Copper cowardly fired upon unarmed community members.  Though no shots were fired this time, the cowardice continues, and included police beatings against women, men and minors.  Israel Pérez was one of the first to be roughed up and beaten with police clubs when various police, without the slightest provocation on Israel's part, tried to arrest him. There was also an attempt to arrest the community leader Polivio Pérez.  The irresponsible and desperate actions of the police triggered confrontations when friends and family of Israel Pérez tried to prevent Israel from being beaten. Israel's younger son Elver Pérez, as well as 15-year old Mery Ramírez, were dragged away and roughed up by the police during this first confrontation. Iliana Torres, wife of Javier Ramírez, and Doña Chela Piedra were the most seriously hurt, according to witnesses. Mrs Piedra was thrown to the ground and hit in the stomach by police with clubs. And she was not the only one.  Ernesto Ramírez, brother of Junín community president Javier Ramírez, was also briefly detained and pushed around. All were briefly detained by the police, but thanks to the action and pressure of campesinas and campesinos, they were eventually released.
After the confrontation, in a clear act of provocation and disrespect to community members, the group proceeded with the invasion and set up camp in the Junín community, without the authorization of either the community council or its president.  Part of the contingent headed for the forest, destination unknown under a heavy rainfall.
It's important to note that police presence can be found not only in Junín and García Moreno Parish.  We have reports that there are also groups of police in other places between the confrontation point and the main highway, and no less than 30 police officers in the small community of Barcelona, as well as at other locations in Peñaherrera Parish. Some friends went to Junin yesterday and passed by four police checkpoints where they cars are being searched and police are asking for documents.  When asked why the searches, the police replied that it was to protect "authorities", and ENAMI employees.   In effect, Intag is under siege.
A bad start for Codelco in Ecuador, and a good example of what Ecuador can expect from Mining for Living Well - or Responsible Mining – the oft-quoted proclamation of ENAMI.
Among the conclusions that must be reached concerning the 8 May confrontations is that the campesino communities of Intag were not the ones who were defeated, it was the government, and specifically ENAMI and the Chilean mining company CODELCO who were. That they needed 300 police in order to take samples for three or four days says it all.
History: 
The Intag region in northwestern Ecuador has been carrying out a resistance for more than 19 years, during which Intag communities have successfully expelled two transnational mining corporations - Bishimetals in 1997 and Canadian Ascendant Copper in 2007.  Today, the present Ecuadorian government and ENAMI, the national mining corporation of Ecuador, together with Codelco, Chile's national mining company, want, obviously by force and trampling all kinds of human and Constitutional rights, to continue mining exploration in the biodiverse Cordillera de Toisán mountain range, where the Japanese discovered a copper deposit contaminated with arsenic, lead, cadmium and chromium. 
Of note, an Environmental Impact Study for a small open-pit copper mine, carried out by Japanese experts and published in 1996, predicted:
"Massive deforestation" (directly citing the study), that would dry out the local climate.  Various rivers would be contaminated with heavy metals (arsenic, lead, cadmium and chromium) impacting primary cloud forests that are home to jaguars, spectacled bears, brown-headed spider monkeys and nine other species in danger of extinction.
The small mine would also force the relocation of four communities, and increase crime and delinquency. All of these and other impacts are mentioned in the Environmental Study that the government today is rejecting.  One year after the study's publication, the Japanese discovered 5 times as much copper, implying that the social and environmental impacts would be much more devastating.
Ecuadorian authorities stigmatize those who defend their land, their community, and these cloud forests and crystalline rivers as troublemakers and terrorists.  So it's not strange that Junín's community president, Javier Ramírez is currently jailed, accused of terrorism, rebellion and sabotage by the national mining corporation of Ecuador for a supposed offense he had absolutely nothing to do with.  His brother, Víctor Hugo, has a warrant out for his arrest, but to this day remains free.  Just like Intag.