Indonesia: Supreme Court rules against Big Palm Oil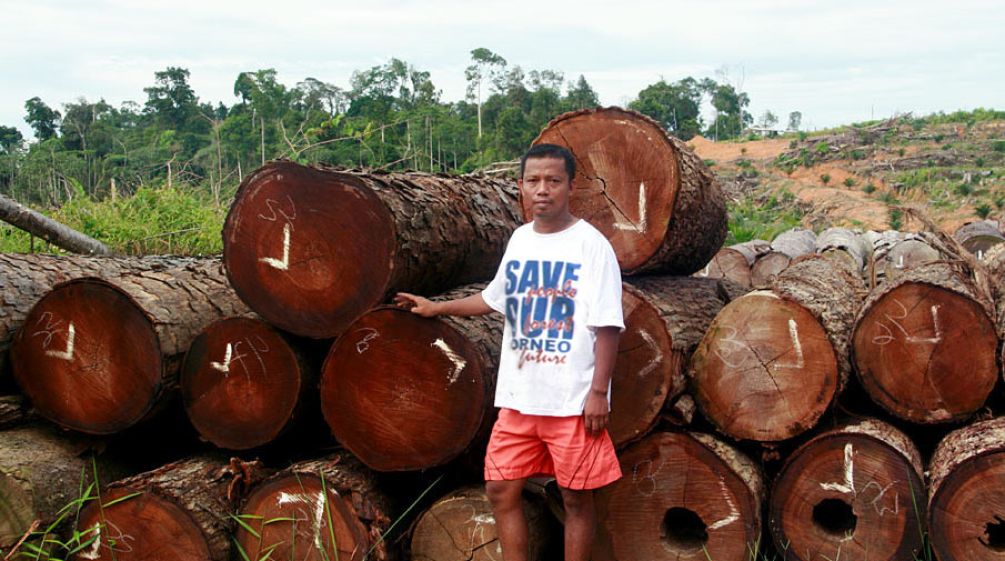 Aug 15, 2014
The Indonesian Supreme Court has ruled that Bumitama Agri Ltd, a major palm oil company, acted illegally in clearing land on Borneo for plantations. Our partner organization Save our Borneo fought a long, hard battle for this verdict.
"No less an authority than the highest court in the land has now confirmed that palm oil producer Bumitama Agri Ltd. violated Indonesian law when it let its subsidiary PT. HPA clear 7,000 hectares of rainforest", writes Nordin, an activist with our Indonesian partner organization Save our Borneo.
The Indonesian Supreme Court ruled in a two-year dispute between the country's Forestry Ministry and Bumitama Agri Ltd. The court confirmed that the company did not have a valid permit to clear-cut Central Kalimantan's unique primary forests for palm oil plantations.
"We won!" Nordin writes. "This verdict is a great success for our campaign work."
Nordin became aware of the illegal deforestation in March 2012 and filed a complaint, whereupon the company threatened him and had him repeatedly interrogated by the police for making what it claimed were "false accusations in public".
Rainforest Rescue supported Nordin's work by collecting 45,000 signatures in an online petition to the plantation operators and their corporate customers in the West.
Bumitama Agri Ltd. is a major player in the palm oil business. According to its own figures, the Indonesian company owns or uses 204,052 hectares of land in Borneo and Sumatra, of which more than two thirds are now occupied by oil palm monocultures. Bumitama Agri Ltd. is listed on the Singapore Stock Exchange, and the influential IOI Group of Malaysia holds 33 percent of its shares. IOI supplies multinational corporations such as Nestlé and Unilever and the biofuel producer Neste Oil – thus putting conflict palm oil on our dinner tables and in our fuel tanks. All of these Western companies underscore their high production standards as well as their social and environmental responsibility toward the source countries of their palm oil.
While Bumitama Agri Ltd. is now loudly calling for damages for goods and investments to placate its shareholders, Nordin is pushing for compensation for the affected village community.
"The district government needs to return the land rights previously stolen by PT. HPA. The plantation should then be managed directly by a state company or another entity while giving the community a stake."
Background
On March 23, 2012, Nordin, an activist with our partner organization Save our Borneo, was alerted by residents of Tumbang Kalang village in the province of Central Kalimantan. At the scene, all that remained of a dense rainforest were stacks of felled tree trunks. Oil palm seedlings were already planted on nearly half the area. The 1,000-strong local community had lost its forest with its rubber and fruit trees. The soils and surface waters are now contaminated.
Nordin immediately investigated the environmental crime and discovered that in 2008, the Forestry Ministry in Jakarta had revoked the permit it had issued eight years previously to PT. HPA, a subsidiary of Bumitama Agri Ltd., after the company had left its concessions unused for all those years.
It was not until after the permit had been revoked that PT. HPA began clear-cutting the land and planting oil palm trees.
In 2012, Nordin publicized the illegal deforestation and filed a complaint. He continued his campaign despite the threats he was receiving, ultimately prompting the district chief to revoke the permission he had granted to PT. HPA.
The palm oil company then sued, initially prevailing before the local and higher administrative courts.
Finally, the Forestry Ministry turned to the Indonesian Supreme Court and was successful against Bumitama Agri Ltd. "The Forestry Ministry's revocation of the deforestation permit with its letter SK. 51/Menhut-II/08 dated 11 March 2008 is thus legally binding," Nordin notes. "Bumitama Agri Ltd.'s clear-cutting was illegal under Indonesian law."