100,000 stand up for Ecuador's Intag forests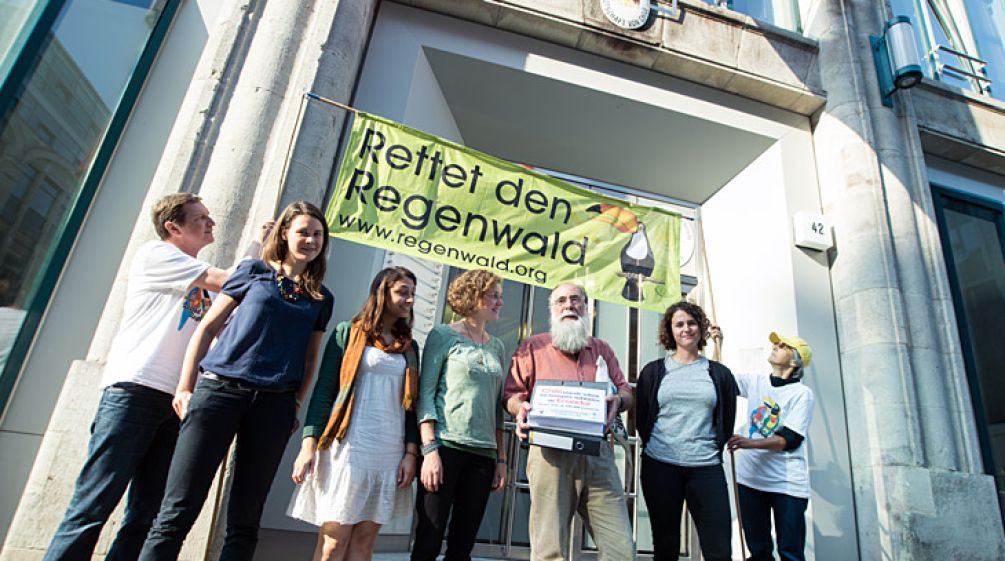 Sep 17, 2014
CODELCO, a mining company owned by the Chilean state, is planning a massive copper mine in Ecuador's Intag region. Environmentalists from Ecuador and Germany voiced their protest at the Chilean embassy in Berlin.
"While CODELCO is experienced in mining copper in arid regions like the Atacama desert, the Chilean company has no expertise whatsoever in cloud forests like the Intag region", explains Carlos Zorilla of DECOIN, an Ecuadorian environmental NGO. Intag, which belongs to South America's Chocó eco-region, is one of the rainiest places on earth. The risks posed by the huge volumes of water alone speak against mining there. 
Rainforest Rescue and Intag e.V. activists joined Carlos in protesting against CODELCO's copper project at the Chilean embassy in Berlin. The activists had a meeting with the embassy's environmental officer, Francisco Mackenney, and presented him with documents and letters from various Intag organizations and authorities, as well as a Rainforest Rescue petition with 100,000 signatures. The organizations are calling on Chile and CODELCO to abandon the Llurimagua copper project and help protect the unique and highly biodiverse cloud forests.
The activists pointed out that CODELCO's presence in the concession area was marked by a dramatic increase in human rights violations in the Intag region. Mr. Mackenney claimed that he did not see a connection, however. In his opinion, the observance of human rights is the concern of the country in which the violations were occurring – in this case, Ecuador – alone.
After this meeting, the delegation moved on to the Ecuadorian embassy, where it was met by the Minister of the Embassy, Fernando Bucheli. The discussion there focused mainly on the subject of Javier Ramírez. To date, none of the relevant Ecuadorian institutions have responded to international inquiries (in Spanish) about the farmer, who has been imprisoned since April. Ramírez, a father and village chief, has not committed any offense but – like the majority of people in Intag – has spoken out against the mining project. His village Junin would be razed to make way for the copper mine.
Bucheli confirmed that – like the environmental and human rights organizations around the world that have been protesting the farmer's arrest for months – the Ecuadorian embassy has not received a response from the government or the responsible authorities regarding the reasons for Ramírez's imprisonment.
"The people and organizations active in Intag who know village chief Javier Ramírez and his fight for the preservation of the cloud forests are not just waiting for an answer – we demand his immediate release and that all charges against him be dropped", says Susann Abouledahab of Intag e.V..
The staff members of both embassies agreed to forward the petition and inquiries to the governments of their respective countries. "They said that it may take months before we get any answers, but we are not going to give up and will continue pursuing this case," says Guadalupe Rodríguez of Rainforest Rescue. "Support by people from all over the world is crucial to defending nature and human rights."