Protest in Durban: Plantations are not forests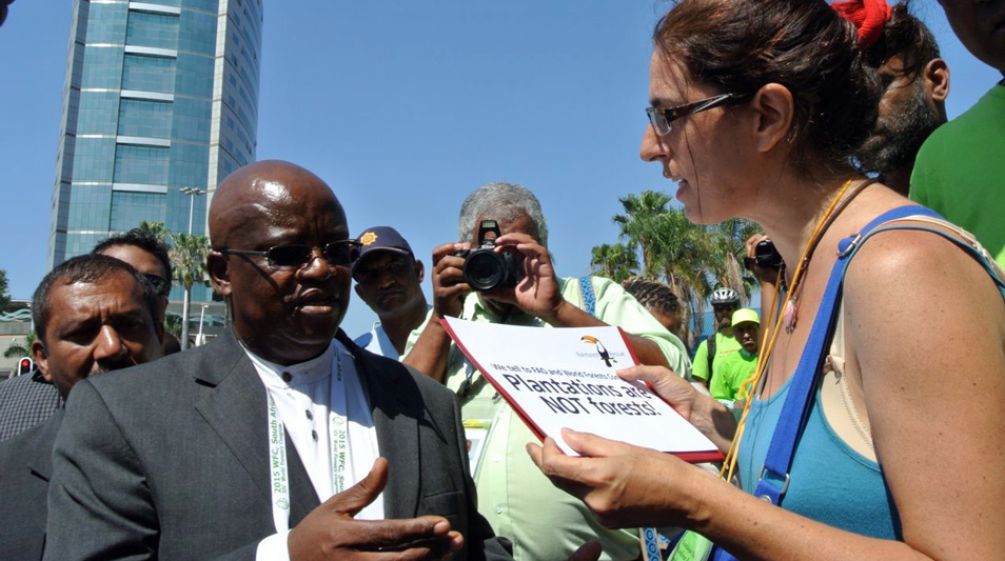 Sep 15, 2015
Thousands of protesters took to the streets of Durban, South Africa. Their message to the United Nations: stop promoting plantations and finally protect real forests. Our campaign is far from over!
For a while it looked as though the UN was not going to accept our petition – "security concerns" supposedly spoke against delivering the signatures in front of Durban's International Convention Centre, the venue of the UN's World Forestry Congress (WFC), on the 10th of September, the Global Day of Action against Fake Forests. Finally, the pressure of the 3,000 protesters became too strong. Motsamai Nkosi, Program Manager of the Congress Secretariat and official at the South African Department of Agriculture, Forestry and Fisheries, had an open ear for our message: that the UN must finally acknowledge that plantations are not forests – they are "green deserts" that rob countless people of their livelihoods. The organization nevertheless classifies them as forests and thus a contribution toward climate protection.
"Say No to Fake Forests" and "Forests for Life, not for Business" were among the slogans on the many banners carried by the marchers. Young people from 40 schools sang and carried hand-painted signs.
We also delivered the petition to Tilna Vahanen, Associate Secretary General of the WFC, during a roundtable discussion at the Civil Society Alternative Congress, an event supported by Rainforest Rescue. Rainforest Rescue activist Mathias Rittgerott: "We're going to keep campaigning until the UN corrects its definition of forests."
The petition was a joint effort by Rainforest Rescue and our partner organizations Timberwatch, World Rainforest Movement and Biofuelwatch.