A national park for chimpanzees – thanks to your support!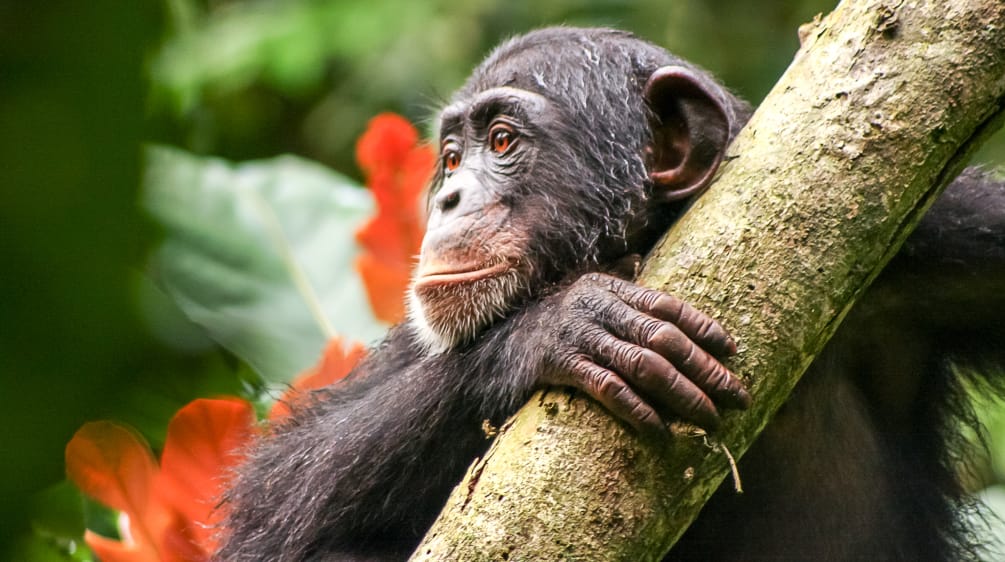 Aug 24, 2017
Great news from Africa: Liberia recently proclaimed the new Grebo-Krahn National Park for wild chimpanzees. The habitat of more than 300 of the endangered primates is now under protection. Our friends from the Wild Chimpanzee Foundation (WCF) were the driving force behind the new park, a project partly funded by your donations!
The new national park comes not a minute too soon: West African chimpanzees are in acute danger of extinction. In only twenty years, the population has dwindled by 80 percent to 35,000 individuals. Liberia, with its extensive forest areas, is playing a pivotal role in saving the species.
Expeditions of WCF chimpanzee guardians led by Professor Christophe Boesch collaborated effectively with the authorities – above all the Forestry Development Authority – as well as local organizations and communities to document the biodiversity of the Grebo-Krahn forest. In a final step, they marked trees to stake out the boundaries of the protected area.
The fate of the project was a cliff-hanger until the very end: while President Ellen Johnson Sirleaf had expressed her agreement, parliamentary approval was not forthcoming – a situation further complicated by campaigning for the upcoming elections on October 10, 2017.
On August 22, champagne corks popped in the WCF offices: the Liberian House of Representatives had unanimously concurred with the Senate and passed the establishment of the national park into law, just days before the end of the legislative period. Rainforest Rescue supported the WCF's work with donations. "Without your generosity, the campaign might have dragged on for years – or maybe it wouldn't have succeeded at all if the incoming government had set other priorities," says Dr. Annika Hillers, the head of the WCF office in Liberia.
Our fundraising work goes on
Hillers is now turning her attention to establishing another protected area: the Krahn-Bassa National Park. Rainforest Rescue is already involved there as well. WCF researchers want to provide exact figures in a few weeks' time on how many chimpanzees and other rare animal species such as forest elephants, pygmy hippos and pangolins live in the forest. Initial expeditions were so promising that the area of investigation, which originally covered Gbi forest, was expanded. The lengthy process of involving local communities is now beginning.
A further project, the proposed Moyen-Bafing National Park in Guinea, still has a long way to go – but its success is crucial for the 5,000 chimpanzees living there! It will require extensive and costly studies on biodiversity. Local communities must have a stake in the project, and authorities and policymakers must be persuaded. And the work is not done with the proclamation of a national park: eco-guards recruited from the villages of the region need to be on patrol continuously to protect the forest.
Your donations are having a very real impact in protecting the habitat of chimpanzees, pygmy hippos and forest elephants. Thank you for your generosity!