Chile protects Humboldt penguins, drops iron mine and loading port project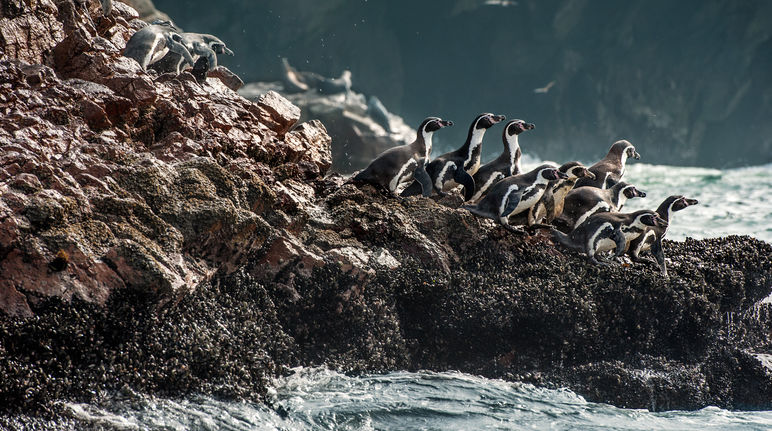 Aug 25, 2017
The Chilean government has rejected a planned mine project on the Pacific coast: the mining of iron ore and the construction of a nearby port to ship it would have seriously threatened Humboldt penguins. We are keeping our Humboldt penguin petition active, however, because of another mining and port construction project in the area.
On August 11, 2017, environmental activists met Chilean President Michele Bachelet and presented her 357,264 signatures opposing the project. Of those, more than a third (133,423 signatures) were collected by Rainforest Rescue on its "Speak out for Chile's Humboldt penguins" petition. President Bachelet explained that a ministerial committee would be determining the future of the project and promised to pass the signatures and statements opposing the Dominga mining project on to Environment Minister Marcelo Mena.
Only a few days later, on August 21, 2017, the decision was reached: the National Committee of Ministers of Mining, Health, Agriculture, Environment and Economic Affairs put the project on hold.
"We rejected the Dominga mining and port project because of its potential impact on the flora and fauna of this unique environment, the habitat of 80 percent of the world's Humboldt penguins and other iconic species such as whales and sea otters," said the Environment Minister, explaining the official decision. "Development must not impact our environmental heritage or create risks to human health. And this applies especially areas of unique value."
Previously, the Coquimbo regional government had rejected a similar project by Andes Iron: a mine and an associated loading port at Totoralillo Norte on the Pacific coast.
Despite recent successes, the Humboldt penguins are not completely safe: the MODEMA citizens' initiative and Oceana are currently taking legal action against another planned industrial port at Cruz Grande, only five kilometers from the penguins' habitat. We are going to continue promoting our petition until a marine protected area has been established.
The 4th International Marine Protected Areas Congress (IMPAC4) is taking place in La Serena, Coquimbo, from the 4th to the 8th of September 2017. Around 2,000 international experts are coming together in the immediate vicinity of the penguins' habitat to put public pressure on policymakers to stop this threat to Chile's unique marine environment.