Brazil: monkeys can breathe easier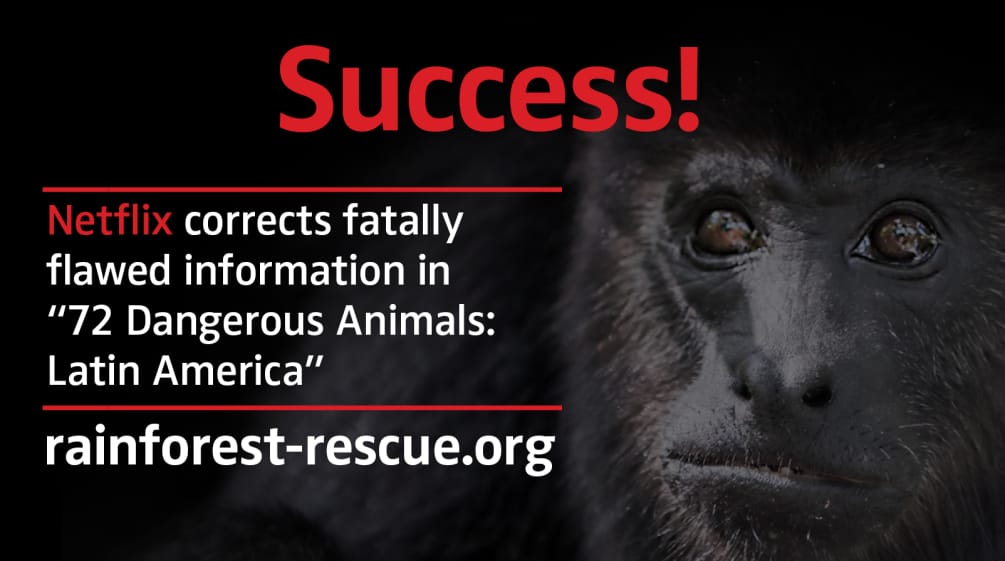 Feb 20, 2018
Great news for howler monkeys – Netflix has edited an episode of its series, "72 Dangerous Animals: Latin America", to remove incorrect information that was contributing to wholesale killing of monkeys in Brazil.
The seventh episode of the series repeated a long-debunked myth that howler monkeys can transmit yellow fever – a potentially deadly disease – to humans. The virus is transmitted solely by mosquitoes, however. A yellow fever outbreak is currently underway in Brazil, and the program played on the fears of people potentially exposed to the disease. This contributed to the slaughter of countless howler monkeys by people terrified of contracting the virus.
In fact, howler monkeys play a vital role in protecting humans against yellow fever: Monkeys that contract the disease die from it in a matter of days, and the presence of dead monkeys gives local health authorities an early warning to step up their vaccination efforts.
Rainforest Rescue raised awareness of the problem with a petition that was signed by more than 120,000 supporters and backed by more than 60 primatologists and other scientists from a wide range of international institutions. Netflix did not respond directly or publicly comment on the petition, but quietly edited the Brazilian episode on howler monkeys to delete the misinformation that was contributing to the killings.
Primatologist Júlio César Bicca-Marques, Pontifícia Universidade Católica do Rio Grande do Sul, Brazil, said: "We're pleased to see that Netflix dealt with the issue quickly. This goes a long way toward eliminating indiscriminate cruelty toward howlers and other monkeys, true 'guardian angels' in our battle against the disease. By recognizing their function as yellow fever 'sentinels', Netflix is also making a tangible contribution toward public health in Brazil."