Indonesia pressures the EU: Airbus must use palm oil jet fuel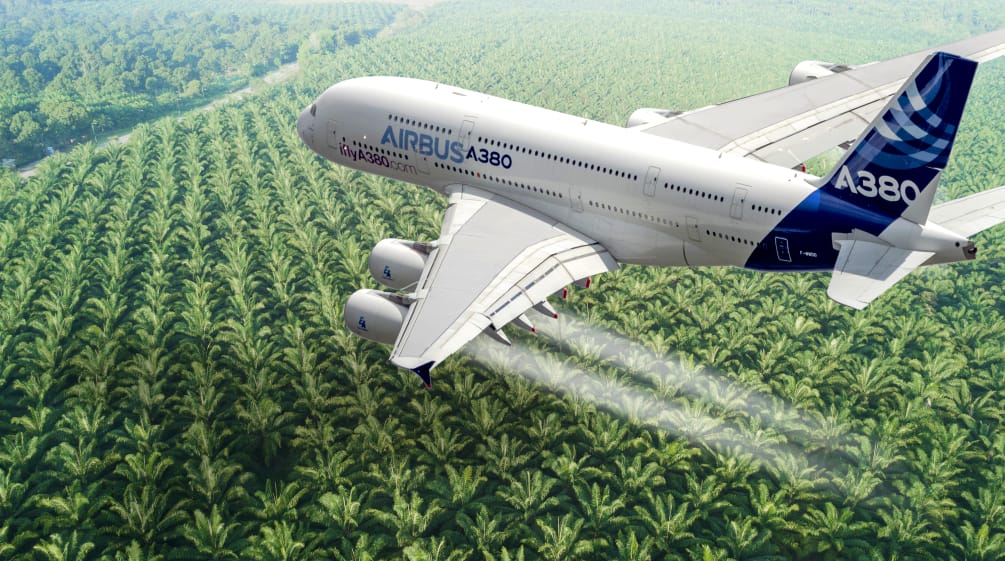 Aug 22, 2018
Indonesia is pushing for its companies to be allowed to build palm oil jet fuel plants in the United States and France as a condition for buying Boeing and Airbus airliners.
Reuters reports that Indonesia's trade minister Enggartiasto Lukita has called on the United States and EU to allow Indonesia to set up production facilities for palm oil-based jet fuel as a precondition for buying Boeing or Airbus aircraft.
Boeing is reportedly open to the idea of adapting aircraft to use Bioavtur, a biofuel based on crude palm oil.
Trade minister Lukita is apparently trying to boost declining sales of palm oil. In July, the EU decided to phase out palm oil for biofuel by 2030. Environmentalists have long been calling for a ban on the tropical oil.
"Palm oil is a major driver of rainforest destruction. The plantation industry is also driving countless smallholders off their land and robbing them and their families of their livelihoods," said Reinhard Behrend of Rainforest Rescue. Behrend considers the 2030 target for phasing out biofuels to be inadequate, as the industry will continue clearing rainforest until then.
The state-owned airline Garuda has said that it is postponing deliveries of previously ordered Boeing and Airbus airliners, apparently for financial reasons. Lion Air, a private airline that is one of the driving forces behind Indonesia's development of palm oil jet fuel, reportedly  ordered 50 Boeing 737s worth a total of $6.2 billion.
Indonesia is willing to go to great lengths in order hold onto the EU as a market for palm oil: it recently threatened to boycott fish from Norway if the EU were to import less palm oil – never mind that Norway is not a member state of the EU.
Neither the aircraft manufacturers nor the two airlines commented on the Reuters report.