Fighting the good fight – with your support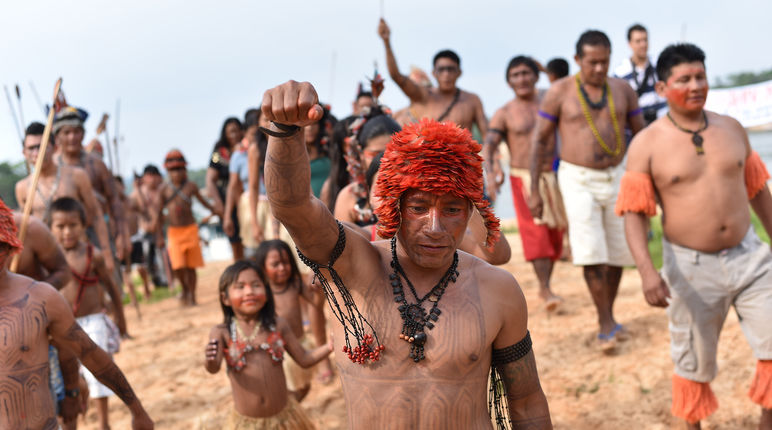 Sep 5, 2018
People often ask us how effective we are in fighting the destruction of the world's rainforests. We're proud to say that with our hard-working partners on the ground and the international pressure generated by our petitions, we're scoring real successes.
Our petitions frequently chalk up notable successes:
- Thanks to our petition with more than 132,000 signatures, Netflix corrected a documentary that falsely made howler monkeys responsible for spreading yellow fever. Rumors of the howler monkeys' role in spreading the disease had led to widespread killings of the monkeys in the past.
- Following international protests, the European Court of Justice ordered the Polish government to stop the destruction of one of Europe's last primeval forests in Bialowieza. Our petition with more than 194,000 signatures helped raise awareness of the issue.
- In the Malaysian state of Sabah, we helped stop a bridge construction project that would have threatened the habitat of 700 elephants. The government acknowledged that pressure from environmentalists – including 237,000 signatures on our petition – prompted the decision to abandon the project.
- Your 320,000 signatures helped ban the international trade in pangolins.
- A total of 357,000 signatures helped keep mining projects out of the habitat of Chile's Humboldt penguins.
- International protest helped stop a mega dam construction project in the ancestral forest of Brazil's indigenous Mundurukú people. We contributed almost 213,000 signatures.
Your donations for successes on the ground
Your donations make a real difference: Here is a small selection of our partners' successful projects in Asia, Africa and Latin America:
- After devastating forest fires, a high court in Sumatra ordered the palm oil company that set the fires to pay a fine the equivalent of €11.5 million. Our partner Feri Irawan played a major role in bringing the company to justice.
- In Nigeria, the Ekuri people are defending their ancestral forest against the construction of a "superhighway" to nowhere. The Ekuri forged an alliance of numerous villages, while we helped raise international awareness of the issue. Martins Egot is currently training eco-guards to protect the forest. The 334,000 signatures we have collected to date are sending a clear message to the road builders in the state government of Cross River: the international community is watching you.
- In Malaysia, environmental activist Matek Geram is gathering evidence against palm oil companies that establish industrial-scale plantations by grabbing the land of villagers. Matek has successfully taken numerous companies to court.
- In Peru, our partners are buying plots of rainforest land and putting them under protection. So far, they have secured 300 hectares of land – and in doing so, they are protecting a much greater area by preventing the expansion of an industrial cacao plantation. The farmers are running a permaculture project to support their families without harming the rainforest.
- In Liberia, Professor Christophe Boesch and his primatologist colleagues are working to create a national park as a protected habitat for chimpanzees. In August 2017, the Grebo-Krahn National Park was officially established. We must now keep the park safe in the long run. Hundreds of chimpanzees live in this paradise of more than 100,000 hectares. We not only support the primatologists financially, but also raise awareness of the endangered chimpanzees' situation.
- In Indonesia, forest conservationist Bazuki has planted countless seedlings to restore the orangutans' forest in Kalimantan after it was torched by arsonists. Our partners Feri and Udin are working tirelessly to combat palm oil companies. And on Sulawesi, the JATAM environmental network has succeeded in shutting down 250 mining companies.
We're in it for the long haul
Successes aren't always direct or immediate. Some petitions take months or years to reach their goal and are geared toward putting issues on the political agenda.
- Our recent petition against the ivory trade in Europe – which was signed by more than 431,000 supporters – helped raise awareness of the consequences of the EU's flawed ivory policy. 
- Thanks to our years of campaigning, no politician can plausibly plead ignorance of the catastrophic impact of palm oil and Western biofuels policies. We have collected 232,000 signatures on our petition highlighting the risk of cancer from palm oil and more than 300,000 signatures each for two ongoing petitions calling for a ban on palm oil biofuels.
- Numerous petitions – especially those related to Indonesia – help keep plantation companies, palm oil traders and international corporations such as Unilever and Deutsche Bank on the defensive.
Raising awareness at home
Our work is helping raise awareness of how our choices as consumers are destroying the rainforest. The issues are numerous, ranging from palm oil and soy plantations for livestock farming to gold and aluminum mining and tropical timber. And finally, serious opposition is forming to the EU's disastrous biofuels policy thanks to constant pressure from environmental and human rights organizations. We couldn't do it without your backing – a heartfelt 'thank you' for your signatures and donations, and for helping us get the word out!