Environmentalists applaud progress against biomass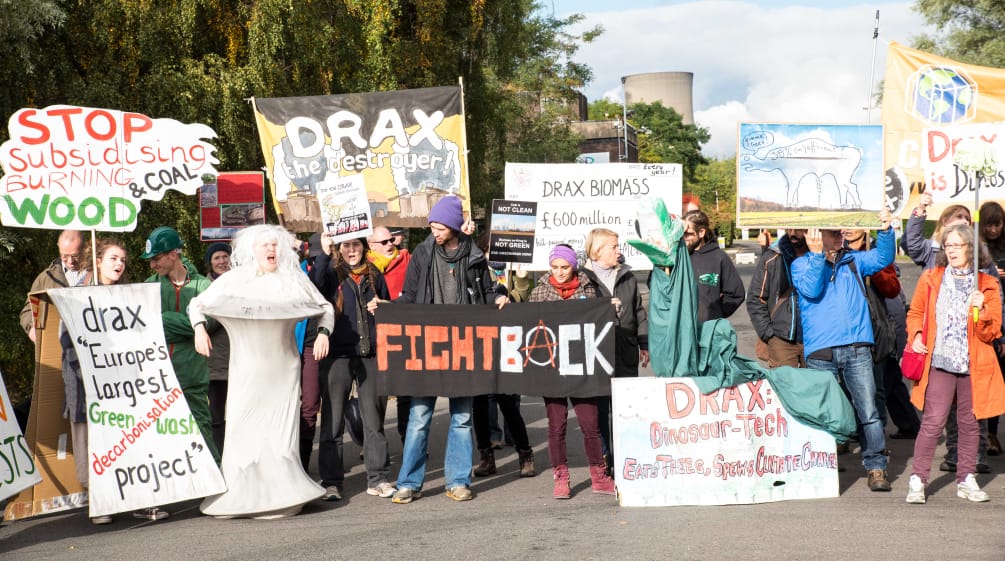 Sep 6, 2018
Environmentalists in the US and UK are applauding a British government decision against new biomass power stations. The government has ruled out subsidies for planned power stations fueled by imported wood pellets. Entire forests – mainly in the southern US – are being clearcut, processed into wood pellets and shipped to Europe. Such power stations are not viable without government handouts.
For years, scientists and environmental organizations have been warning that biomass produced by clearcutting forests in North America and elsewhere is anything but green – in terms of climate impact and particulate pollution, it is dirtier than coal.
In a consultation procedure, Biofuelwatch and other environmental NGOs from the UK and US successfully urged the British government to tighten the requirements for biomass power stations: New power stations that emit more than 29 kg of CO2 per MW/h will not be eligible for subsidies. The current upper limit has thus been slashed by 85%.
This puts subsidies out of reach for power stations that burn imported wood pellets. The considerable greenhouse gas emissions arising from processing the trees into pellets and shipping them to the UK will now be taken into account. And without government handouts, biomass power stations are not economically viable.
Already in June 2018, the British government had decided to discontinue subsidies for pure power generation using biomass. Only combined heating and power stations that provide the heat produced during power generation to residential users or industry are now eligible. An overall efficiency rating (net calorific value) of at least 70% is required of such combined heat and power (CHP) systems. Previously, an efficiency of 35% had been deemed acceptable.
The UK imports more wood pellets for power generation than any other country in the world. Environmentalists are therefore calling on the government to stop subsidizing biomass power stations already in operation or presently under construction. The Drax Group alone burns 13.6 million tons of wood per year in the three blocks of its converted coal-fired station in North Yorkshire. To put that into perspective, Drax consumes more wood than the UK harvests every year, yet it only covers 0.78% of the UK's energy needs.
Drax imports almost all of its wood from overseas in the form of pellets. Most of the wood comes from the southern United States, where wetland forests are being clearcut, destroying the habitats of thousands of species. Last year alone, Drax received over £700 million in subsidies for sending entire forests up in smoke. Two other large biomass power plants that are under construction already have guarantees for subsidies. They too will burn wood pellets shipped to the UK – 1.5 million tons per year each.
Rita Frost of the Dogwood Alliance in the US called for "an end to Drax's £2 million daily handouts for their destructive burning of forests." Mary Booth of the Partnership for Policy Integrity noted that "there is no excuse left for subsidizing this destructive industry at all."
Biofuelwatch press releases: 
http://www.biofuelwatch.org.uk/2018/cfd-press-release/
http://www.biofuelwatch.org.uk/2018/cfd-announcement-pr/
A brief analysis by Biofuelwatch on the legal changes 
Department for Business, Energy & Industrial Strategy document on the decision