Vancouver Island: speaking out for "ancient trees, not big stumps"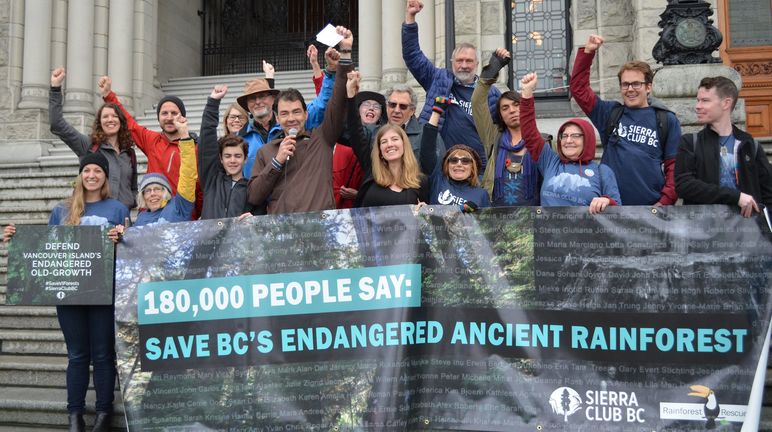 Nov 9, 2018
It's not often that policymakers receive a letter signed by more than 180,000 people. The premier of British Columbia, John Horgan, received one from Rainforest Rescue and Sierra Club BC calling for immediate action to protect the Canadian province's last ancient rainforest.
Around 20 activists delivered the petition to the provincial government in Victoria.
"The ongoing destruction of BC's ancient rainforest undermines the positive image of Canada internationally," said Mathias Rittgerott, spokesperson with Rainforest Rescue. "It's shocking that British Columbia is destroying its last old-growth rainforest faster than destruction is happening in tropical rainforest countries. Protecting rare old-growth forests is a crucial step in fighting global warming and saving habitat of endangered species. There is no price tag for the value of these forests."
The pace of the ongoing destruction is alarming: on Vancouver Island, forest the size of two soccer fields is cleared every hour. That's 10,000 hectares every year – forest that will be gone forever as the climate changes.
"An international call for action from close to 200,000 people should be a wake-up call. Perceptions matter," said Jens Wieting, senior forest and climate campaigner with Sierra Club BC. "We want people to think of ancient trees, not big stumps, when they're deciding whether to visit Vancouver Island."
Neither the premier John Horgan nor the provincial minister of forests Doug Donaldson were willing to talk to the protesters.
173,472 signatures against tar sand mine
In the Canadian province of Alberta, the indigenous organization Keepers of the Athabasca delivered our petition protesting tar sand mining to Prime Minister Justin Trudeau. The head of government evaded his responsibility by delegating the issue to his Minister of Environment. Trudeau is personally committed to the tar sand industry.
The Keepers of the Athabasca aired their criticism of tar sand mining during a four-week hearing. Rainforest Rescue was not admitted to the hearing.
Both petitions are still active: Please sign here to speak out against tar sand mining and here to preserve BC's ancient rainforest!