India: stop fishing cat poaching now!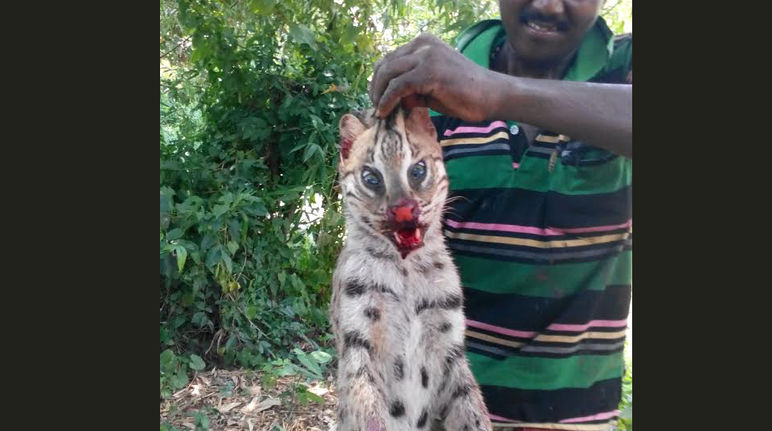 46,699 supporters
End of campaign: Oct 14, 2015
The fishing cat is a sleek, stealthy predator at home in mangrove forests and marshlands in South Asia. Habitat loss and poaching have cut their numbers in half in less than two decades. Tell the Indian forest authorities to finally give it the protection it deserves!
Call to action
To: Chief Wildlife Warden, West Bengal Forest Department
"Fishing cats have the same conservation status as tigers. It's time to put effective protection in place."
Once common in Asian wetlands from Pakistan to the Indonesian island of Java, the endangered fishing cat is now mainly found in eastern India and Bangladesh and facing pressure from all sides: humans are encroaching on its habitat, draining and polluting the wetlands it needs for survival.
To make matters worse, poachers are taking a toll: a steady stream of fishing cats are being killed for meat and skins. In June, poachers in the Indian state of West Bengal killed five cats and posed with them for pictures (above). While the photos have since led to their arrest, they clearly represent just the tip of the iceberg.
Local officials seem oblivious to the problem: "The authorities do not realize that the fishing cat has the same protection status as the tiger," notes James Sanderson, IUCN small cat specialist. Ajith Kumar of India's National Centre for Biological Sciences (NCBS) warns: "If killing continues like this, the species would become extinct very soon."
The conservationists of the Fishing Cat Working Group need international backing to ensure that the cats finally receive the protection they deserve. Please sign our petition calling on the West Bengal Forest Department to establish a dedicated Fishing Cat Protection Force.
Back­ground
The fishing cat, Prionailurus viverrinus, lives near bodies of water and wetlands in subtropical and tropical regions of South Asia. Excellent swimmers, they mainly prey on fish. The degradation and conversion of wetland areas and human population pressures have thus had a serious impact on their habitat.
The IUCN classed the fishing cat as endangered in 2008. There have been no sightings in Pakistan and western India in recent years. It is also uncertain as to whether any fishing cats remain on the Indonesian island of Java. It is estimated that the overall population has declined by half in the past 18 years (three generations).
Tiasa Adhya is a young biologist who has made it her mission to protect the fishing cat in the Indian state of West Bengal. She works west of Kolkata in the Hooghly and Howrah districts, where fishing cats live outside of protected areas. Adhya, who was instrumental in the recent arrests of five poachers – including the one shown above – is a member of the Fishing Cat Working Group and is pushing for the creation of a Fishing Cat Protection Force in Howrah. Please support her work by signing this petition.
About the Fishing Cat Working Group
Video www.fishing-cat.wild-cat.org
Letter
To: Chief Wildlife Warden, West Bengal Forest Department
Ladies and Gentlemen,
On the 5th of June, 2015, poachers in Howrah district, West Bengal, killed five fishing cats for meat and the illegal skin trade.
While these particular perpetrators have since been detained, I am very concerned about the commonplace nature of fishing cat poaching. A report published in late 2010 documents the killing of 27 fishing cats within the span of 18 months in Howrah district alone.
The fishing cat is classified as endangered (IUCN Red List, 2010) and by law is afforded the same level of protection as the tiger.
I urge you to accept the offers of cooperation from conservationists of the Fishing Cat Working Group to form a Fishing Cat Protection Force in Howrah – a stronghold of fishing cats due to presence of freshwater marshes – to combat poaching and protect these charismatic predators against the very real threat of extinction. Thank you.
Kind regards,