URGENT: Stop free trade in palm oil!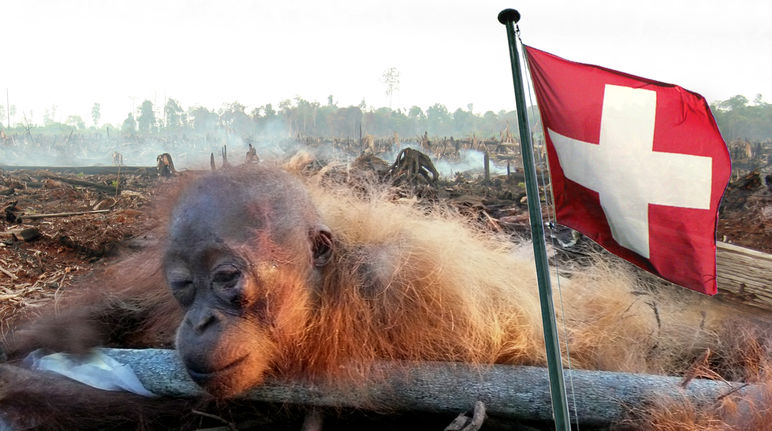 288,927 supporters
Switzerland is negotiating free trade agreements with Indonesia and Malaysia, and palm is oil playing a crucial role. The two countries are the world's largest exporters of the tropical vegetable oil – and the world's biggest destroyers of rainforests. The Swiss Council of States will decide on the agreements on September 25, 2018.
Call to action
To: the Federal Council and Parliament of Switzerland
"Reject the free trade agreements with Indonesia and Malaysia. Switzerland does not need palm oil and tropical timber from rainforest destruction."
The palm oil industry wants to flood the Swiss market with cheap palm oil at the expense of Southeast Asian rainforests. The Swiss multinational Nestlé alone – with brands such as KitKat, Maggi, Wagner and Yes – uses 445,000 tons in its products every year.
Indonesia and Malaysia are by far the biggest producers of palm oil. 85 percent of the world's palm oil comes from those two countries – a total of 55 million tons per year. In Indonesia and Malaysia, an area almost five times the size of Switzerland is dedicated to industrial oil palm plantations. According to the Indonesian Ministry of Agriculture, the area is expected to double to 26 million hectares by 2025.
To make room for ever more oil palm plantations, tropical rainforests are being cleared, releasing enormous amounts of carbon into the atmosphere. Every year, thousands of hectares of rainforest are torched in Indonesia, blanketing the region in choking smog.
The Swiss organizations Alliancesud, Bruno Manser Fonds, PublicEye and the farmers' union Uniterre have spoken out against free trade with palm oil. Swiss politicians are also aware of the issues: responding to a question from the Swiss parliament, the Federal Council stated that palm oil was the most sensitive negotiating point of the agreement.
The Swiss National Council had spoken out in favor of excluding palm oil from the free trade agreements, but its position was rejected by the Foreign Policy Commission of the Council of States. The Council of States will decide on the agreements on September 25, 2018.
Please sign our petition and help step up the international pressure against free trade in palm oil, rainforest deforestation and land grabbing for oil palm plantations.
Back­ground
Oil palm cultivation in Indonesia and Malaysia
Oil palms are already growing on 14 million hectares in Indonesia and 5 million hectares in Malaysia. According to the Indonesian Ministry of Agriculture, the area is set to nearly double to 26 million hectares by 2025. Together, both countries currently produce 55 million tons of palm oil per year. Indonesia's palm oil exports are worth about €16 billion, Malaysia's around €13 billion.
According to the Swiss Cereal Producers' Association, Swiss palm oil imports tripled between 1998 and 2008 and now exceed 60,000 tons. The consumption of palm oil by some Swiss companies is much higher, however. The Swiss multinational Nestlé alone consumes 445,000 tons of palm oil per year worldwide.
RSPO certification is greenwashing
The Round Table for Sustainable Palm Oil (RSPO) label was developed by companies such as the Swiss supermarket chain Migros, the Unilever Group and the WWF, a Swiss environmental organization.Since the RSPO label was created in 2008, rainforest clearance for oil palm plantations and land conflicts with local people have continued to increase.
Allegedly degraded forests may, for example, be cleared and converted into oil palm monocultures. Only "High Conservation Value Areas" (HCVAs) are protected. In the course of the certification process, consultancies paid by the palm oil companies decide whether or not a rainforest is worthy of protection.256 environmental and human rights organizations from around the world have rejected the RSPO as greenwashing.
With an annual consumption of 1.5 million tons, Unilever is the world's largest buyer of the tropical vegetable oil. In addition to private donations and public funds, the WWF relies on corporate partnerships for its financing. The organization has created a number of industry certification schemes, including ones for genetically engineered soy (Roundtable on Responsible Soy), genetically engineered cotton (Better Cotton Initiative), fishing (Marine Stewardship Council) and aquaculture (Aquaculture Stewardship Council). The labels let companies greenwash their activities and fend off criticism from environmental organizations.
Further information (in German):
- PublicEye, 29 August 2018, Freihandel mit Malaysia und Indonesien: Neues Dossier zur Palmölfrage: https://www.publiceye.ch/de/news/freihandel_mit_malaysia_und_indonesien_neues_dossier_begruendet_forderung_nach_ausschluss_von_palmoel/
- Alliancesud, 27 August 2018, Kein Freihandel für Palmöl!: http://www.alliancesud.ch/de/politik/handel-und-investitionen/freihandelspolitik/kein-freihandel-fuer-palmoel
- Bruno Manser Fonds, 5 September 2018, Fauler Kompromiss im Ständerat: Palmöl-Koalition reagiert mit Petition http://www.bmf.ch/de/news/fauler-kompromiss-der-staenderatskommission-palmoel-koalition-reagiert-mit-petition
- Swiss Federal Assembly, statement dated 3 September 2018: https://www.parlament.ch/press-releases/Pages/2018/mm-apk-s-2018-09-03.aspx
- Swiss National Council, statement dated 28 February 2018: https://www.parlament.ch/de/services/news/Seiten/2018/20180228174712079194158159041_bsd192.aspx
Letter
To: the Federal Council and Parliament of Switzerland
Ladies and Gentlemen,
We call on you to call off negotiations with Indonesia and Malaysia on free trade in palm oil.
Indonesian and Malaysian export products often entail serious environmental damage and grave human rights violations. The palm oil industry in particular is responsible for the wholesale destruction of rainforests to create new plantations. People are being driven off their land and deprived of their livelihoods.
The measures you proposed to the Swiss parliament on August 28, 2015, such as the implementation of a green economy action plan, voluntary target agreements and favoring palm oil produced in compliance with the criteria of the Round Table on Sustainable Palm Oil (RSPO), cannot prevent or correct the serious issues.
RSPO certification is greenwashing. Since the creation of the label in 2004, the problems caused by the palm oil industry have dramatically worsened and rainforest destruction has increased further.
Please do not go ahead with free trade in palm oil with Indonesia and Malaysia.
Yours faithfully,
Topic
The issue – rainforest on our dinner tables and in our fuel tanks
At 66 million tons annually, palm oil is the most commonly produced vegetable oil. Its low world market price and properties that lend themselves to processed foods have led the food industry to use it in half of all supermarket products. Palm oil can be found in frozen pizzas, biscuits and margarine, as well as body creams, soaps, makeup, candles and detergents.
Few people realize that almost half of the palm oil imported into the EU is used as biofuel. Since 2009, the mandatory blending of biofuels into motor vehicle fuels has been a major cause of deforestation.
Oil palm plantations currently cover more than 27 million hectares of the Earth's surface. Forests and human settlements have been destroyed and replaced by "green deserts" containing virtually no biodiversity on an area the size of New Zealand.
The impact – suffering and death in producer countries, climate havoc
The warm, humid climate of the tropics offers perfect growth conditions for oil palms. Day after day, huge tracts of rainforest in Southeast Asia, Latin America and Africa are being bulldozed or torched to make room for more plantations, releasing vast amounts of carbon into the atmosphere. As a consequence, Indonesia – the world's largest producer of palm oil – temporarily surpassed the United States in terms of greenhouse gas emissions in 2015. With their CO2 and methane emissions, palm oil-based biofuels actually have three times the climate impact of traditional fossil fuels.
Palm oil is not only bad for the climate: As their forest habitat is cleared, endangered species such as the orangutan, Borneo elephant and Sumatran tiger are being pushed closer to extinction. Smallholders and indigenous people who have inhabited and protected the forest for generations are often brutally driven from their land. In Indonesia, more than 700 land conflicts are related to the palm oil industry. Human rights violations are everyday occurrences, even on supposedly "sustainable" and "organic" plantations.
As consumers, we are largely unaware of these broader issues, yet our daily palm oil consumption also impacts our health: refined palm oil contains large amounts of harmful fatty acid esters that are known to damage DNA and cause cancer.
The solution – a revolution on our dinner tables and in our fuel tanks
Only 70,000 orangutans still roam the forests of Southeast Asia, yet the EU's biofuels policy is pushing them to the brink of extinction. Every new plantation on Borneo is destroying a further piece of their habitat. Stepping up the pressure on policymakers is a must if we want to save our tree-dwelling kin. Apart from that, however, there is still a lot we can do in day-to-day life.
Follow these simple tips to recognize, avoid and combat palm oil:
Enjoy a home-cooked meal: Use your imagination: why not try almond-coconut-pear biscuits? Or pizza with potato and rosemary? A meal cooked from fresh ingredients beats processed foods containing palm oil every time. Oils such as sunflower, olive, rapeseed or flaxseed are ideal for cooking and baking.
Read labels: As of December 2014, labeling regulations in the EU require food products to clearly indicate that they contain palm oil. However, in the case of non-food items such as cosmetics and cleaning products, a wide range of chemical names may still be used to hide the use of palm oil. A quick check of your favorite search engine will turn up palm oil-free alternatives, however.
Remember that the customer is king: Ask your retailers for palm oil-free products. Write product manufacturers and ask them why they aren't using domestic oils. Companies can be quite sensitive to issues that give their products a bad name, so inquiring with sales staff and contacting manufacturers can make a real difference. Public pressure and increased awareness of the problem have already prompted some producers to stop using palm oil.
Sign petitions and write your elected representatives: Online campaigns put pressure on policymakers responsible for biofuels and palm oil imports. Have you already signed all of Rainforest Rescue's petitions?
Speak out: Protest marches and creative action on the street raise public and media awareness of the issue, which in turn steps up the pressure on policymakers.
Leave your car at home: Whenever you can, walk, ride a bicycle or use public transport.
Be informed and inform others: Big Business and governments would like us to believe that biofuels are good for the climate and that oil palm plantations are sustainable. Spread the word – share this information with your family and friends and encourage them to rethink their consumption habits. It's in our hands!