The trees are bleeding: stop the loggers NOW!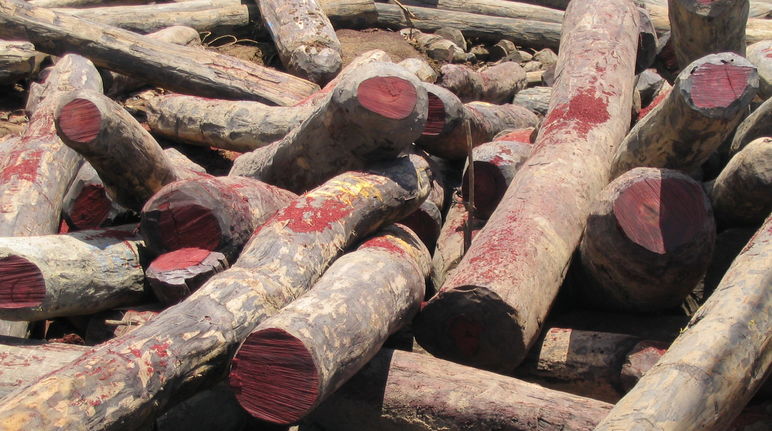 187,085 supporters
Rosewood logs spattered with red sap – as if they were bleeding – are laid out by the roadside. "If a ban is not enforced immediately, there will be nothing left," warns conservationist Hazel Chapman. The loggers are not even stopping for Gashaka Gumti National Park. Tell Nigeria's environment minister to ban the export of rosewood.
Call to action
To: Usman J. Ibrahim, Minister of Environment of Nigeria
"Loggers are plundering Nigeria's Taraba State for rosewood for the Chinese market. Please stop the export immediately."
Loggers are cutting down all the rosewood they can find in Nigeria's Taraba State. The timber is destined for China, where it will be made into faux-antique luxury furniture. For the past year, loggers have been penetrating deeper and deeper into the bush. Logs from trees felled on steep hillsides are simply rolled downhill, flattening everything in their path. According to Chapman, criminal loggers are ignoring the protected status of African rosewood (Pterocarpus Erinaceus) and are turning swaths of Taraba State into a nearly lifeless desert.
Rosewood is a key part of the savannah woodlands bordering the Sahel zone, an ecosystem that provides habitat to chimpanzees, white-nose meerkats, and numerous bird and butterfly species. The local people use rosewood sustainably as a source of fodder, medicinal plants and textile dyes.
The loggers, on the other hand, are felling everything they can in a frenzy not unlike a gold rush. China's imports of rosewood and ebony from West Africa increased by a staggering 700 percent between 2010 and 2014. According to Forest Trends, $216 million worth of West African rosewood made its way to China in the first half of 2016 alone.
Nigeria's Taraba State, which is fighting a losing battle against the loggers, is not an isolated case: loggers are leaving a trail of destruction throughout Nigeria. In Plateau State, a Chinese company was allegedly granted a permit to log a protected area.
Please call on Nigeria's environment minister Usman J. Ibrahim to ban the export of rosewood.
Back­ground
Letter
To: Usman J. Ibrahim, Minister of Environment of Nigeria
Dear Minister Usman J. Ibrahim,
Criminal loggers are cutting down rosewood in Taraba State at an alarming pace. They are also destroying precious forests in other states.
Rosewood plays a key role in the savannah ecosystem. As a protected species, logging is banned. This appears to be of little concern to the loggers, who go about their business with impunity.
Local conservationists warn that even Gashaka Gumti National Park is threatened. The forests will be lost if the loggers are not stopped immediately.
Please prohibit the export of rosewood from Nigeria and ensure that existing bans are strictly enforced. We also call on you to advocate export bans by Nigeria's neighbors.
Yours faithfully,