Stop destroying our national park: no IFC investment in Dangote!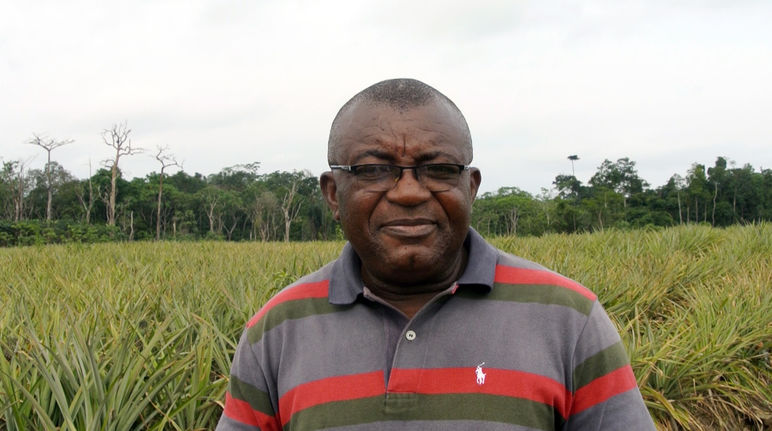 159,158 supporters
Conservationist Odey Oyama is standing in an area that was once dense rainforest – a part of Cross River National Park in Nigeria. Industrial conglomerate Dangote cleared the land for a pineapple plantation. Odey accuses Dangote of violating Nigerian law: "Plantations have no business in a national park!"
Call to action
To: the World Bank and the International Finance Corporation (IFC)
"Dangote is destroying rainforest in Nigeria's Cross River National Park for pineapple plantations. The IFC must withhold financing for the project."
Odey Oyama has just discovered freshly cut logs on the edge of the pineapple plantation – even a sawmill is standing ready. He has no doubt that the company will continue destroying forest to expand its plantations. "Farming is outlawed within the national park," he says angrily.
Cross River National Park is a place of outstanding biodiversity. It has been a refuge for colobus monkeys, mandrills, forest elephants and countless other species since 1989 – one of the last rainforest areas in a country that has otherwise been almost completely stripped of its forest cover.
The park is now in danger: Dansa, a juice manufacturer, is clearing land for plantations there. Dansa is part of the business empire of Alhaji Aliko Dangote. He is the richest man in Africa, having amassed a fortune of $25 billion in the cement business.
Dangote's pineapple plantations are big business: Nigeria has more land dedicated to growing pineapples than any other country – no less than 182,000 hectares. According to a newspaper report, Dangote has secured concessions for over 75,000 hectares – an area roughly half the size of London. The problem: one concession is located partly, and another entirely, within the boundaries of Cross River National Park.
In a written statement, the company rejects allegations that it has been clearing forest in the national park and has threatened to sue Odey.
The International Finance Corporation (IFC, part of the World Bank Group) is already invested in Dangote and is considering increasing its investment in the company. IFC thus has a responsibility to stop Dangote's destruction of Cross River National Park.
"The IFC must withhold further financing until Dangote has withdrawn its plantations from the national park," says Odey Oyama. Please sign our petition and support Odey's campaign.
Back­ground
In 2014, more than 25 million tons of pineapples were harvested worldwide. The largest pineapple producer is Costa Rica, followed by Brazil and the Philippines. While Nigeria leads the world in land area dedicated to pineapple plantations – 182,000 hectares – it only ranks 7th among producers due to its low productivity, harvesting 1.5 million tons annually.
Pineapple producers generally use considerable quantities of agrochemicals, often in dangerous combinations. While the chemicals are not a major hazard for consumers, they are a serious problem for plantation workers.
Europe is a rather small market for pineapples: the EU imported 900,000 tons in 2014; Germany was the largest consumer. Nigerian pineapple plays does not play a role in trade with Europe, however.
Letter
To: the World Bank and the International Finance Corporation (IFC)
Dear World Bank President Jim Yong Kim,
Dear IFC Executive Vice President Jon-Yong Cai,
Ladies and Gentlemen,
Nigeria's Dangote Group is dependent on support from the International Finance Corporation for its investments.
Environmentalists accuse the Dangote subsidiary Dansa of violating Nigerian law by establishing pineapple plantations in Cross River National Park, one of the country's last remaining rainforests. They call on Dansa to withdraw from the protected area, to respect its borders and pay compensation of approximately $300 million for damage to the rainforests.
Please do not provide any financing to Dangote Group and its subsidiaries until these demands have been fulfilled.
Yours faithfully,