NO to tourist trains in the Mayan rainforest!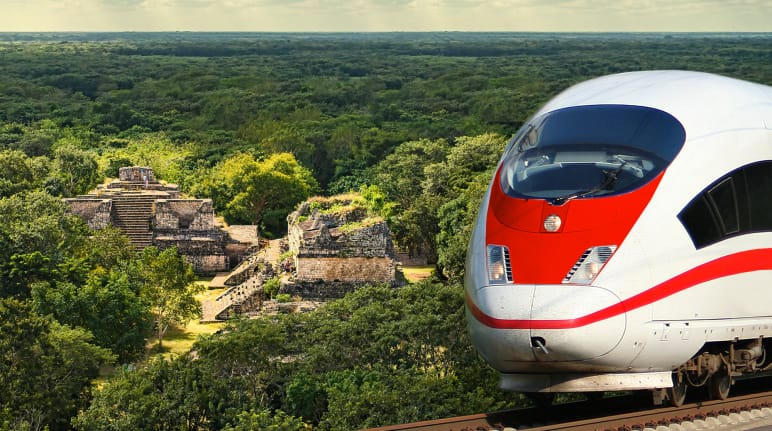 A project by Mexican President López Obrador is threatening the rainforests on Yucatan peninsula: A new 1,500 km high-speed train line will ferry tourists from beach resorts on the Caribbean coast to archaeological sites inland. Please speak out against this presidential vanity project in the jungle.
News

and updates
Call to action
To: Mexican President Andrés Manuel López Obrador
"Review the Mayan Train project, consult with affected indigenous peoples and ensure that the route avoids biosphere reserves at all costs."
President Obrador promises that the "Mayan Train", with its estimated construction costs of €7 billion, will bring development to Mexico's poor south. The 160-kph train will transport tourists from the beach resorts of Cancún and the Riviera Maya on the Caribbean coast to inland archaeological sites such as the pyramids of Palenque.
The planned 1,525-kilometer train route – roughly the distance from Portland, Oregon to Los Angeles, or from Paris to Rome – will cut a swathe through rainforest areas in five Mexican states.
Sensitive ecosystems will be cleared to build access roads for heavy machinery and building materials as well as workers' settlements. The project will involve moving millions of tons of soil and rock, and huge quantities of concrete and steel will go into the construction.
The railway line threatens to cut through biosphere reserves of the Selva Maya, home of the jaguar, tapir and howler monkey. These species need large contiguous forest areas to be able to move, feed and reproduce, and the construction of a few tunnels and bridges will not be enough to allow the wildlife to migrate.
The indigenous Maya communities on Yucatan peninsula are also affected by the project and have spoken out against it.
"The Mayan Train has nothing to do with the indigenous Maya, nor does mass tourism benefit the Maya population. We don't want to be a new Cancún or Riviera Maya, where international hotel chains, travel companies and restaurant chains are the only beneficiaries," the communities wrote to Mexican President Lopez Obrador.
They have called on him to drop the plans to build a train line through the biosphere reserves and indigenous areas.
Back­ground
Selva Maya
The Selva Maya is a tropical forest region shared by Belize, northern Guatemala and southeastern Mexico. With over four million hectares of protected land, it is the largest tropical rainforest in Central America.
The Selva Maya features extraordinary biodiversity in its more than 20 different ecosystems, ranging from the rainforests of Petén in Guatemala to mountainous and dry forests of the northern peninsula of Yucatán.
Reactions to the "Mayan Train" project
Various initiatives have spoken out against the "Mayan Train" project, including Unir Fuerzas para la Defensa del Territorio, which issued a communiqué. It criticizes the fact that the project already has a "budget, bidding process, routing and start date" in place, without having ever consulted the affected communities. The planning was done entirely behind the backs of local people.
In a recent seminar by Otros Mundos, Professor León Enrique Ávila of the Intercultural University of Chiapas explained that the "Mayan Train" would seriously damage Mexico's remaining forests.
Rogelio Jiménez Pons, head of the National Fund for Tourism Development (Fonatur), announced that companies such as Canada's Bombardier, France's Alstom and Altstätten of Switzerland had already been selected to supply the train's rolling stock.
The indigenous Maya have already been severely affected by the expropriation of their ancestral land on the Riviera Maya, where the international tourist centers of Cancún, Cozumel, Majahual and Chetumal are located. The land was taken from the farmers to build hotels, and thousands of hectares of pristine forest were destroyed.
Mexican activists suggest using the following hashtags for the project in social networks:
#YoPrefieroLaSelva
#NoAlTrenMaya,
#YoPrefieroLasReservasDeLaBiosfera
#SalvemosElAmazonasMexicano
Further information (in Spanish):
Consulta sobre el Tren Maya no alcanzó el millón de votantes
La propuesta del Tren Maya en México y la destrucción ecológica
El tren maya: costoso capricho folklórico de AMLO
Nadie nos ha consultado nada: comunidades indígenas rechazan construcción del Tren Maya
Mujeres indígenas de Chiapas rechazan Tren Maya; piden consulta 
El Tren Maya destruirá el último pulmón del sureste mexicano
Se movilizan ONG contra Tren Maya; exigen respetar la legislación
Las Consultas impulsadas por AMLO, violan derechos humanos de los Pueblos Indígenas y contravienen Tratados Internacionales ratificados por México
Responde equipo de AMLO a CNDH sobre Tren Maya
Letter
To: Mexican President Andrés Manuel López Obrador
Dear Mr. President,
Nature in southern Mexico is already under severe pressure by international tourism, industrial-scale oil palm and soybean plantations, livestock grazing, logging and wildlife trafficking. Ecologically and culturally important nature reserves as well as indigenous Mayan and farming communities are being impacted.
The construction and operation of the "Mayan Train" would mean further environmental degradation, endangering the ecosystems and biodiversity of the Selva Maya's old-growth forest areas. Such key nature reserves and the archaeological sites of the Maya must be preserved at all costs.
We call on you to review the necessity of the project and the route of the railway line and make every effort to prevent impacts on the biosphere reserves. These efforts must include a comprehensive environmental impact assessment.
The expropriation of land and the acquisition of rights of way are also serious interventions in the social fabric of communities throughout the Yucatan peninsula. According to Convention 169 of the International Labor Organization (ILO), indigenous communities must give their prior consent to such projects on the basis of comprehensive and accurate information.
The communities are – in their own words – not against progress. They do, however, oppose mega-projects that neither benefit them nor serve to advance regional development.
Countries that best preserve their culture and natural heritage will be the most attractive destinations for tourism in the future.
Yours faithfully,
News

and updates
This petition is also available in the following languages: