Botswana: reinstate the ban on elephant hunting!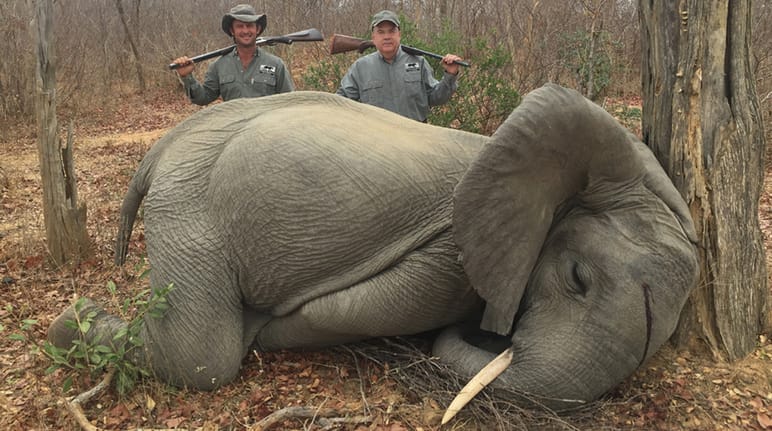 291,323 supporters
For years, Botswana was a safe place for Africa's elephants. But now, its government wants to "manage" the herds by rolling out the red carpet for rich tourists with guns – and the 2021 hunting season is now open. Tell President Mokgweetsi Masisi to keep Botswana a haven for wildlife!
Call to action
To: the President of the Republic of Botswana, Mokgweetsi Eric Keabetswe Masisi
"Please protect Africa's elephants. Reinstate the hunting ban and step up the fight against poachers."
While intense poaching has led to a collapse of elephant populations in some countries of southern and eastern Africa, Botswana has so far been largely spared. 126,000 elephants currently live in the country – a third of all savanna elephants. According to experts, this is partly thanks to a ban on hunting that was put in place in 2014.
The organization Elephants without Borders has warned that poachers are becoming increasingly active in Botswana. Between 2014 and 2018, the number of dead elephants has increased sixfold. According to the scientist Mike Chase, most of them were killed by poachers for their ivory.
Chase's study provoked a heated response, including death threats. President Mokgweetsi Masisi has described the allegations as the "biggest hoax of the 21st century".
In February 2019, a government commission came to the conclusion that the country has too many elephants, and proposes "managing" the population by lifting Botswana's ban on trophy hunting and carrying out "regular but limited" culls. The authorities also suggested that the meat of the killed elephants could be canned and sold as pet food. Elephants sometimes devastate fields, so lifting the hunting ban and having regular culls could be popular measures among rural voters.
The hunting season from 6 April to 21 September 2021 is proceeding "as planned" according to Kabelo Senyatso, director of the government's department of wildlife and national parks. Foreign hunters will be allowed to shoot 287 elephants.
In view of the increasing poaching and the collapse of Africa's overall elephant population, we call on President Mokgweetsi Masisi to take the following actions:
- Reinstate the hunting ban.
- Do not go ahead with the culls.
- Step up measures to fight poaching.
Back­ground
With 581,730 square kilometers, Botswana is about twice the size of its former colonial power, Great Britain. The southern African country has a population of 2.2 million.
Tourism and diamond mining are its major foreign exchange earners. Lifting the hunting ban could attract wealthy trophy hunters to Botswana, but it would likely alienate wildlife lovers and damage the country's economy overall.
The presidents
Ian Khama was President of Botswana from 2008 to 2018. He is a former commander of the army and son of the first President after independence, Seretse Khama.
On 31 March 2018, Ian Khama resigned after two terms and handed over power to Vice President Mokgweetsi Masisi, whose father Sethomo served as a minister in the government of Seretse Khama.
Were rangers disarmed?
According to media reports, President Mokgweetsi Masisi "disarmed" the country's rangers. Other sources report that the rangers are still armed, but no longer carry assault rifles. Former President Khama's zero-tolerance policy toward poachers had been criticized by human rights activists.
While Botswana is a relatively safe haven for elephants, this only means that the decline there is slower than in other countries. According to the 2016 African Elephant Status Report 2016, the population fell by 15 percent within ten years. By comparison, Tanzania's elephant population plummeted by 60 percent in only five years.
Botswana counted 131,600 elephants in 2014 and 126,000 in 2018.
Letter
To: the President of the Republic of Botswana, Mokgweetsi Eric Keabetswe Masisi
Mr. President,
Botswana has long been considered a safe haven for elephants and has a good reputation among conservationists and travelers keen to experience wildlife.
We are deeply troubled by the collapse of Africa's elephant population and the increasing activity of poachers in Botswana. We are therefore very concerned that you are considering lifting the hunting ban that has been in place since 2014 and starting regular culls.
We call on you to reject the proposals of your commission on reforming elephant conservation. Measures such as the lifting of the hunting ban and culling would not only endanger the elephant population, but also damage Botswana's international reputation and have an incalculable impact on your vital safari tourism industry.
We call on you to:
- Keep the hunting ban in place.
- Do not go ahead with the proposed culls.
- Step up measures to fight poaching.
Elephants need the best possible protection.
Yours faithfully,