Bolivia: stop torching forests for beef and soy!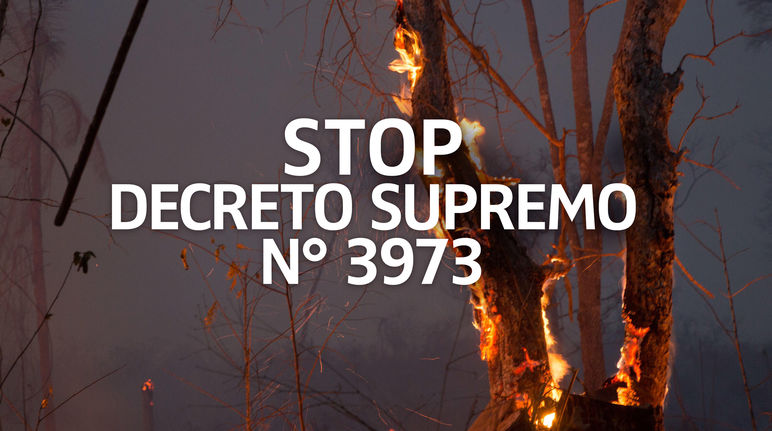 149,266 supporters
21 Bolivian organizations and Amnesty International have called on the president of Bolivia to suspend a decree that came into force in mid-July authorizing "controlled burns". Since the decree, an area of more than 5.3 million hectares – almost twice the size of Belgium! – has gone up in flames for cattle feedlots and soy farms.
Call to action
To: the government of Bolivia, President Evo Morales
"Stop Bolivian agribusiness from burning forests for beef and soy!"
With its Presidential Decree 3973 dated 10 July 2019, the Bolivian government authorized the felling and burning of forests in the Beni and Santa Cruz departments to accommodate population growth and the expansion of agriculture.
Global Forest Watch, a service specialized in the evaluation of satellite photos, has counted no less than 313,000 fires in Bolivia since then. According to the environmental NGO FAN, more than a third of the burned land was tropical dry forest, and a further 55% tropical savanna.
In Santa Cruz alone, 1.2 million hectares of protected areas were torched, including large parts of the Otuquis National Park. Researchers estimate that millions of animals were killed by the flames. Fire brigades and residents have been working to contain the blazes with inadequate or improvised equipment.
Drought, strong winds and heat favor the spread of the fires. The root cause of this disaster, however, is Bolivia's misguided agricultural policy. The CIPCA research center criticized the presidential decree only one day after it took force, arguing that it serves to legalize deforestation by agroindustry and to meet China's demand for meat.
Indeed – on August 28, 2019, President Evo Morales and the Chinese ambassador to Bolivia celebrated the export of the first shipment of beef as a historic event. Meat exports to China are expected to rise to 117,000 tons by the year 2025.
Back­ground
Sources and further information:
In Spanish:
Letter
To: the government of Bolivia, President Evo Morales
Dear Mr. President, Ladies and Gentlemen,
We are very concerned about the devastating forest fires in Bolivia and their connection with Presidential Decree 3973 issued on 10 July 2019.
In this context, we support the "Pronunciamiento Público en solidaridad y defensa del Bosque Seco Chiquitano" declaration by 21 Bolivian organizations and the "Open Letter to the President of the Plurinational State of Bolivia, Evo Morales Ayma, on the Fires in Chiquitanía" by Amnesty International.
We urge you to enforce strict compliance with environmental laws. Please bring all legal, political and technical options available to you to bear to prevent the further clearing and burning of forests.
Yours faithfully,