Ghana: Hands off of endangered rosewood!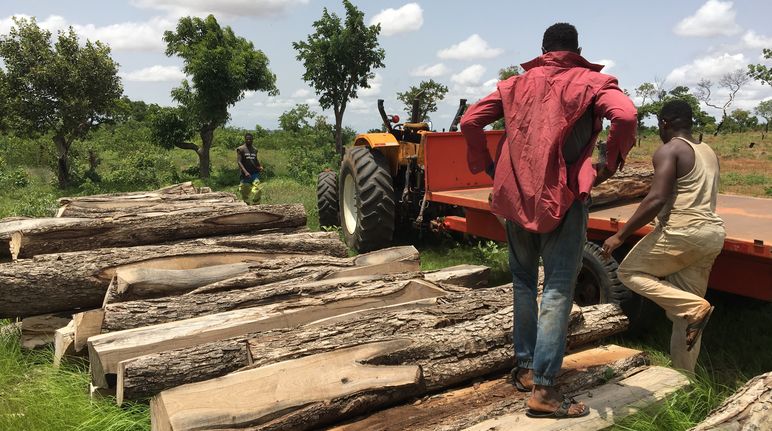 157,597 supporters
The illicit rosewood trade is destroying entire forests in West Africa and logging the species to extinction. Despite its national logging ban, Ghana is the hotspot of destruction. This forest crime needs to end NOW. Keep the rosewood in the forest!
Call to action
To: the European Commission
"Ghana is trafficking thousands of rosewood logs every month. Use the EU's trade leverage to stop this before it leads to the local extinction of the species."
The rosewood crisis is vast in scope: Over 540,000 tons of rosewood – the equivalent of 23,500 twenty-foot containers or approximately six million trees – have been illegally harvested in Ghana and exported to China since 2012, according to BAN-BOOZLED, a report recently published by the Environmental Investigation Agency (EIA).
The rosewood trafficking violates national bans on harvest and trade meant to guarantee that not a single rosewood tree is felled in Ghana.
Undercover EIA investigators found "a massive institutionalized timber trafficking scheme, enabled by high-level corruption and collusion".
The various tricks used by traffickers include the fraudulent use of "salvage permits", improper declaration of timber species, the use of corrupt "escorts" to deal with checkpoints, pre-fixed auctioneering of seized stockpiles, the forging of official documents and the issuance of invalid and back-dated export permits. 
The timber is destined for China, where it is made into faux-antique luxury furniture. According to the Chinese government, over 9,330 tons of rosewood worth more than US $5.4 million had made its way from Ghana to China in September 2019 alone. 
In terms of value, rosewood accounted for more than 20% of timber exports by Ghana to the rest of the world over the past two years, according to EIA findings.
The best solution would be for Chinese customers to stop buying rosewood products. That's unlikely, so it's up to Ghana to crack down on illegal exports. We have the leverage to help make that happen: Ghana and the European Union are finalizing a timber trade deal, so the European Commission is in a good position to pressure the government in Accra into cleaning up its act.
Please sign this petition: Let's make sure that rosewood stays in the forest!
Back­ground
Ghana's forests
Ghana hosts a rich biodiversity: scientist have documented 681 bird, 694 fish and 257 mammal species. 16 percent of the country's land area was forested in 2018. But the forests are dwindling: the loss of Ghana's primary forests rose 60 percent between 2017 and 2018 – the biggest increase of any tropical country – mainly in protected areas. The main drivers of deforestation are the cocoa sector and mining, but illegal logging, the expansion of industrial agriculture and fire also take their toll.
West African rosewood
West African rosewood (Pterocarpus erinaceus) has been listed in Annex 2 of the Convention on International Trade in Endangered Species (CITES) since 2017 and is classified as "threatened" on the IUCN Red List. 
Rosewood trees grow very slowly, needing around 100 years to reach their full height of fifteen meters and a trunk diameter of up to one meter. The trees need to grow for 30 to 40 years to attain a trunk diameter of at least 40 centimeters, at which point they become attractive to loggers.
Rosewood is a key part of the savannah woodlands bordering the Sahel zone. Local people use rosewood sustainably as a source of fodder, plant-based medicines and textile dyes.
The rosewood trade
The forests of Guinea, Ghana, the Gambia, Senegal and other West African countries are being hard-hit by the rush to supply the Chinese market with rosewood and ebony. Whenever one country cracks down on timber exports, criminal networks simply truck the logs to neighboring countries and export them from there. After intense campaigning by the Environmental Investigation Agency (EIA), Rainforest Rescue and other organizations, Nigeria's rosewood trade has been almost entirely shut down.
In November 2019, EIA published a website that informs Ghanaian citizens about the quantity and value of illegal rosewood imported into China from Ghana every month.
Convention on International Trade in Endangered Species of Wild Fauna and Flora (CITES)
The Convention on International Trade in Endangered Species of Wild Fauna and Flora (CITES, also known as the Washington Convention), which was opened for signatures in 1973 and entered into force in 1975, has been ratified by 183 states. It is the only binding international agreement that aims to protect rare species. 
Its implementation is often inefficient, however. Criminal gangs traffic in endangered species and sell the wood of millions of illegally felled trees with relative ease. Governments can do little to stem the trade with their outdated and inefficient control instruments. Environmentalists are therefore campaigning for more rigorous enforcement of the agreement.
West African rosewood has been protected by CITES since 2017, but the persistence of the illegal rosewood trade raises doubts about the enforcement of CITES on the ground. Since March 2019, Ghana has strictly prohibited the issuance of CITES permits for the export of rosewood. Nevertheless, a total of 112,535 tons of Ghanaian rosewood has made its way to the Chinese market since then.
Forest Law Enforcement, Governance and Trade (FLEGT) Action Plan
In 2003, the EU drew up the Forest Law Enforcement, Governance and Trade (FLEGT) Action Plan. A part of FLEGT is the EU Timber Regulation. Voluntary Partnership Agreements (VPA), which are concluded between individual countries and the EU, are a central pillar of FLEGT.
VPAs essentially stipulate that source countries guarantee that the timber they export has been legally sourced. The EU, in turn, eliminates import inspections.
This requires source countries to revise their forest laws, put monitoring in place, strengthen forest management and fight corruption. The VPA negotiations include representatives of NGOs and local communities – who often find themselves being taken seriously for the first time. This is a huge step forward for activists.
The EU is currently negotiating with numerous countries. Negotiations with nine countries are still in early stages, while talks with Ghana, Liberia, Cameroon, the Central African Republic and the Republic of Congo have progressed rather far. At present, Indonesia is the only country to issue FLEGT licenses; Ghana is expected to follow in 2020.
In opinion of environmentalists, the FLEGT Action Plan and VPAs have serious flaws:
- "Legal" timber is not necessarily legitimate: legal logging is often devastating for rainforests and violates the rights of indigenous people.
- FLEGT and VPAs govern trade only with the EU, not with third countries. While many countries, including the US, Canada, Australia and China, are taking action against illegal logging and timber trafficking, criminals are still finding plenty of wiggle room.
Links
EIA video: Ban-BOOZLED - how corruption and collusion fuel illegal rosewood trade in Ghana
EIA study: Ban-BOOZLED - how corruption and collusion fuel illegal rosewood trade in Ghana
EIA press release: Ban-BOOZLED - how corruption and collusion fuel illegal rosewood trade in Ghana
EIA: EIA Offers Transparency to Ghanaian Rosewood Trade
EIA: Rosewood Revealed
BBC: Ghana 'exports rosewood timber illegally to China'
Joy Online: Committee to investigate rosewood allegation cannot be trusted - Dr. Apaak
FERN: Ghana and FLEGT licenses: only technical steps remain
Mongabay: "We have cut them all": Ghana struggles to protect its last old-growth forests
Mongabay: Deforestation statistics for Ghana
Global Forest Watch: The World Lost a Belgium-sized Area of Primary Rainforests Last Year
Letter
To: the European Commission
Madame President,
Ladies and Gentlemen,
The EU and Ghana are finalizing a timber trade agreement under the Forest Law Enforcement, Governance and Trade (FLEGT) action plan. It is expected that Ghana will be issuing licenses according to a Voluntary Partnership Agreement (VPA) as soon as early 2020.
Ghana is regarded as an exemplary leader for the FLEGT action plan in Africa due to its efforts to make timber transparent – yet one huge part of its logging sector remains deeply illegal and corrupt: the trade of West African rosewood (Pterocarpus erinaceus), which could lead to the local extinction of the species.
In its recently published report BAN-BOOZLED, the Environmental Investigation Agency (EIA) provides a detailed analysis of "how corruption and collusion fuel illegal rosewood trade in Ghana". The report presents evidence that bribery, faulty permits, and high-level trafficking rings endanger the existence of rosewood in Ghana.
The illicit export of this valuable wood not only violates the Convention on International Trade in Endangered Species (CITES), but also Ghana's national ban on the logging and trade of rosewood. Essentially, this undermines the progress made by Ghana to implement a transparent and legal timber trade system.
We kindly ask you: please ensure that the government of Ghana complies with national and international law to end the illegal rosewood trade before going forward with the timber trade agreement. Not a single rosewood log should leave Ghana. The government of Ghana and EU must guarantee full compliance with CITES regulations.
Yours faithfully,