Stop plundering the oceans for industrial aquaculture!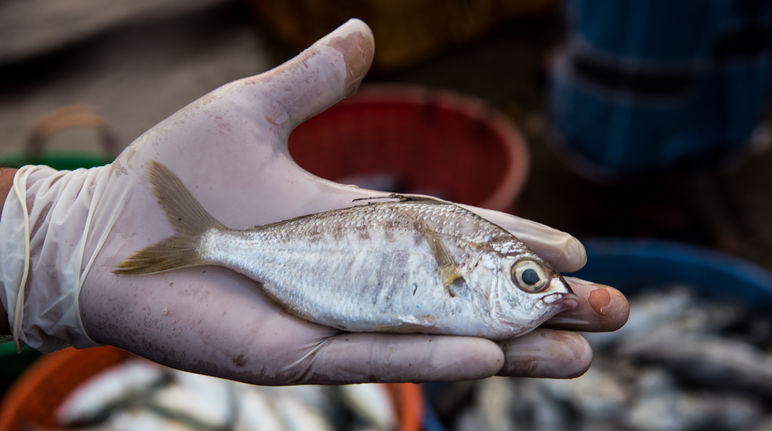 141,627 supporters
Fish and other seafood from aquaculture are often touted as an environmentally friendly alternative to conventional fishing, but the reality is much grimmer: fishing fleets are emptying the oceans to produce fishmeal and fish oil as feed for the aquaculture industry.
Call to action
To: European supermarkets, inluding Sainsbury's, ALDI, Lidl, Co-op, Tesco, Asda, Iceland, Morrison's, Waitrose and Marks & Spencer
"Stop industrial aquaculture – the oceans are being stripped bare and polluted for farmed seafood."
Global seafood consumption has doubled over the past five decades. Every year, 80 million tons – almost half of the seafood on our plates – is produced by "aquaculture": an industry that builds floating cages for salmon, artificial ponds for prawns on the coasts, and tanks for seafood in factory buildings – essentially, aquatic factory farms.
But aquaculture is not the solution to overfishing that it is often touted to be – in fact, it is worsening the problem. Trawler fleets sweep up vast quantities of wild fish and grind them into fishmeal and fish oil to feed farmed fish. Far from being "sustainable", this is an incredibly inefficient and wasteful process: it takes up to five kilos of edible fish such as anchovies, mackerels or sardines, for example, to produce a single kilo of salmon.
More than two-thirds of the fish meal produced worldwide and three-quarters of the fish oil are now used as feed for farmed fish.
The Dutch foundation Changing Markets has investigated how fishing fleets are emptying the oceans off Africa and Asia to supply fishmeal factories in The Gambia, India and Vietnam. The fishmeal and fish oil produced there is supplied to industrial aquaculture operations in countries such as China, Norway and the UK. The seafood thus produced ends up in the coolers of supermarkets such as Sainsbury's, ALDI, Lidl, Co-op, Tesco, Asda, Iceland, Morrison's, Waitrose and Marks & Spencer.
Aquaculture pollutes the local marine environment with vast amounts of excrement, chemicals, antibiotics and other waste. The industry occupies bays, coastlines and mangroves, destroying natural ecosystems and ruining the livelihoods of traditional fishing communities.
Please support our petition to European supermarkets. Do not buy seafood from aquaculture.
Back­ground
The aquaculture industry
Aquaculture is on the increase worldwide. 80 million tons of farmed fish, crabs, prawns and mussels are currently produced annually.
The actors involved in the production of fish such as salmon, cod and sea bream in cages floating in the sea or sole, turbot and other marine animals in tanks in inland factories are primarily global corporations. Genetically modified "super salmon" are already being produced and marketed in the USA and Canada. A total of 52 million tons of edible fish are produced in this manner.
Crustaceans such as prawns and crabs are usually kept in ponds that have been cut into mangrove forests. They are also raised on feed containing fishmeal.
Mussels and oysters are cultivated on lines attached to floating rafts, where they filter plankton from the surrounding water and thus do not need to be fed. However, the extreme density of the mussels and oysters produce vast amounts of excrement that sinks to the seabed, killing marine life in the vicinity of the rafts. Debris ends up in the ocean when strong wave action causes the rafts to break up and ropes, boxes or other parts to come loose, or when gear is simply dumped on the spot by the operators.
Around 30 million tons of farmed prawns and mussels are produced worldwide every year.
The The Food and Agriculture Organization of the United Nations (FAO) estimates that in 2030, aquaculture will produce 109 million tons of fish annually, which would cover 60% of world fish consumption. In comparison, catches of wild fish and other seafood have been stagnating for years at 90 million tons per year.
A large proportion of aquaculture fish, shrimp and other marine species are fed animal protein from marine sources. About 90% of the fish that is processed to fishmeal would also be suitable for direct human consumption, as Changing Markets Foundation reports in its studies Fishing for Catastrophe and Until the Seas Run Dry - How Industrial Aquaculture is Plundering the Oceans. Furthermore, fishmeal industry trawlers often catch large quantities of juvenile fish, endangering the recovery of fish stocks.
One fifth of the worldwide catch goes into the production of fishmeal and fish oil. 69% of fishmeal and 75% of fish oil were processed into feed for the aquaculture industry in 2016. The remaining fishmeal is used for the production of feed for chickens (23%) and pigs (7%).
Genetically modified soy meal from North and South America is also used in the production of aquaculture feed due to its high protein content. In South America, the soy industry is driving the destruction of tropical forests.
The factory farming of seafood is the cause of many serious environmental problems. Coastal regions are blighted by the construction of aquaculture operations. Marine ecosystems are heavily impacted by the installations and mangrove forests are cleared extensively, decimating the spawning grounds and habitats of numerous species.
Intensive aquaculture pollutes the surrounding waters with large quantities of excrement and dead fish. The situation is worsened by use of chemicals and antibiotics to combat epidemics and diseases in the tightly crowded cagesc. Escaping fish that were bred for aquaculture become invasive species that mix with native species, displace them altogether, or introduce diseases.
The aquaculture industry displaces local traditional fishing communities and ruins their livelihoods. The Changing Markets studies also note the often very poor working conditions and violations of laws by the investigated fishmeal factories in The Gambia, India and Vietnam.
From an animal welfare perspective, aquaculture is just as problematic as mass livestock farming on land. It is an intensive form of farming with severe crowding, stressing the fish and making them vulnerable to various diseases and injuries. Furthermore, their quality and flavor are not comparable to those of wild fish.
Further information
• Changing Markets Foundation: Fishing the Feed
• Changing Markets Foundation, October 2019: Fishing for Catastrophe – How global aquaculture supply chains are leading to the destruction of wild fish stocks and depriving people of food in India, Vietnam and Gambia
• Changing Markets Foundation, April 2019: Until the Seas Run Dry – How industrial aquaculture is plundering the oceans
• Sumofus petition: Supermarkets: Stop Stripping the Oceans Bare
Letter
To: European supermarkets, inluding Sainsbury's, ALDI, Lidl, Co-op, Tesco, Asda, Iceland, Morrison's, Waitrose and Marks & Spencer
Ladies and Gentlemen,
While being touted as an efficient and sustainable alternative to conventional fishing, the products of the worldwide aquaculture industry are in fact fed fishmeal and fish oil that is produced by the overexploitation of wild fish stocks.
Changing Markets, a Dutch foundation, has documented that seafood produced in this unsustainable manner is available in European supermarkets.
We call on you to take the ecological and social impacts of the industrial mass production of seafood into account and discontinue the sale of farmed fish and other seafood produced using feed that was produced from wild fish.
Your customers deserve full transparency regarding the supply chain and production conditions of aquaculture seafood.
Yours faithfully,