Ikea: Stop palm oil candles and save the habitat of 130 orangutans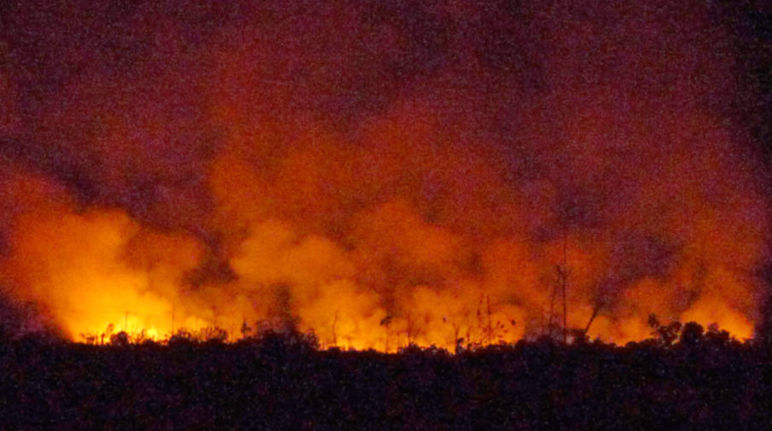 26,635 supporters
The Swedish multinational IKEA sells large amounts of candles and tealights made of palm oil. The 32,000 tonnes of palm oil used for their candle production alone requires around 13,000 hectares of oil palm plantations. In Indonesia, for example, plantations of that size would result in 130 orangutans losing their habitat and probably their lives. Please lend your voice to this campaign.
Call to action
"Ikea: stop selling palm oil products!"
Some of the names of IKEA'S candles and tealights are Fenomen, Florera, Glimma, Jubla, Norreskog, Snövita, Tindra and Väghult. The basic raw material from which they are made is palm oil. To grow oil palms, rainforests are burnt off. In February Rainforest Rescue launched the action "When will IKEA see the light? No palm oil for candles and tea lights". IKEA had confirmed to us that they were using 40,000 tonnes of palm oil a year - 32,000 for candles and 8,000 for other products such as baked goods.
Altogether 28,000 people took part in our protest in February. Their signatures were handed over to Ikea in Berlin on 16 April 2010 and Rainforest Rescue met with IKEA for a conversation. Since then at the latest the company has been aware of the huge problems caused by industrial production of palm oil and of the ineffectiveness of the ostensibly sustainable palm oil certification, RSPO (Roundtable on Sustainable Palm Oil). Half a year later we were informed of the company's further plans. IKEA will keep sourcing the cheap tropical oil and declares it will use only "sustainable" palm oil. As of December all the oil it uses would be RSPO-certified.
Global Film and Rainforest Rescue have had a look at this palm oil production claimed to be "sustainable". In September 2010 we were in the rainforests and palm oil plantations of Wilmar in Indonesia's Borneo and Sumatra. Wilmar International Ltd., an Indonesian-Malaysian-US investment holding based in Singapore, is the world's biggest producer and trader of palm oil. Since August 2010 the company has had the RSPO certification for palm oil plantations in Indonesia and Malaysia. Despite the label, we found a 14,000-hectare oil palm plantation for which rainforest had been razed, orangutans condemned to die, indigenous people driven from their land and 16 subsistence farmers illegally thrown into jail by Wilmar. View our 12-minute film report "The sustainability lie - How the palm oil industry deceives the world" on our website or on YouTube.
The situation is absolutely clear. RSPO is simply fraudulent labelling. Nothing has changed in the catastrophic practices of the palm oil industry. There is no such thing as palm oil produced in an environmentally friendly and socially acceptable way. Rainforest destruction is happening every minute, wreaking irreversible devastation. Because of the indefensible conditions in the palm oil industry, more than a year ago the World Bank stopped funding palm oil. IKEA is playing for time and says it wants to improve the certification of palm oil. Fast profit seems to be more important to the homewares giant than its corporate responsibility.
IKEA also refuses to reveal the firms supplying the palm oil and the candles produced from it. And it does not let its customers know that there is palm oil in the products. There is nothing on the packaging to indicate it. Plant wax and stearin are named as raw materials. Yet the solution is easy. IKEA could easily take the palm oil candles out of its range. Please support our campaign.
We receive many inquiries about alternatives to palm oil candles. Read our comments and thoughts.
Thanks to Diet Simon for translation!

Back­ground
Alternatives to palm oil candles
Dear friends of the rainforest,
Many people feel helpless and ask us about alternatives. Which candles should I buy, what can you recommend?
In general, it is difficult to find simple answers, solutions and specific recommendations for actions for problems caused by politics and business driving limitless growth and growing consumption of resources and energy.
Most candles are made of paraffins refined from crude oil, so we can't endorse them for obvious reasons. Other options include candles made of beeswax or reprocessed used fats. Reprocessed fats contain animal fats, however, so neither of these alternatives are acceptable to anyone concerned with animal welfare.
Research and business are called on to develop truly environmentally sound and socially acceptable products and production technologies. Politics must set the right frame conditions and enforce compliance.
Please don't trust sustainability certificates and industry seals. There are several thousand of them around the world and they're increasing daily. Not even experts can separate the wheat from the chaff in this certification jungle. But seals live on credibility, transparency, independent inspection and adequate standards.
These must not only exist on paper or comprise marginal improvements, they must be met and inspected in everyday practice. In most cases the seals – like RSPO for palm oil - are barely more than advertising gimmicks to stimulate consumption and pacify customers. They change nothing in the conditions on the ground.
"Sustainable consumption" doesn't come about by business and politics endlessly bleating and overtaxing the term. Vast monocultures and agro-industry are NOT sustainable. The materials contained in most products are now grown worldwide, transported across continents and sent back and forth. That is only possible because the environmental problems and social costs this causes are dumped on society as a whole and the countries of the global south in particular.
The only solution can be to return to local resources, small-scale farming, local production and circulation. And we must be much more sparing in our consumption. That doesn't mean our lives will worsen. We would just have to change some habits and give up others.
Candles stand for a cosy Christmas atmosphere. But can you enjoy their light when you know that their production causes people, the environment and the climate to suffer like this?
Kind regards,
Rainforest Rescue
Letter
To
Mr Mikael Ohlsson President & CEO of the Ikea Group, mikael.ohlsson@ikea.com
Mr Ingvar Kamprad, founder Ikea, ingvar.kamprad@ikea.com
Dear Mr Ohlsson and Mr Kamprad,
I strongly object to IKEA'S irresponsible corporate behaviour in continuing to trade in candles and tealights made from palm oil. As you are well aware, palm oil means destruction of rain forest, species and the life foundations of the people living there, theft of their lands, appalling violations of their human rights and heating the global climate. The consequences for humans, the environment and the climate are dramatic and basically irreversible.
Industrial labels like RSPO cannot solve these problems and cannot ensure environment-friendly and socially responsible palm oil production. That, too, is known to IKEA. The claim to be trying to improve palm oil production through the RSPO labels is untenable and no more than playing for time. Under cover of this pretext, expansion of palm oil plantations has been driven since RSPO was set up in 2004. There's no more time for experiments. The rain forests and all their inhabitants are dying minute by minute. At this rate of destruction, all Borneo's lowland rain forests will be destroyed in ten years.
Our documentary film "The sustainability lie - How the palm oil industry deceives the world" (see http://www.rainforest-rescue.org/news/3195/the-sustainability-lie-a-film-about-the-dirty-palm-oil-business) shows clearly, that not even certified enterprises in the palm oil industry have changed any of their disastrous practices. Already in 2008 253 environment and human rights organisations around the globe condemned RSPO as a fraudulent label (http://www.biofuelwatch.org.uk/docs/17-11-2008-ENGLISH-RSPOInternational-Declaration.pdf).
Moreover, it violates any transparent IKEA company policy not to reveal the producers of the palm oil and the products made from it that they supply to you. It is unacceptable for IKEA to leave its customers ignorant by not declaring palm oil in the list of ingredients. By that you are making your customers accomplices to rain forest destruction.
I request that you stop selling all palm oil products. IKEA must not trade at the cost of rain forest, the people living there and the world climate. Responsible corporate policy is not to blather about sustainability but to practice it. Please take immediate action.
Sincerely