India: No Michelin factory in the forest of the "untouchables"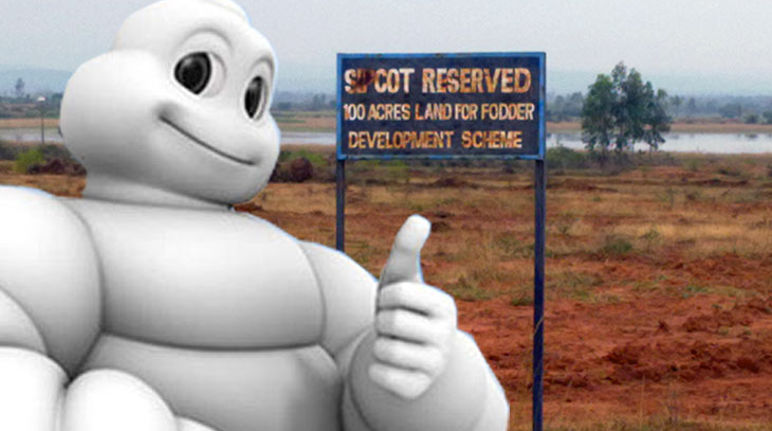 38,162 supporters
In the state of Tamil Nadu, which is located in southern India, the French Michelin enterprise is planning to construct a huge tire plant. In order to construct the plant, the community forest of the Dalit people (the so-called "untouchables") is supposed to be cut down. The Dalit have fought for two years in order to protect their livelihood. Now they are asking for international help. The tire plant needs to be stopped and we ask you to support the Dalit people by signing our protest action.
News

and updates
Call to action
UPDATE: Handover of signatures to Michelin in Clermont-Ferrand in France Read the news here
The village of Thervoy Kandigai is located 50 km North of Chennai (formerly known as Madras) and it is surrounded by pastures, forests, paddy fields, and lakes. The people make a living based on the forest where they find medicinical plants and wild fruits and where they also grow vegetables. Especially during droughts the rice becomes scarce and the people have to rely on natural resources from the forest. In addition, the forest also serves as a reservoir for the surrounding 13 villages.
The Dalits are outraged that in order to construct the Michelin plant, the forest and therefore their livelihood are going to be destroyed. There were several hunger strikes. Activists were put in jail. "They can take our homes but not the forest! Nobody has the right to destroy the forest!", says Anbhazhgan, a former village spokesman.
Soon an Indian delegation will travel to France and together with environmental alliances they will confront Michelin and formally object the plans for the construction of a tire plant. Please support our protest action – so the forest of the Dalits can be conserved.
Back­ground
For two years the people in the village have fought against the construction of the tire plant. Informative meetings have been held as well as hunger strikes. The police regularly resorts to violence and frequently arrests protesters.The forest is currently surrounded by a fence. There is a sign on the fence which states: "Michelin – A better way forward".
The famous French environmental journalist Fabrice Nicolino published on September 14th in the weekly 'Charlie Hebdo': "The actions of Michelin are an attack on the human rights of a community and nothing less. As you can imagine, the deforestation in combination with the destruction of pastures and springs will result in the destruction of the livelihood of the village. The construction of the plant is not inevitable and I call on you to protest against Michelin."
Letter
ENGLISH VERSION (original version below)
To: Management of the Michelin company
Michel Rollier and Jean-Dominique Senard,
Managing General Partners,
&
Pat Cox, Benoît Potier, François Grappotte, Laurence Parisot, Pierre Michelin, Éric Bourdais de Charbonnière, Barbara Dalibard et Louis gallois,
Members of the Supervisory Board
Dear Sir/Madam,
with this letter, I support the citizens' initiative protesting against the construction of the Michelin plant in India.
The social movements cannot simply denounce – abstractly – the delocalisation of the economy. Not only does it ruin the job for us, but destroys the roots of the life of the poorest in the South. In India, a terrible conflict between a village of Untouchables - the lowest considered people in this country of castes - and Michelin, our big multinational corporation producing tires.
Thervoy Kandigai is a village in Tamil Nadu state (southern India). About 1500 families, are traditionally living of pastures and forests near Thervoy. It is their territory. With this plant, Michelin is destroying it for ever. The forest is an essential area for the survival of this population without land. It is now confiscated and has already begun to be destroyed, with a dramatic risk of drying up the lakes supplying water to local villages.
This French multinational corporation has indeed managed to convince the Indian federal authorities, and intends to build an ultramodern tires factory in place of the forest of the Untouchables. Space is already closed, buildings already under construction, a training centre already open.
The villagers are fighting alone for two years, multiplying actions and hunger strikes. In return, they face repression, beatings, and police presence. Some of them are in jail since February 2011. They just elected a Panchayat - kind of mayor - openly opposed to the installation of Michelin. And they call for international support. France is at the forefront. As well as the inhabitants of Thervoy Kandigai, the signers of this petition request the cancellation of the project. On its website, Michelin India proclaims : "One of core Michelin's values is respect for people." The time has come to prove that such words are not only commercial advertising. Do not touch the Untouchables' forest at Thervoy Kandigai !
I require :
The cancellation of the construction project of a Michelin factory at Thervoy Kandigai
The land restitution to villagers
Compensation to villagers for land destroyed
The release of the eight persons who are jailed, amnesty for 61 persons awaiting for trial and the end of all violence against Thervoy people !
With kind regards

ORIGINAL (french) version:
À: Direction de la firme Michelin
Michel Rollier et Jean-Dominique Senard,
co-gérants associés commandités
&
Pat Cox, Benoît Potier, François Grappotte, Laurence Parisot, Pierre Michelin, Éric Bourdais de Charbonnière, Barbara Dalibard et Louis gallois,
Membres du conseil de surveillance
de la Compagnie générale des établissements Michelin.
_____________________________________________
Objet: pas d'usine Michelin dans la forêt des « Intouchables » !
_____________________________________________

Madame, Monsieur,
Par la présente lettre je soutiens les initiatives citoyennes indiennes qui s'opposent à la construction d'une usine de Michelin en Inde.
Le mouvement social ne peut plus se contenter de dénoncer abstraitement la délocalisation de l'économie. Non seulement cette dernière ruine l'emploi en France, mais elle détruit souvent à la racine les conditions de vie des plus pauvres au Sud. En Inde, un conflit terrible oppose un village d'Intouchables – les plus méprisés de ce pays de castes – et Michelin, la grande transnationale du pneu.
Thervoy Kandigai est un bourg du Tamil Nadu, État du sud de l'Inde. Il compte environ 1500 familles, qui vivent depuis toujours des pâturages et forêts proches de Thervoy. Tel est leur territoire, que Michelin s'apprête à détruire irrémédiablement avec cette usine. Non seulement la forêt, espace indispensable à la survie de cette population sans terre, est confisquée mais elle a déjà commencé à être détruite, risquant par la même de tarir les lacs approvisionnant les villages locaux en eau.
La transnationale Michelin a en effet réussi à convaincre les autorités fédérales, et entend bâtir une usine ultramoderne de pneus en lieu et place de la forêt des Intouchables. L'espace est déjà clôturé, des bâtiments déjà en construction, le centre de formation déjà ouvert.
Les villageois se battent seuls depuis deux ans, multiplient les actions, grèves de la faim. En retour, ils subissent la répression : coups, présence policière, emprisonnement, certains depuis février 2011. Ils viennent d'élire un Panchayat ouvertement opposé à l'installation de Michelin. Et ils appellent à l'aide internationale. La France est en première ligne. En tant que signataire de cette pétition, je demande, comme les habitants de Thervoy Kandigai, l'annulation du projet. Michelin India proclame sur son site internet : « Une des valeurs essentielles de Michelin, c'est le respect des personnes ». Le moment est venu de passer à l'acte. Que ces paroles se traduisent par des faits. Ne touchez pas à la forêt des Intouchables de Thervoy Kandigai !
Je réclame :
• l'annulation de ce projet de construction d'une usine Michelin à Thervoy Kandigai
• la restitution des terres aux villageois
• l'indemnisation des villageois pour les terres détruites
• la libération des 8 emprisonnés, l'amnistie pour les 61 en attente de jugement et l'arrêt de toute violence contre la population !
Je vous prie d'agréer, Madame, Monsieur, l'expression de mes respectueuses salutations.
News

and updates