Land grabbing for biofuels gets lethal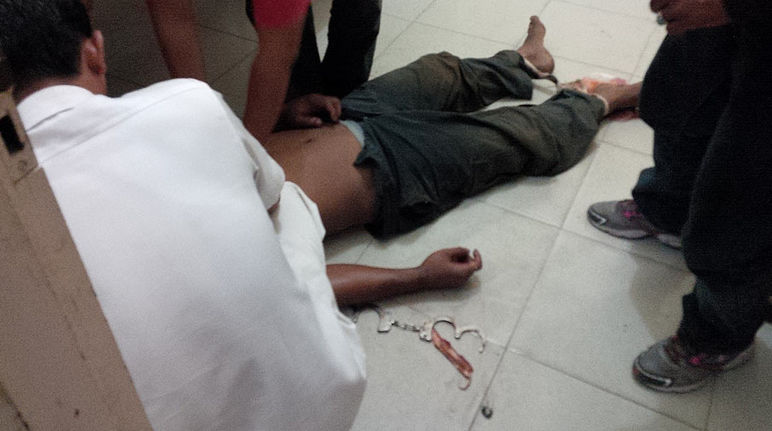 74,497 supporters
The EU's push toward "green" biofuels has claimed new victims in a plantation owned by Asiatic Persada, a palm oil company in Indonesia. Our local partner came to the aid of five gravely wounded locals and documented the slaying of a village chief. Please speak out against the EU's tragically misguided biofuels policies!
News

and updates
Call to action
To: European Commissioner for Energy Günther Oettinger, Head of Cabinet Michael Hager
"The EU member states must scrap their biofuels policies immediately in light of escalating violence in Indonesia."
The EU's push toward "green" biofuels has claimed new victims in a plantation owned by Asiatic Persada, a palm oil company in Indonesia. Our local partner came to the aid of five gravely wounded locals and documented the slaying of a village chief.
His name was Pujiono. The village chief of Bungku, he went to protest the kidnapping of a farmer in an industrial palm oil plantation in Jambi Province. Grabbed and brutally beaten by the armed thugs of the palm oil company, he was taken to a hospital, still in handcuffs, where he died a few hours later, presumably of his injuries.
Our local partner Feri Irawan observes: "It's a war; a war that none of us wanted." The indigenous community is facing a group of 2,000 armed men in the pay of Asiatic Persada. They are subjected to serious violence and many of them have had to be hospitalized. 
Feri brought five seriously wounded men to the hospital. He collected the remains of Pujiono and reported his murder to the police. "We're not giving up. We'll be back again tomorrow – unarmed as before," he says. 
The situation of the Suku Anak Dalam in Sumatra has become untenable. Last December, 500 families that had been evicted from their land sought protection in a camp in front of the Jambi governor's residence. Yet they were once again expelled and are now living in limbo in a refugee camp just outside of the plantation, with Asiatic Persada's armed security keeping them out of their ancestral lands.
The fate of these nomadic forest dwellers is linked to the biofuels policy of the European Union and its member countries that is stoking demand for palm oil from plantations in Indonesia.
Enough is enough – let's call on the European authorities to scrap their disastrous biofuels policies.
Back­ground
March 6, 2014:
Feri Irawan of our partner organization Perkumpulan Hijau sent us the following message: 
"Dear friends, we are afraid. The palm oil company Asiatic Persada has hired armed soldiers that are terrorizing defenseless people. They fire into the air and beat people. It's a war; a war that none of us wanted. We believed that the rule of law would still prevail. But now someone has been killed; his name was Pujiono. Soldiers and Asiatic Persada security men beat him to death. Bound hand and foot, they finally brought him to hospital, where he died at 11:03 pm." 
Pujiono's death is the shocking climax in the long tragedy of the indigenous Suku Anak Dalam communities on Sumatra. Asiatic Persada began cutting down their rainforest for plantations in 1986 and has been persecuting the forest dwellers ever since. The indigenous communities resisted eviction from their ancestral lands, however, and have been trying to survive in a green desert of oil palms. Time and again, the company sent armed men and security guards to destroy the families' homes, intimidate and mistreat them, often resulting in serious injury.
A recent use of force involved 1,500 armed men in December 2013 – at the time, 500 families fled to the provincial capital Jambi. For weeks, they camped in front of the governor's residence in the hope of having their land returned and being compensated for their destroyed homes. Over 70,000 people signed our protest campaign, and Feri Irawan and his activists organized large-scale protests to demand justice for the indigenous communities.
Ultimately, the families were also expelled from Jambi, but they have been unable to return to their land – Asiatic Persada had sealed it off in the meantime. They have spent the past weeks in a refugee camp near the village of Bungku with hardly anything to eat and drink.

The oil mill of Asiatic Persada is also located in Bungku, and it was there that the violence once again escalated on March 5th: According to our sources, soldiers and security personnel abducted Titus, a farmer, from his home, beating him viciously and holding him at the oil mill. When his family, farmers and other community members appeared at the mill to inquire about Titus, the soldiers fired into the air and ground and immediately assaulted them. Six community members were beaten so badly that they needed hospitalization – one of them was Pujiono. Soldiers dragged him from his motorcycle, bound him hand and foot, and beat him so severely that he later died in hospital.
Feri Irawan collected Pujiono's remains from the hospital and reported the murder to the police. "We're not giving up," he writes. We'll be back again tomorrow – unarmed as before. Many of us will be coming on foot, and our children are barefoot. We are more than a thousand strong."

The palm oil company Asiatic Persada belonged to Wilmar International, the world's largest palm oil group, until 2013. Wilmar sold Asiatic Persada to another member of the owner's family – presumably to avoid association with land grabs and human rights violations. According Feri Irawan, Asiatic Persada still sells its palm oil to Wilmar. Wilmar's customers include Unilever and Neste Oil, a Finnish biofuel company.
Photos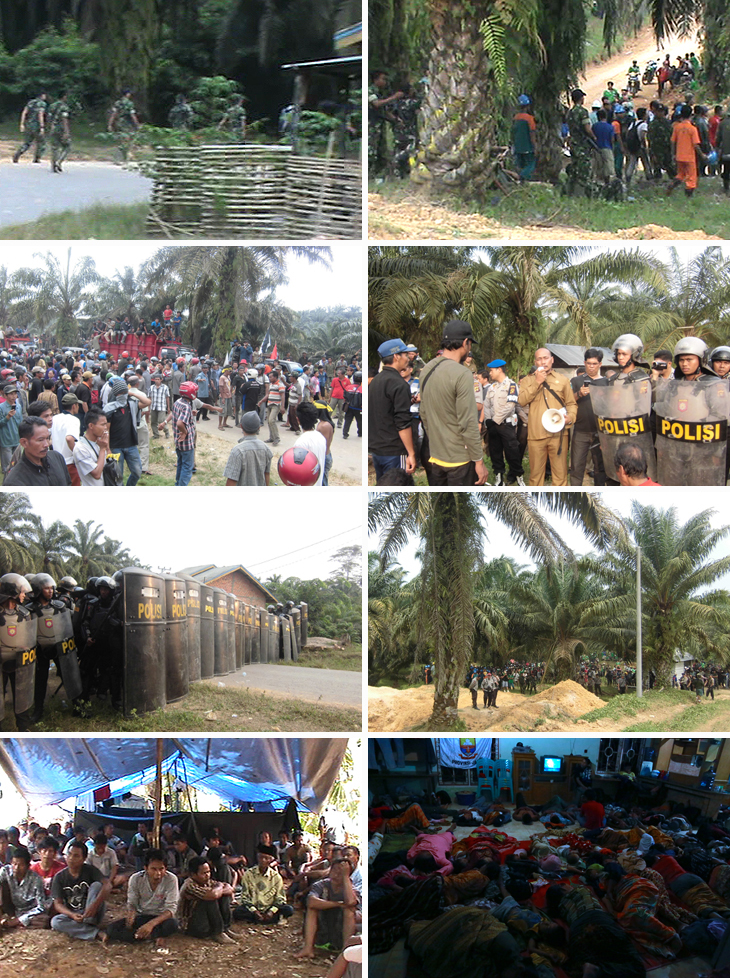 Asiatic Persada hired soldiers to put a bloody end to popular protests against land grabs and forced evictions. Previously, the police had tried to prevent the indigenous communities from returning to their ancestral land. They withdrew, however, for lack of legal grounds. The palm oil company then hired soldiers and armed security guards. Below: 500 families that have been barred from their ancestral land are relying on our partner organization Perkumpulan Hijau for support. Photos by Feri Irawan
A chronology of mayhem
March 5, 2014, 3:12 pm local time
The 26-year-old farmer Titus is abducted from his home in the village of Mentilingan by soldiers. Six soldiers take Titus to the Asiatic Persada oil mill in a police vehicle.
Titus' kidnapping is believed to be connected to his witnessing soldiers removing a sign from a disputed piece of land claimed by two Asiatic Persada subsidiaries. The sign, which had been posted by the lawyer of the farmers of Mentilingan, marked the land as property of the community.
3:15 pm
The drive to the mill in Sungai Kandang is around three kilometers. About halfway there, the soldiers drag Titus out of the vehicle and beat, kick and urinate on him.
3:40 pm
Covered in injuries, Titus arrives at the oil mill. There, two soldiers with rattan sticks beat him brutally from behind. When they are finished, they order Titus to lick his blood off the floor of the Asiatic Persada security post.
4:10 pm
Titus' family, other farmers and members of community – 20 people in total – travel to the oil mill to inquire about him. Soldiers block their way and fire into the air and ground.
4:30 pm
Most of of the community members are still sitting on their motorbikes when they are assaulted by soldiers and the company's security men. Six men took the brunt of the beating: village chief Pujiono (age 34), Khori Kuris (71), Adi (24), Ismail (38), Yanto (31) and Dadang (56). Pujiono does not offer resistance. When others rush to his aid, the security forces stop and disperse them at gunpoint.
4:45 pm
Eyewitnesses report the departure of an ambulance from Asiatic Persada's oil mill compound. Titus sees the security guards still mistreating Pujiono while he is in the ambulance.
7:30 pm
The ambulance arrives at Bayangkara hospital in the town of Jambi and Pujiono is admitted. The ambulance departs immediately. According to the hospital, he is in critical condition, but still alive. Eyewitnesses report that the only medical attention he received was having his injuries cleaned.
8:00 pm
The other five injured men arrive at Raden Mataher hospital, also in Jambi.  Driving the 150 km from Bungku to Jambi takes about three hours.
11:03 pm
Pujiono Bin Tayat dies. At the time of his death, he is still handcuffed and his feet are bound. His face is bloody and covered in bruises, eyewitnesses report.
Feri Irawan, Perkumpulan Hijau, March 7, 2014
March 12, 2014 – murder witnesses on the run
Our partner Feri Irawan writes that he and six men who were severely beaten on March 5 are on the run, fleeing from "military and corrupt secret service agents". The men are key witnesses in the slaying of Pujiono.
Feri Irawan texted us the following account:
"We change locations every four hours, sleep outdoors, and cannot see our wives and children because this country only protects the palm oil companies and their hired thugs, not the victims. Last night, some of the indigenous people managed to return to their land. But already this morning, the police relayed a message from Asiatic Persada ordering them to remove their tents immediately or be expelled by force, and this even though criminal investigators in Jambi had previously arrested six Asiatic Persada security guards on suspicion of murder and are investigating 40 soldiers of the Indonesian army for aggravated assault. The faces of the perpetrators had been photographed with cell phone cameras, and the police are now reportedly looking for them in the barracks."
Letter
To: European Commissioner for Energy Günther Oettinger, Head of Cabinet Michael Hager
Dear Mr. Oettinger, dear Mr. Hager,
The long struggle of Indonesian indigenous communities to defend their land rights is reaching dramatic new levels. Acts of intimidation and mayhem by plantation operators are becoming commonplace as the government-mandated use of biofuels in the EU is causing demand for palm oil to skyrocket.
While protesting the appropriation of his community's ancestral land by a palm oil plantation company earlier this month, a village chief was viciously beaten by the plantation's security men and later died of his injuries. Our Indonesian partner Feri Irawan witnessed and documented the atrocity. The palm oil company Asiatic Persada is thought to be responsible for the slaying.
In the face of the escalating violence, we call on the EU and its member states to scrap their tragically misguided biofuels policies immediately!
Sincerely,
News

and updates