Malaysia: rescued sea turtle released in threatened biodiversity hotspot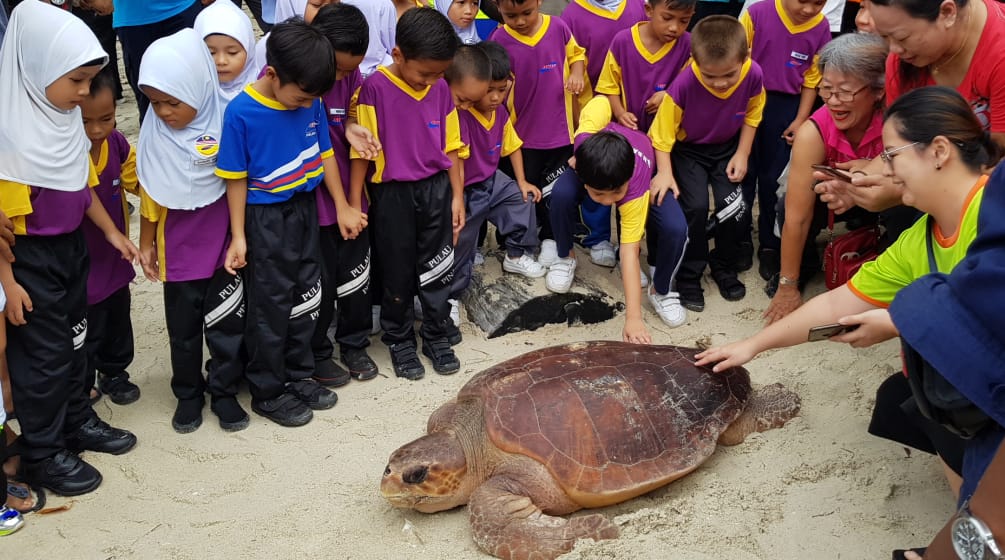 May 6, 2021
A loggerhead turtle was rescued in the south of Penang Island, West Malaysia, in a bay slated to be the site of an ecologically destructive coastal reclamation project. Malaysia and the targeted region in particular is an ideal habitat for sea turtles.
The loggerhead turtle, which was found with its head and front flippers entangled in a discarded trawler net, was rescued by local fishermen on September 7, 2019. It was nurtured back to health by the Department of Fisheries and released into Teluk Kumbar. "Given that the loggerhead turtle in Penang did not have heavy barnacle load nor was in poor body condition, there is a possibility that it may have been within an undiscovered foraging area for loggerhead turtles within the Straits of Malacca before it was entangled and encountered."
The southern coast of Penang Island has at least five known turtle nesting sites, one for the vulnerable Olive Ridley (Lepidochelys olivacea; Malay name: Penyu Lipas) and four for the endangered green turtle (Chelonia mydas; Malay name: Penyu Agar). The bay is a rich fishing ground as well as a marine biodiversity hotspot with coral reef around the islet of Pulau Kendi, where the loggerhead turtle was found. 

For the last few years, more than a thousand fishermen from the Penang Fishermen's Association and a coalition of NGOs called Penang Forum have consistently protested the Penang state government's proposal to create three artificial islands off Penang Island South. A new Malaysian non-profit organization, the Climate and Ecology Network (Malay name: Jaringan Ekologi Dan Iklim, JEDI), recently joined in the effort to preserve fishermen's livelihoods in Penang.
This incident was written up in the article entitled First Record of a Stranded Loggerhead Turtle (Caretta caretta) in a Ghost Net off Penang, Malaysia.
Rainforest Rescue helped the NGOs campaign internationally with a petition calling for the protection of turtle nesting sites and speaking out against the reclamation project in this marine biodiversity hotspot, the habitat of the vulnerable Olive Ridley and other turtle species.